This is one of only two known examples of this ambitious early group, the other being a rather mis-fired example in the British Museum (Mus. no. 1887,0307,I.3).
The British Museum example has been published and described as 'Britannia mourning for Frederick Prince of Wales' (see Lane 1961, p. 61 and Adams 2001, p. 90).  However, there is no evidence for this interpretation which seems to be based on the fact that Charles Gouyn's St James's factory did produce a very different version of Britannia which does indeed lament the death of the Prince who died on 20 March 1751 and bears a shield with his relief portrait in profile. Four examples of this other group are known.
The shield on our group has no portrait and the paste and construction suggest a date in the later part of the Triangle Period, perhaps around 1746-48. Britannia is not necessarily lamenting a death but could equally well be celebrating a hero, perhaps it was a prototype of a design that could be adapted to an individual death or celebration as need arose.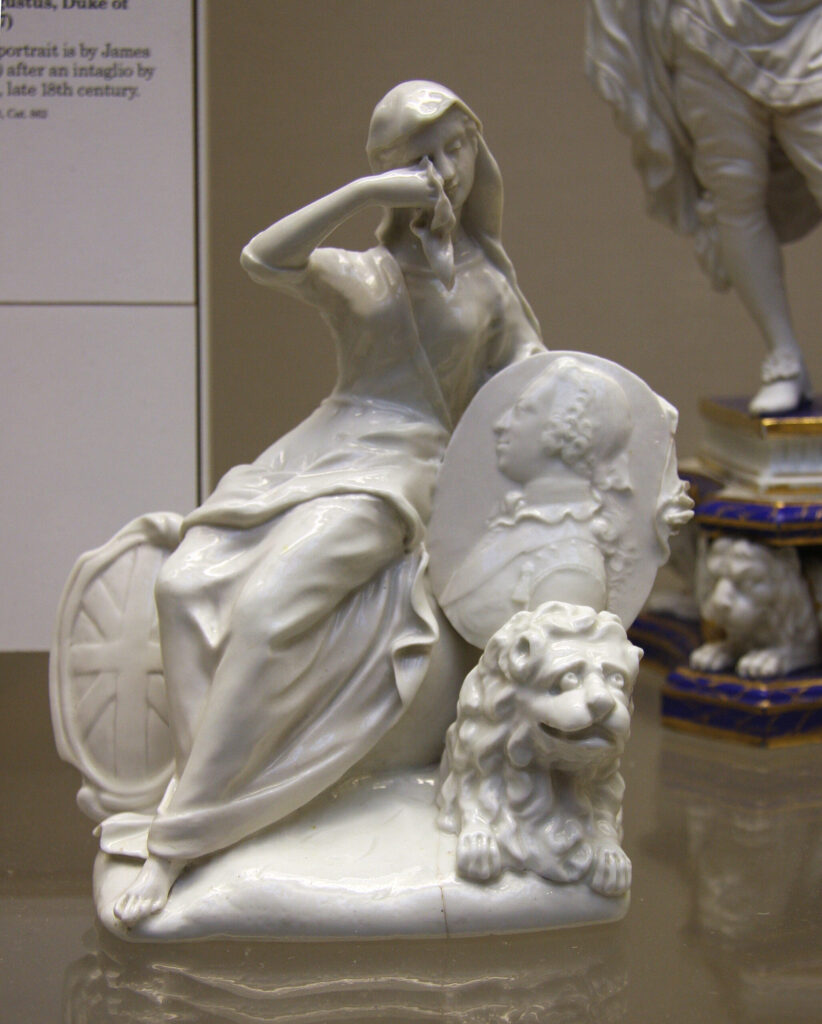 St James's factory, British Museum (Museum no.1887,0307,II.2), circa 1751
The modelling of our group displays a sculptural ability of a high order and is clearly the work of a very accomplished artist. It probably predates the arrival at Chelsea of the sculptor Josef Willems and displays a monumentality that seems unlike his work.
John Mallet has made a convincing case for the renowned silversmith and owner of the Chelsea factory, Nicholas Sprimont himself, to have sculpted some early Chelsea models such as the 'Greyhound and Retrieving Setter' and a 'Boy milking a Goat' (Mallet 1977, pp. 223-225). Sprimont's skill as a modeller is evident from his ambitious silver creations such as the Ashburnham centrepiece in the Victoria and Albert Museum and his skill as a draughtsman is clear from his surviving drawings.
Another possible sculptor whose authorship, or at least influence, should not be discounted is Louis-Francois Roubiliac. Roubiliac's connection with Sprimont has long been known since Sprimont stood godfather to Roubiliac's daughter Sophie in 1744. This led to some over-optimistic attributions to Roubiliac of Chelsea figures in the past which have generally since been dismissed, but we do know at least one model, Hogarth's favourite dog Trump, which is certainly after a model of Roubiliac's. John Mallet has proposed that the Chelsea version of Trump may have been taken from a plaster cast of Roubiliac's lost terracotta rather than Roubiliac actually modelling it for Chelsea (Mallet 1977).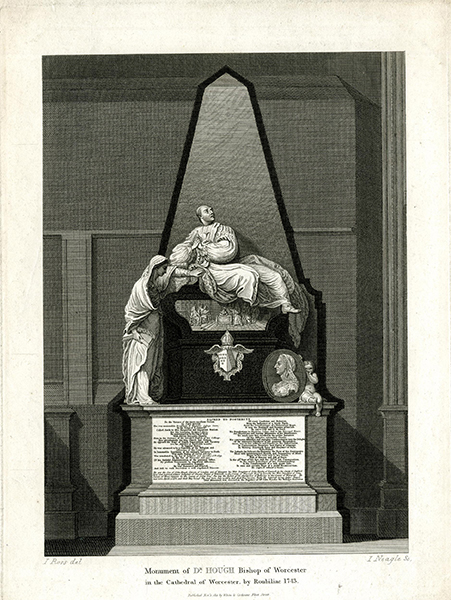 Roubiliac's Monument to Bishop Hough in Worcester Cathedral
Since Mallet's 1977 paper on Trump, further evidence of a connection between Roubiliac and Chelsea has come to light. Malcolm Baker published a letter written on 7 May 1745 by Sir Theophilus Biddulph in London to an unnamed correspondent, in Staffordshire which is almost entirely concerned with the progress of Roubiliac's first major monument, that to Bishop Hough in Worcester Cathedral. Beneath the reclining figure of the bishop is set a plaque which depicts a notable episode in his life. The letter states that the intention was that the "The Basso Relievo is to be in Chelsea China". This was written within a year or so of the Chelsea factory being founded and suggests a more direct engagement with the factory, even if the plaque was never executed in porcelain (Baker 1997).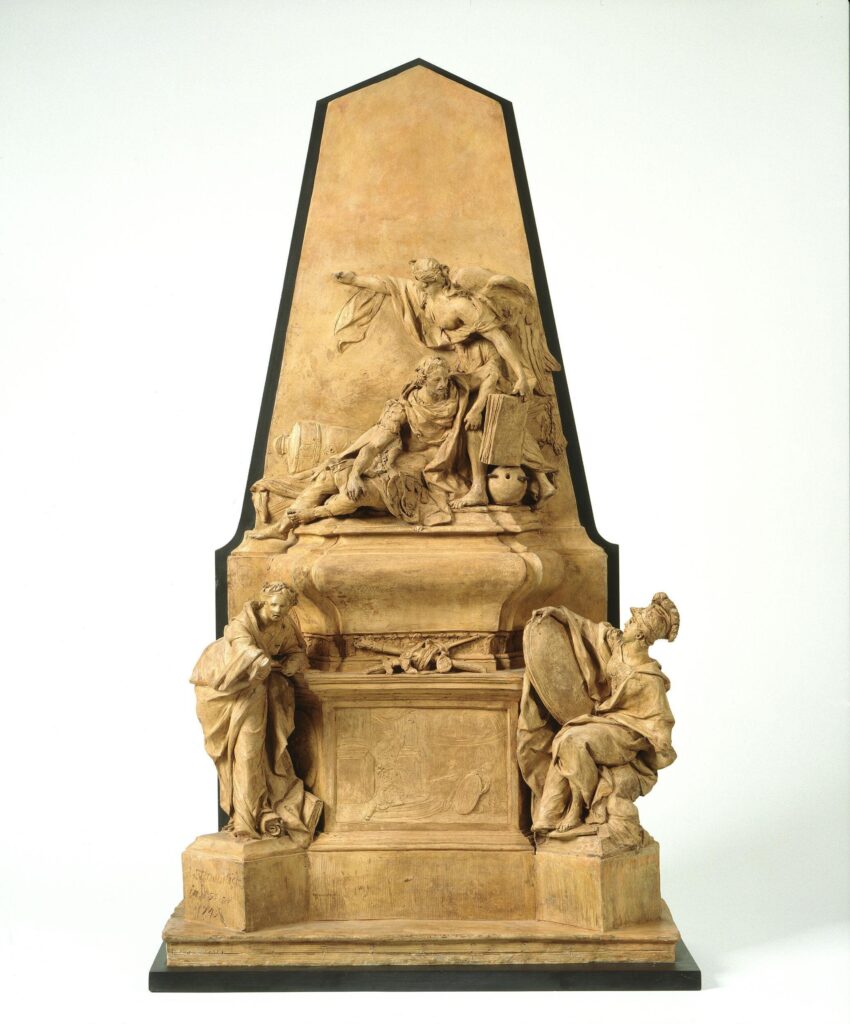 Roubiliac's terracotta model for the monument to John Campbell, 2nd Duke of Argyll and Greenwich, Victoria and Albert Museum
Nicholas Sprimont would certainly have been familiar with Roubiliac's much admired monument to John Campbell, 2nd Duke of Argyll and Greenwich, in Westminster Abbey. This was finally erected in 1749 but the terracotta model is dated 1745 and survives in the Victoria and Albert Museum.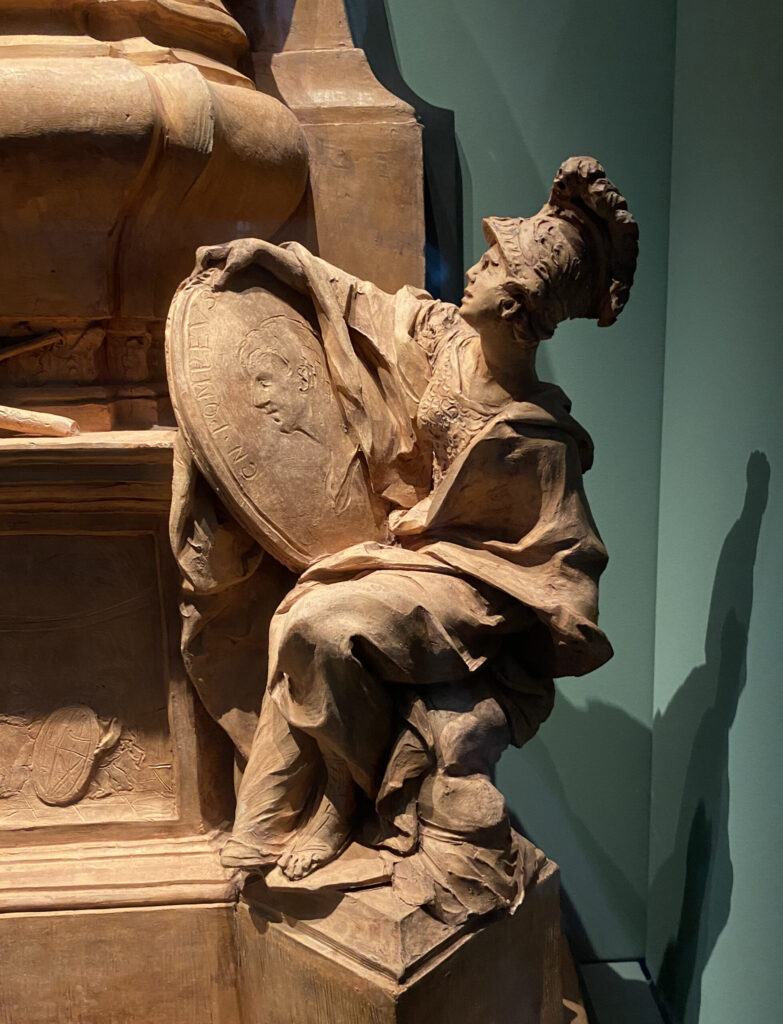 Detail of Minerva from the Argyll monument
Our model of Britannia, unlike most of the Chelsea models of Josef Willems or Nicholas Sprimont, is conceived to work on a monumental scale and could easily be translated to a large-scale sculpture, indeed Arthur Lane suggested that this group, that he described as 'Britannia mourning the death of the Prince of Wales' could have been adapted from a sculptor's model for a monument' (Lane 1961, p. 61). The Chelsea Britannia although different, bears comparison with the figure of Minerva from Roubiliac's Argyll monument.
Both J.V.G. Mallet and Malcolm Baker remain sceptical of Roubiliac's direct involvement in our group and consider Nicholas Sprimont quite capable of such work, but perhaps we can allow at least the influence of his close friend Roubiliac.
Condition:
Broken through the neck and restuck, restoration to the plume of the helmet. The trident a modern copper replacement modelled on the example on the group in the British Museum which is thought to be original.
Provenance:
Sotheby's. London, 19 November 1991, lot 207
References:
Arthur Lane, English Porcelain Figures of the Eighteenth Century, 1961
J.V.G. Mallet, 'A Chelsea Greyhound and a retrieving Setter, Some Early Chelsea Figure Models Perhaps by Sprimont', Connoisseur, November 1977, pp. 223-225
Malcolm Baker, 'Roubiliac and Chelsea in 1745', ECC Transactions, Vol. 16, Part 2, 1997, pp. 222-225
Elizabeth Adams, Chelsea Porcelain, (revised edition) London 2001
SOLD