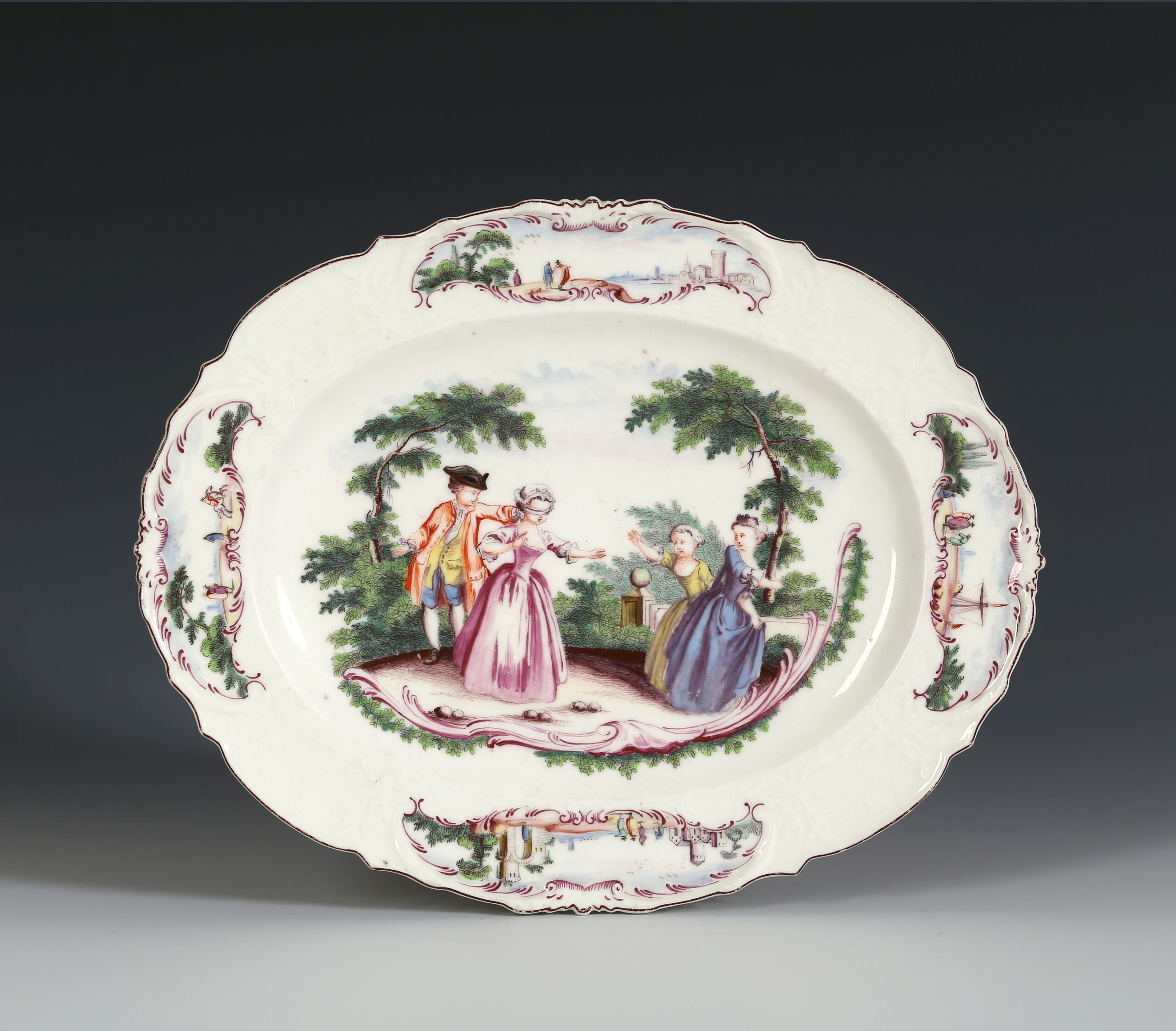 A CHELSEA OVAL DISH
after Hubert-François Gravelot (1699 – 1773)
Probably painted by Joseph (Henri-Joseph) Duvivier
Circa 1754
25.1 cm x 20 cm
Until now only six plates were known with designs of children's games after engravings after Hubert-François Gravelot. In describing them Severne Mackenna wrote "Nothing could exceed the skill with which they have been copied and adapted on the Chelsea plates"[1] and W. B. Honey stated that they "show the red-anchor style of painting at its most gracious"[2].
This newly discovered example is unique in being on an oval dish of so-called 'Warren Hastings' type. The moulded cartouches are painted with landscape vignettes. There were perhaps only two painters at Chelsea at this period sufficiently skilful to paint such a dish, Jeffreyes Hammett O'Neale and Joseph (Henri-Joseph) Duvivier, our dish is probably by the latter.
Gravelot was in England between from 1753 until he returned to Paris in 1754. Whilst in England he engraved numerous scenes and ran a drawing school at the sign of the 'Pestle and Mortar' in Covent Garden. However, his series of twenty-eight illustrations of children's games was probably created earlier in his time in Paris. Cyril Cook identifies eight designs that were used by Robert Hancock for engravings on ceramics including 'Le Colin Maillard' or Blind-man's-buff. Hancock's print, which are found on Worcester, Bow and even on Plymouth porcelain, only depict the three girls which are sometimes reversed. Our scene with the addition of the standing boy does not appear in Hancock engravings[3].
The exact genealogy of the Duvivier family has caused much discussion; the best opinion now is that Joseph and Henri-Joseph are the same person. Joseph was probably the most accomplished painter at Chelsea in the late red and early gold anchor period before moving to Tournai in about 1762. His distinctive hand can be seen in both factories around this period.
The six known plates with scenes after Gravelot were originally together in the collection of Alfred Hutton, one went to the Museum of Fine Arts Boston and the remaining five were in the Collection of Mr Dick Gelston of Limerick[4]. The Gelston plates have subsequently been dispersed, two were sold in the Rous Lench collection[5] and two entered the Victoria and Albert Museum[6].
Our dish came from a collection formed in France in the 19th century by Charles Louis (1827 – 1893). It was bequeathed to his distant relative, Maurice Pol-Roger of the noted Champagne dynasty of Epernay due to an act of notable graciousness. Charles Louis had invited Maurice to a hunt, and when he arrived his relative asked him if he had not been invited to a grander hunt like his other guests who had declined his at the last moment. Maurice replied: "Oui j'ai bien été invité mais, mon Cousin, j'avais accepté chez vous auparavant".  On his death Charles Louis made Maurice his heir and the collection moved to 48 Avenue de Champagne in Epernay where Maurice and his wife Mathilde lived.
Condition:
Good, no restoration
Provenance:
Collection of Charles Louis (1827 – 1893) Maurice Pol-Roger, Epernay
Then by descent
References:
Cook 1948
Cyril Cook, The Life And Work Of Robert Hancock. An Account of the Life of the 18th Century Engraver and of his Designs on Battersea and Staffordshire Enamels and Bow and Worcester Porcelain, (Chapman and Hall., London, 1948)
Cook 1951
Cyril Cook, The Art of Robert Hancock, Transactions English Ceramic Circle, vol. 3, part 1, 1951pp.54 – 62
Honey 1977
W. B. Honey, Old English Porcelain, Faber & Faber 1977, (first published 1928)
Mackenna 1951
Severne Mackenna, Chelsea Porcelain The Red Anchor Wares, Leigh-on-Sea 1951
Rous Lench 1986
Sale catalogue, The Rous Lench Collection, vol. 1, Sotheby's, London 1 July 1986
Haughton
A Private Collection, Chelsea and other English Porcelain, (Brian Haughton Gallery, no date)
SOLD
[1] Mackenna 1951, no. 53 (p. 89) pl. 26.
[2] Honey 1977, p. 44.
[3] Cook 1951, pp. 57&58 and Cook 1948 , item 14.
[4] The five plates were published in Mackenna 1951, pl. 26, no. 53. For the remaining Hutton plate see Honney 1977 pl. 8.
[5] Rous Lench 1986 lot 212 & 213. These plates were subsequently offered by The Brian Haughton Gallery in 'A Private Collection of Chelsea and other Early English Porcelain'.
[6] Victoria and Albert Museum, C.119&A-1980.