A DATED LONDON DELFT CAUDLE CUP
Inscribed: 'BE MERRY AND WISE 1650'
Southwark, probably Pickleherring pottery, Richard Newnham
11.8 cm high, 15.4 across
Of bulbous form with slightly everted rim, this type of cup – referred to as a caudle cup – is a particularly English shape. Decorated in blue and white with a continuous coastal landscape, freely painted with ships trees and buildings.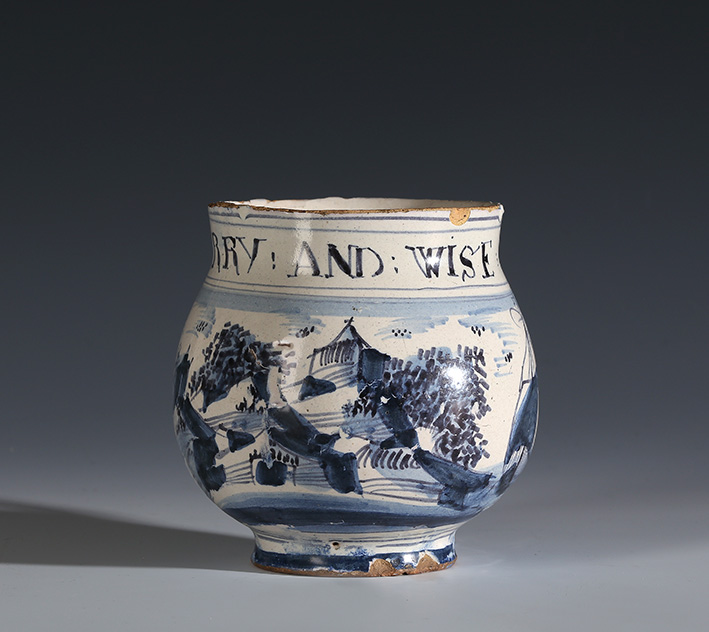 This recently discovered cup is an addition to a group of three very similarly decorated caudle cups dated between 1645 and 1660, illustrated by Lipski and Archer in Dated English Delftware (pp. 160, 162 & 165). The distinctively painted decoration of ships and houses is also found on a small group of other items, that includes dishes, a posset pot (Lipski and Archer, p. 201) and the great jug from the Glaisher collection illustrated by Michael Archer in Delftware in the Fitzwilliam Museum (pp. 160-161). In his description of this jug, Archer associates the group with another group of seven fecundity dishes that have the same motif of a sailing ship repeated in recesses around the border. One of these fecundity dishes (Archer p. 72) is dated 1661, and bears the initials N/RE, which Archer suggests are highly probable to be those of Richard and Elizabeth Newnham, proprietors of the Pickleherring pottery in Southwark from 1645-1684.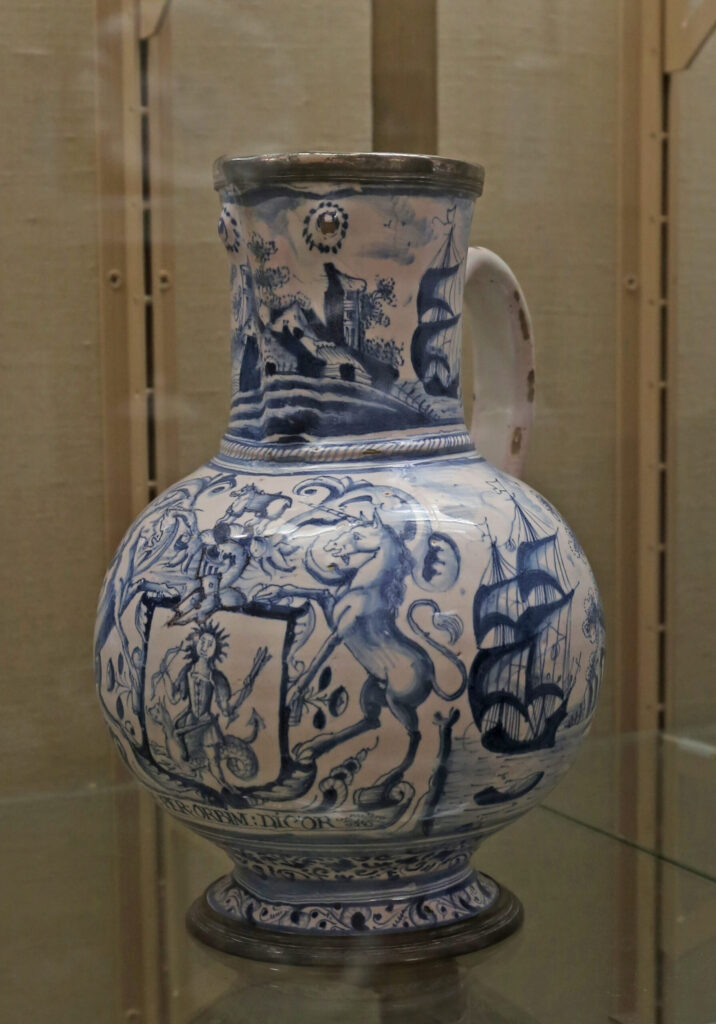 The Glaisher Collection, Fitzwilliam Museum, Cambridge
Coming just one year after the execution of Charles I, dated pieces from the Commonwealth period (1649-1660) of Oliver Cromwell are particularly rare often being plain and left in the white in keeping with the puritanical spirit of this period.
A caudle is a thick sweet drink, often alcoholic, given to new mothers or invalids and the cup a was a traditional gift for a pregnant woman or new mother – befitting the inscription to the rim 'BE MERRY AND WISE'.
Condition:
Handle broken off in two pieces and reattached, long running cracks to the body stabilised, with chip to the rim restored, small glaze losses associated with the cracks restored

References:
Louis L. Lipski and Michael Archer, Dated English Delftware, (Sotheby Publications, 1984), pp. 160, 162 & 165
Michael Archer, Delftware in the Fitzwilliam Museum, (Philip Wilson Publishers, 2013)
This item has been sold