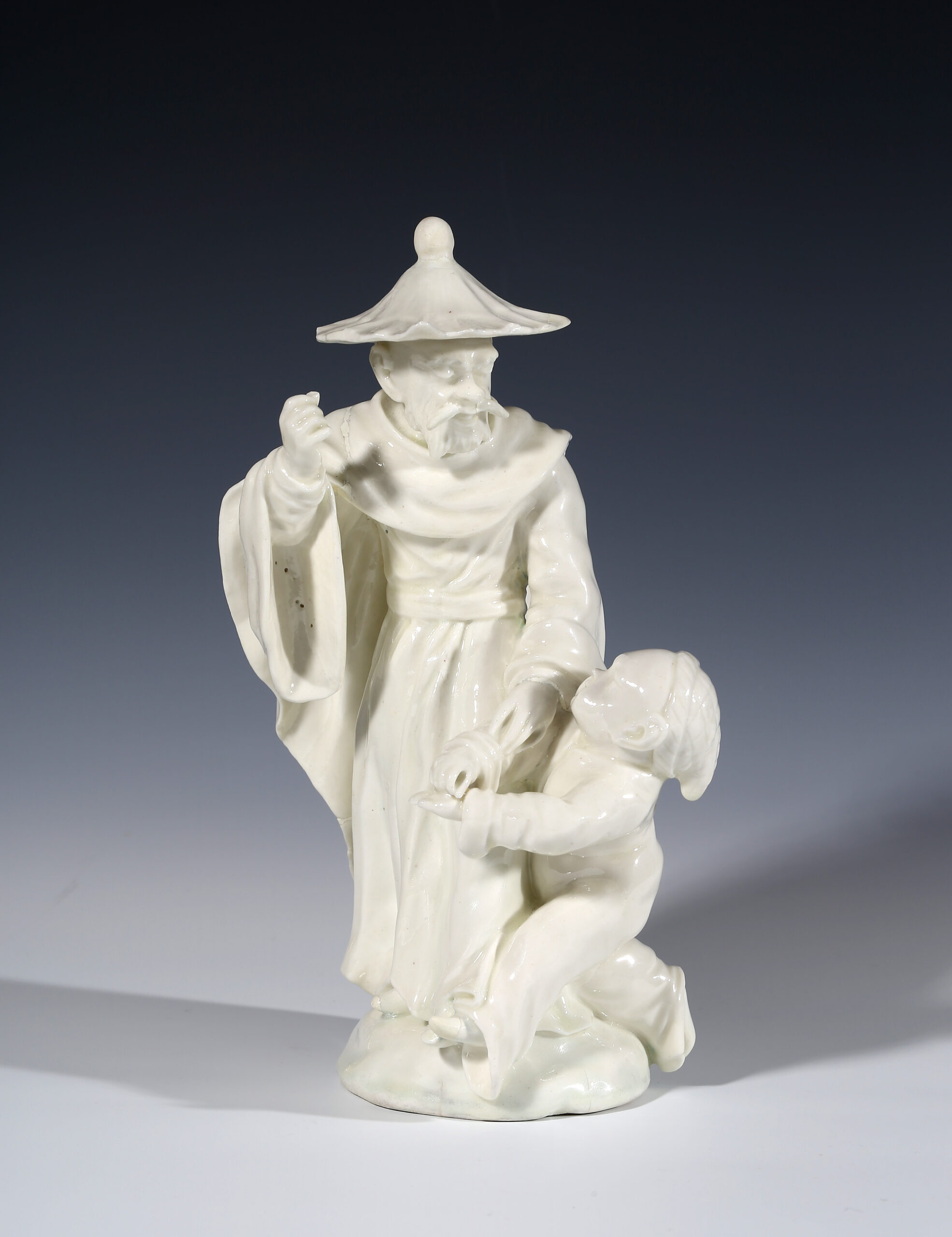 A DERBY 'DRY-EDGE' CHINOISERIE GROUP REPRESENTING 'TOUCH'
Modelled by Agostino Carlini
Circa 1751-52
24.3 cm. high
Modelled as a bearded Chinaman wearing a heavy cloak and a broad-brimmed hat, his right arm raised in admonishment, his left hand grasping the arm of the small boy at his side.
The Dry-edge 'Chinese Senses' have long been ranked among the most accomplished of all English porcelain figure models and it was always a matter of speculation as to who might have been responsible for their modelling. The options were few given that mid-18th century England was poorly supplied by sculptors of sufficient skill to engage with the new material of porcelain.
Writing in 2002 John Mallet made a very convincing case for the modeller to be identified as Agostino Carlini[i]. Carlini is thought to have come from Genoa but he is recorded carving elaborate rococo furnishings for the royal palace of Huis ten Bosch in the Netherlands in 1749-51. Reinier Baarsen notes that he was still working for the Stadholder and his family in 1751, the year that Willem IV died[ii].
So the earliest possible date for the arrival of Carlini in England is 1751 or 1752 just after the Derby porcelain factory had been established by a French Huguenot Andrew Planché in around 1750. Planché had been apprenticed to a jeweller in London and is known to have produced porcelain by 1750[iii].  The first documentary evidence of the factory is a report in the Derby Mercury of 26 January 1753 which records that the body 'of one of the workmen belonging to the China Works near Mary Bridge..' was fished out of the river Derwent (he had been missing since Christmas Eve) and a little later William Duesbury listed a 'Darbeyshire seson' in his London account book on June 6, 1753, thereby confirming the production of figures.
Carlini exhibited a design for a monument to General Wolfe in 1760 at the Society of Artists[iv] and became a founding member of the Royal Academy in 1768 but in his early years in London was no doubt willing to accept work supplying models for a small porcelain factory. There is no reason to suppose Carlini actually went to Derby, it would have been sufficient for him to supply models in plaster, terracotta or even wood to the factory. Confirmation that these models were made at Derby came with the discovery of a mould for the head of the female figure of 'Sight' amongst the old Derby moulds, which later became the property of Copeland-Spode[v]. Versions of some other Derby models possibly attributable to Carlini can also be found at Bow in the mid-1750s, suggesting they too might have acquired or pirated his models.
No complete set of these figures is known and they were perhaps not even conceived as a series since they do not sit comfortably together.
The Chinese seasons are strongly reminiscent of the chinoiseries of François Boucher but are in fact brilliantly original conceptions, rivalling the best porcelain sculptures made in Europe at that time. Indeed it could only have been in these, the earliest years of porcelain production in England, when the novelty and aspiration of this new medium was at its peak that such great artistry could flourish. Ideas fresh from the continent found fertile ground among the wealthy consumers of the Midlands, a region of Europe-wide fascination as the cradle of the unfolding Industrial Revolution. It was a short lived period: Planché is last recorded in Derby in 1756, after which he anglicised his name to Andrew Floor and by 1764 he had joined the Baker's York Company of theatrical comedy before moving to The Theatre Royal in Bath as a prompter. He remained with this company for the next 31 years, being given a benefit performance to alleviate his poverty in 1805[vi].
References:
J.V.G. Mallet, Agostino Carlini, Modeller of 'Dry-Edge' Derby Figures?, British Ceramic Design 1600-2002, English Ceramic Circle 2003, p.42.
SOLD
[i] J.V.G. Mallet, 'Agostino Carlini, Modeller of 'Dry-Edge' Derby Figures?', British Ceramic Design 1600-2002, The English Ceramic Circle, 2003, pp.42 – 57.
[ii] J.V.G. Mallet, 'Agostino Carlini, Modeller of 'Dry-Edge' Derby Figures?', British Ceramic Design 1600-2002, The English Ceramic Circle, 2003, pp.44 &45, citing correspondence with Reinier Baarsen
[iii] A cream jug dated 1750 is in the Victoria and Albert Museum.
[iv] Mallet, ibid, p.48
[v] Stoner, Chelsea Moulds- an important discovery, Connoisseur, vol May, 1924, p. 7 pl. 5.
[vi] Robin and Ross Barkla, Andrew Planché – Life after Derby, Derby Porcelain International Society, Journal 3, pp. 26-43.