A DUTCH DELFT DISH, Het Moriaenshooft (The Moor's Head) Factory
'IW' monogram in blue for Jacob Wemmersz Hoppesteyn
1679-86
34.2 cm diam.
Painted in blue with carefully delineated 'zwarte trek' (outlines in blackish blue) with Diana and Acteon depicted at the moment of surprise before he turns into a stag.
At this period The Moriaenshooft factory was run by Jannetge, the widow of Jacob Wemmersz Hoppesteyn, and her son Rochus. The products of the factory are amongst the rarest and most remarkable of all Delft wares. They are characterised by a particularly fine white glaze and soft blue. Under Rochus Hoppesteyn the factory later produced the famous coloured wares in the 'Mixed Technique' but in spite of their great artistic success they suffered a rapid commercial decline.
Classical subjects taken from Ovid's Metamorphoses were intended for the most highly educated sections of society. The Moriaenshooft factory made a famous series of dishes with the arms of the duchess von Braunschweig-Lüneburg with classical and religious subjects.
Perhaps fewer that seventy Hoppesteyn pieces are recorded which bear either the marks of Jacob Wemmersz or Rochus Hoppesteyn making them amongst the rarest of all Delft wares.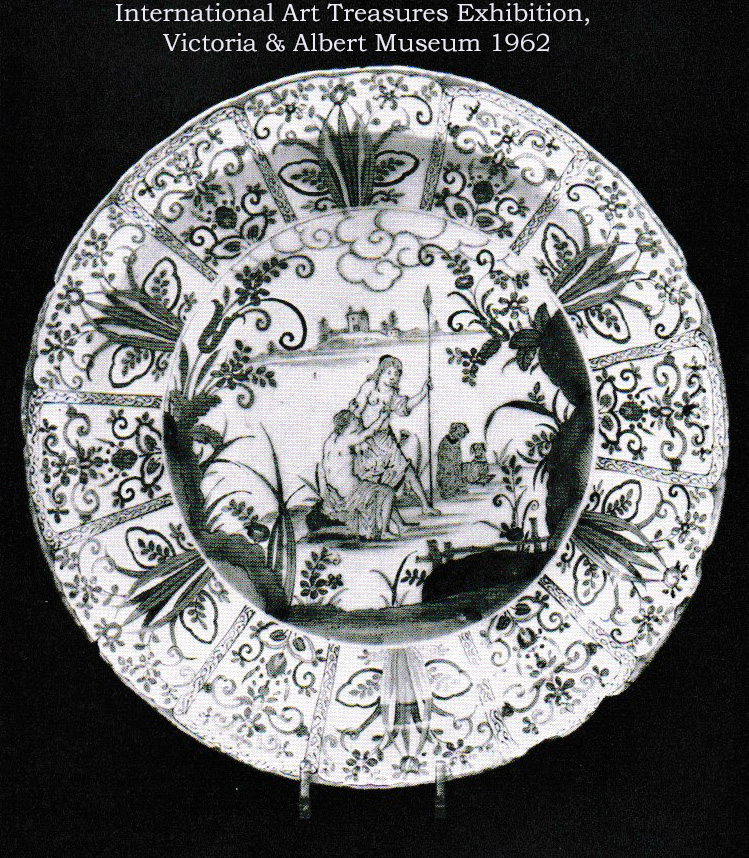 An almost identical example from the Krön collection, Paris, with additional polychrome decoration and gilding was exhibited by Nystad Antiquairs at The Third International Art Treasures Exhibition, in the Victoria & Albert Museum, in 1962.
Condition:
Small chips to the rim, no restoration
Provenance:
With a wax seal on the base of the the 'Gaston de Ramaix' collection, Château de Grune, Belgium.
The collectors Maurice de Ramaix (1850-1918), a Belgian diplomat and politician, and his son Gaston built a collection of mostly blue and white Delft from the seventeenth and eighteenth centuries. De Ramaix returned to Belgium where he became a senator and a member of the Parliament. In 1894, he bought and restored the Château de Grune. After his death, De Ramaix's collection was passed to his eldest son, Gaston (1878-1937), who was also a diplomat.
References:
The Third International Art Treasures Exhibition, Victoria & Albert Museum, presented by CINOA, 1962,  no. 500, plate 274, from the Krön collection, Paris, was exhibited by Nystad Antiquairs, N.V., The Hague
The same dish was published by Aronson Antiquairs, in their 1993 catalogue, ill. no 2
Brigitte Tietzel, Zu einem Delfter wappengeschirr des Herzogs Georg Wilhelm von Braunschweig-Lüneburg, Keramos, 94/81, pp. 41 -60
SOLD