A LARGE ARITA BLUE AND WHITE LACQUERED VASE AND COVER
Japan, Hizen province, 1690-1720
With cover 83.9 cm high
Without cover 61.6 cm high
Decorated with three lacquer panels of phoenixes on rockwork divided by knotted sheaves of patterned brocade set onto unglazed reserves against a ground of blue and white scrolling peonies.
Lacquered Japanese porcelain vases are amongst the rarest survivals of what was once one of the most treasured class of Japanese export porcelains. Variants can be found in a number of royal and noble collections, the largest group being those collected by Augustus the Strong, King of Poland and Duke-Elector of Saxony which are now in the Porzellansammlung, Staatliche Kunstsammlungen Dresden.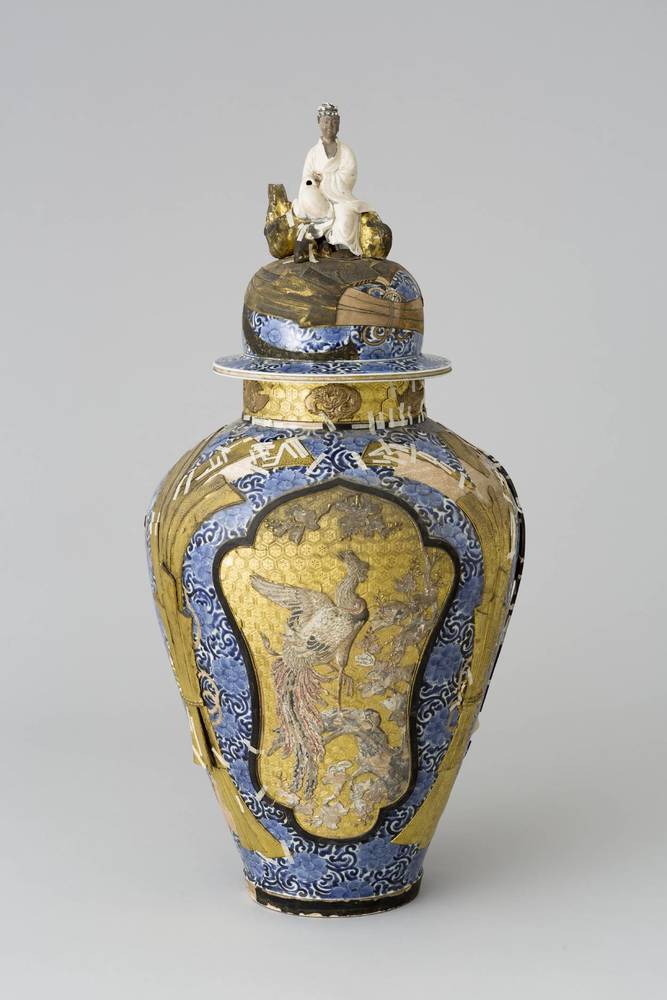 One of a garniture preserved in the Porzellansammlung, Staatliche Kunstsammlungen Dresden, (PO 6005)
Our vase is identical in design to those in a garniture, now in poor condition, in the depot of the Zwinger in Dresden. These are the only others of this pattern that we have found so far. The lacquer, which is applied over a precisely carved and moulded papier-mâché or rice paste ground, is painted and richly gilded. This composition is very vulnerable to atmospheric conditions and has rarely survived as well as in our vase.
Ruth Sonja Simonis has recently published the letters from Augustus the Strong to Pietro Roberto Taparelli, Count of Lagnasco (1659–1735), an Italian nobleman in the service of the King, who he sent to the Netherlands to find and buy porcelain from private dealers. These detailed accounts document his acquisitions between 1716-1718 when Augustus was energetically accumulating Asian porcelain for his 'Japanisches Palais' that he was rebuilding on the other side of the river Elbe in the Dresden New Town. These purchases also included the technically closely related bird-cage vases some of which are documented as being bought through the Dutch husband and wife dealers, Madame and Monsieur Jean St. Martin, who were based in the Hague. Because of their unique structure the bird-cage vases are identifiable in the "general specification of acquisitions bought in Holland by the Count of Lagnasco for His Majesty", described as "rouleaux à cages".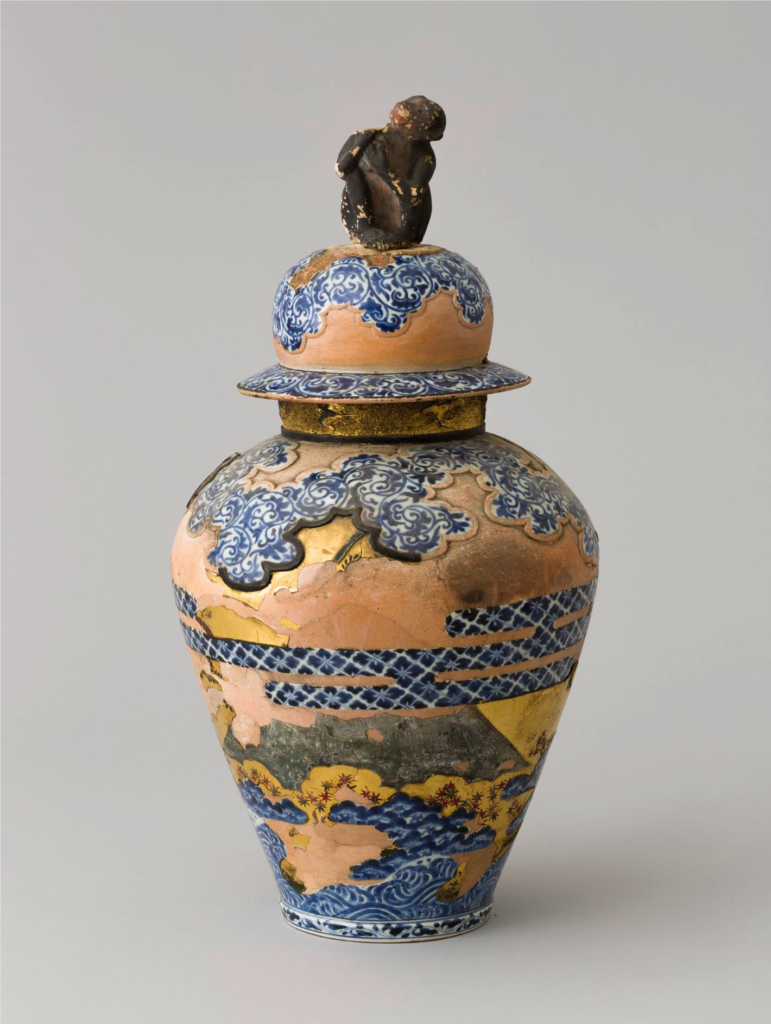 Vase with monkey finial acquired in 1717, 49.6 cm high, the Porzellansammlung, Staatliche Kunstsammlungen Dresden (vase: PO5189, lid: PO 9662). Photo: Adrian Sauer
One of the few other comparable sets of lacquered Arita vases in Dresden that is positively identifiable in the Lagnasco letters are those with wooden monkey finials which are specified. These ten "monkey vases" were bought along with another garniture of five pieces for 5000 guilders, making them on average 333 guilders each. The birdcage vases were bought for an average of 300 guilders apiece.
Lagnasco paid 1750 guilders (350 guilders each) for "one garniture of 5 pieces en relief with lions on the covers […]". This description 'en relief' is only used in connection to the "lion vases" and probably suggests lacquer decoration. These might be the set of five mentioned earlier now with other finials. (I am grateful to Cora Würmell for help in elucidating this). 
Condition:
Breaks to the body and cover. Detailed conservation report available.
The rockwork finial was once surmounted by a further element.
References:
Ruth Sonja Simonis, Microstructures of global trade. Porcelain acquisitions through private networks for Augustus the Strong, (Heidelberg: Arthistoricum.net, 2020)
Ruth Sonja Simonis and Jan Hüsgen, 'The Amsterdam-Dresden Porcelain Trade: Count Lagnasco's Purchases for Augustus the Strong, 1716-17', Journal of the American Ceramic Circle, vol. XX, 2019, pp. 83-98
For the Dresden vases, see:
https://skd-online-collection.skd.museum/Details/Index/123908
Acquired by the Ackland Art Museum, North Carolina, USA