A LARGE WEDGWOOD GILDED BASALT PLAQUE, OF MARSYAS AND A YOUNG OLYMPUS
From the Herculaneum series
Circa 1775
37.4 cm diam.
'Marsyas and Young Olympus' is listed in the Wedgwood & Bentley catalogue of 1773-9 on 20 July 1773, no. 61 at 11 ½ inches diameter (see Reilly vol. II p.729). It is one of fourteen entries that are described as 'Figures from paintings in the ruins of Herculaneum; the models brought over by the marquis of Lansdown'. They were in production from June 1769. 11 ½ inches corresponds to the internal measurement without the integral frame of our plaque.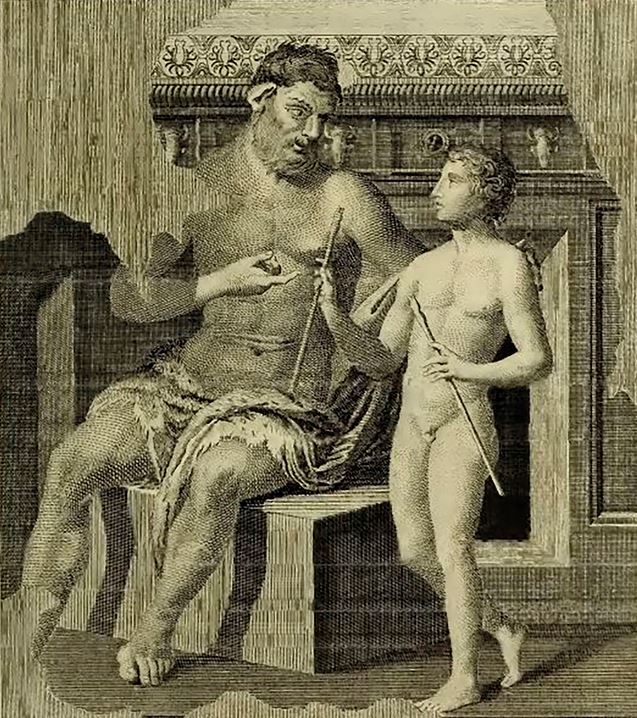 Marsyas was said to be the inventor of the pastoral flute, a subject made famous in antiquity by the Greek artist Polygnotus.
Christie's sold a pair of similar plaques of 'Polyphemus and Cupid' and 'Marsyas and a Young Olympus' in their Exceptional Sale, London, 4 July 2019, lot 136. These differed in that only the outer frame was gilded.
A blue jasper dip version without the frame is in The Dwight and Lucille Beeson Wedgwood Collection (Adams p. 111, pl. 91) and another basalt unmarked plaque from the same series and with a frame of the same form as ours is illustrated (Adams p. 206, no. 118). A Wedgwood plaque of the same subject but without the integral frame or gilding was offer by Sotheby's, New York, 23 October 2019, in the Starr Collection, lot 108.
Condition:
No restoration, some chips around the suspension hole
Provenance:
Hadspen House, Somerset
A paper label to the reverse reads "Wedgwood belongs to H(?) Hobhouse"
Henry Hobhouse (1742-1792) purchased Hadspen in 1785 and redesigned it, he filled the house with a considerable library of Latin and Greek authors and works of art, his son, also Henry (1776-1854), was a distinguished civil servant and a Fellow of the Society of Antiquaries.
References:
Robin Reilly, Wedgwood, (1989), vol. II, p. 729, no. 61
Elizabeth Bryding Adams,  The Dwight and Lucille Beeson Wedgwood Collection at the Birmingham Museum of Art, (1999), p. 111, pl. 91 and p. 206, no. 118
This item is sold