A very large vase and cover painted on the body in blue, grey and greens with a continuous landscape with trees, red deer, mountains, rocks, and a road leading up to a castle. The shoulder with a band of green oak leaves and blue flower heads, the neck finishing with blue slanting stripes. The lid with green oak leaves and blue flower heads edged with a band of blue hatched triangles and a cone shaped finial with blue scales. The edge of the flange of the lid painted with blue dashes on the inside.
Alfred Powell (1865-1960) was born in the period when of the Arts and Crafts movement was established.  From an early age he showed talent for painting and making sketches from nature. He was trained as an architect at the Slade and worked for architectural practices with a strong connection to the Arts and Crafts movement. While working for John Dando Sedding he came into contact with John Ruskin, William Morris, Phillip Webb and Norman Shaw. Following the principles of the Arts and Crafts movement he himself practiced different crafts including chair-making, metalwork, woodcarving, stone-carving, wood engraving.
Although never giving up his skills as an architect he was changing direction around 1903, when he was painting furniture made by Gimson and Barnsley at Sapperton in the Cotswolds and also around this time he went to work for Joshiah Wedgwood & Sons Ltd. in Etruria to learn the art of pottery painting.
In 1906, at the age of forty, he married Ada Louise Lessore who had studied embroidery, calligraphy and illuminating at the Slade. Her family connection with Wedgwood was strong; her father and her aunt had worked as freelance designers for Wedgwood.
Alfred and Louise often worked on big commissions together.  Much of their work came from private commissions or was sold through exhibitions. It is probably for works they collaborated on that they are best known for, especially decorated Wedgwood pottery and painted furniture.  Alfred's work was generally the more pictorial architectural and marine and animal subjects, while Louise's strength lay in calligraphy and she tended to do armorial designs and the freely painted foliate patterns drawn loosely from Renaissance and Islamic sources.
Their collaboration with Wedgwood resulted in setting up a school of handicraft painters at Wedgwood Etruria Works, one of the first of its kind. Alfred taught some of the girls with an interest in art watercolour painting and he took on apprentices in London at their Red Lion Square studio to learn on the job.
In 1906 the Wedgwood/Powell studio was established in Bloomsbury at 20 Red Lion Square.  Regular exhibitions were held there of wares painted by Powell and other artists. The Powell's visited Wedgwood several times a year to place orders and supervise the production of new designs. Unglazed pieces were delivered to London and once finished send back to Wedgwood to be glazed. The painted Etruria mark on the base indicates that our vase was decorated at Wedgwood, presumably the massive scale making it impractical to be transported to and from London for decoration.
Another slightly smaller vase designed and similarly painted by Alfred Powell in 1920, (73 cm high, 30 cm diam.), with a continuous landscape painting and a castle, is in the Victoria & Albert Museum (C.134-1938)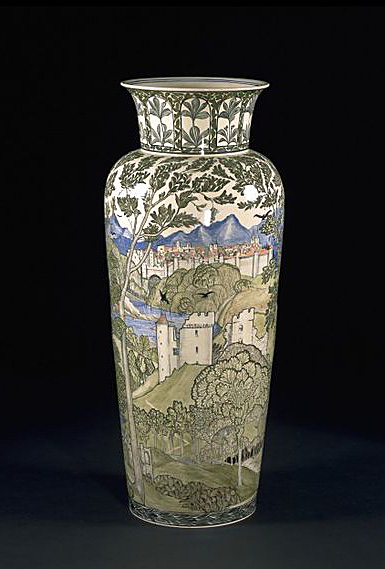 Our vase, being the largest size that we know, is likely to have been a piece ordered from Powell. The presence of red deer and the mountainous landscape could suggest a Scottish commission.
We are grateful to Rebecca Klarner for help with our researches.
Condition:
Crack in base extending slightly up the sides
Bibliography:
'Good Workmanship with Happy Thought: The Work of Alfred and Louise Powell',
Maureen Batkin and Mary Greensted, exhibition catalogue, Cheltenham Art Gallery and Museums, 1992
Wedgwood Ceramics 1846-1959, Maureen Batkin, Richard Dennis publication
This item is sold