A MEISSEN, BÖTTGER PORCELAIN, WHITE FLASK
Circa 1715
19.5 cm high
Schloss Moritzburg red-lacquered inventory number I.A. 10 a.; Porzellansammlung im Zwinger inventory number P.E. 2875
The form is based on a Japanese model but raised on a foot and with applied baroque mascarons and bunches of roses. The identical form also occurs in Böttger's red stoneware which would have been made before 1713, our vase with its distinctive ivory-white tone of porcelain would have been made at the same time or very shortly afterwards.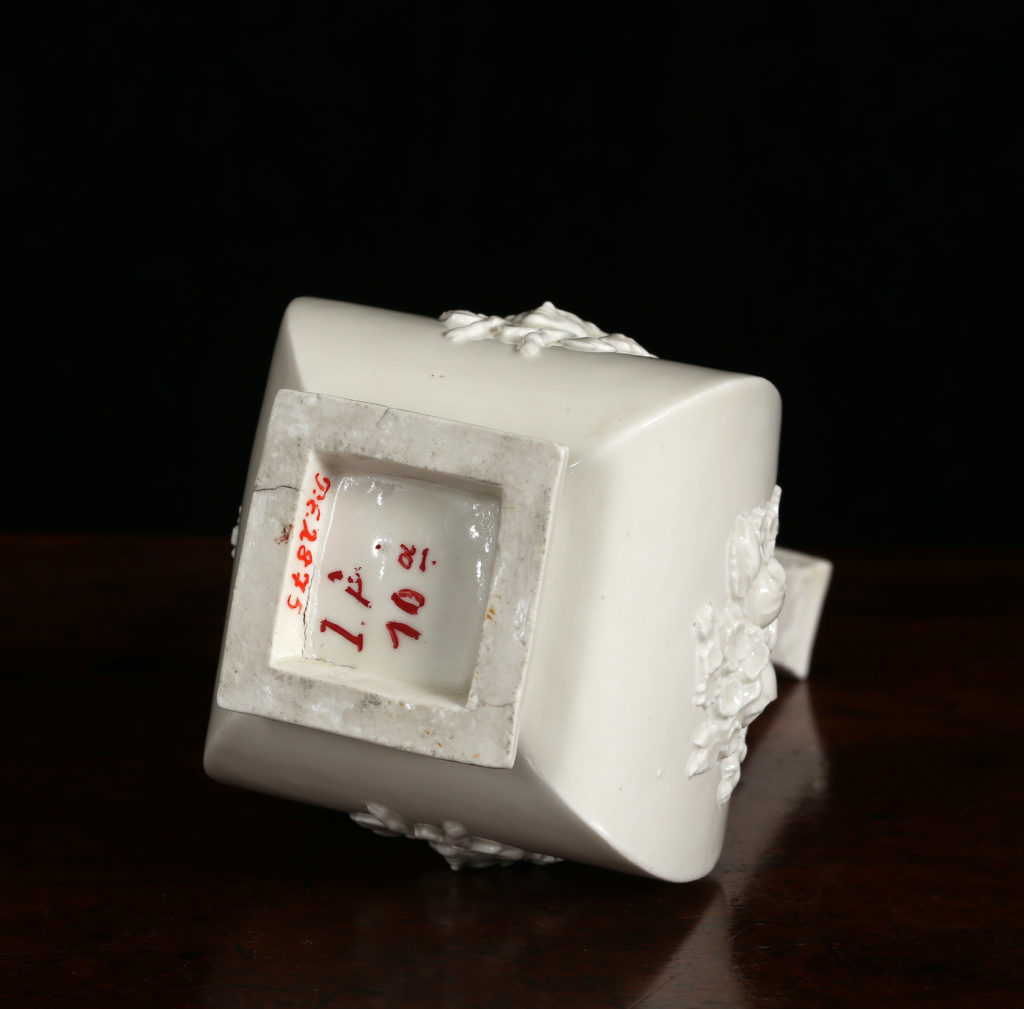 When the constitutional monarchy was dissolved after the First World War and a republic established in Germany, a settlement was negotiated between the state of Saxony and the former royal family, the Wettin. A portion of the royal collections were settled on the Wettin family as was the large hunting castle Schloss Moritzburg which became their private property and principal residence.
In 1945 the pieces held at Schloss Moritzburg were confiscated by the invading Red Army and taken to Russia. Subsequently the Russian authorities returned much of the collections to the communist regime in East Germany and they were incorporated into the Staatliche Kunstsammlungen Dresden where they were given the Porzellansammlung im Zwinger inventory number P.E. 2875.
After the fall of the communist regime those pieces that could be shown to have belonged to the royal family personally were restituted to them and subsequently appeared on the market.
Condition:
One chip filled on a corner of the rim, there is a short firing crack to two sides of the foot rim
Provenance:
The collection of the Royal House of Saxony
Probably moved to Schloss Moritzburg, Saxony, circa 1925 (bearing Schloss Moritzburg red-lacquered inventory number I.A. 10 a.)
Confiscated by the Red Army in 1945, returned from Russia and incorporated into the Staatliche Kunstsammlungen Dresden (bearing Porzellansammlung im Zwinger inventory number P.E. 2875)
Restituted to the former royal family of Saxony (The Wettin) after the fall of communism
The Collection of Melinda and Paul Sullivan, Sotheby's, New York, 16 April 2019, lot 177
References:
Pairs of bottles of this form were in the sales from the Johanneum in Dresden, Rudolph Lepke's, Berlin, October 12-14, 1920, lots 119 and 120. A pair with traces of cold decoration remain in the State Collection in the Zwinger, Dresden, inv. nos. PE 2872 and PE2873 a, b, and is illustrated in Ulrich Pietsch and Claudia Banz (ed.), Triumph of the Crossed Swords, Dresden, 2010, p. 171, cat. no. 15. Another is in the Lesley and Emma Sheafer Collection, Metropolitan Museum of Art, New York, acc. no. 1974.356.499.
This item has been sold