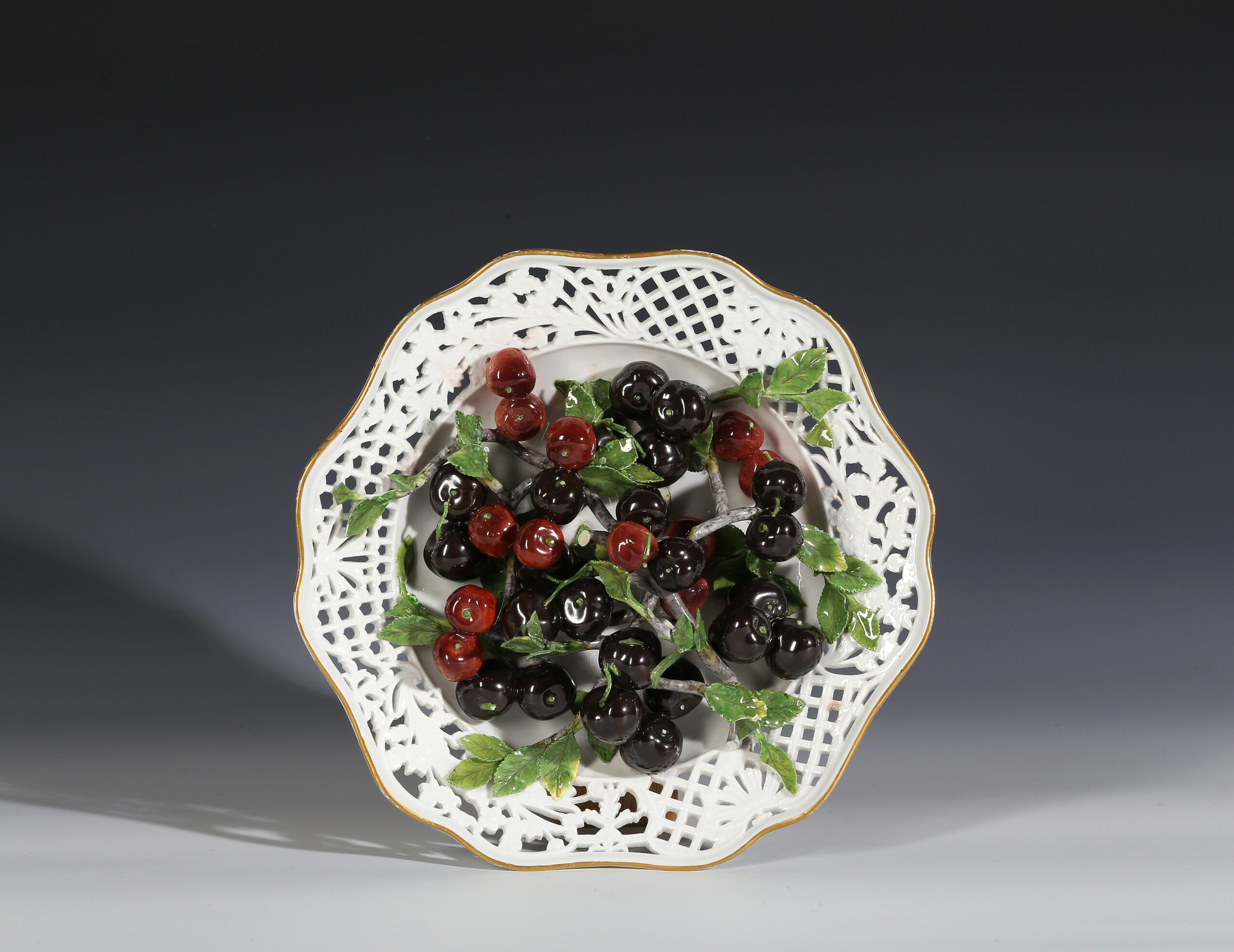 A MEISSEN DESSERT PLATE OF CHERRIES FROM THE 'BRUHLSCHE ALLERLEI' SERVICE
Model probably by Johann Friedrich Eberlein
Circa 1746
25.8 cm diam.
Faint blue crossed swords mark
Impressed pressnummer: 10
This virtuoso trompe l'oeil recreation of cherries in a pierced porcelain dessert plate is from the 'Brühlsche Allerlei' service; one of the most beautiful and richest rococo Meissen services made for the rapacious art-loving Prime Minister of Saxony, Heinrich Graf von Brühl.
The naturalistic painted and sculptural decoration of the service consisted of flowers and all manner of edible fruit and vegetables from the mundane to the exotic plants from the orangeries of Count Brühl. Johanna Lessmann suggests that this trompe l'oeil effect was incorporated into a scheme that guests encountered as soon as they entered the Brühl palace with its staircase figures of Flora, Atlanta and Meleager, creating a Garden of Paradise[1].
Sir Charles Hanbury-Williams, the British Envoy to Dresden, wrote in a letter to Henry Fox in 1748:
"I was once at a Dinner where we sat down at one table two hundred and six people (twas at Count Brühl's) when the dessert was set on, I thought it was the most wonderful thing I ever beheld, I fancyd myself either in a Garden or at an Opera, But I could not imagine that I was at Dinner. In the middle of the Table was the fountain of the Piazza Navona at Rome, at least eight foot high, which ran all the while with rose-water, and tis said that the Piece alone cost six thousand Dollars (Thalers). I verily believe that Count Brühl has above thirty thousand Pounds worth of China in his house."[2]
Count von Brühl's palace in Augustusstrasse, situated in the immediate vicinity of the Residence Palace, had become the glamorous centre of social life in Dresden, as the King was so often away in Poland; its luxury was legendary.
The designer of the service was, for the most part, Johann Friedrich Eberlein (1695-1749), the second Meissen modeller after Johann Joachim Kaendler, in whose shadow he often stood. He had been working on the models since August 1742, and a little later was assisted by Johann Gottlieb Ehder (1716/17-1750). Only rarely, did Kaendler contribute to the service.
The inventory of Brühl's estate from 1765 gives an idea of the extent and richness of the service's forms. When Count von Brühl died on 28 October 1763, the porcelain vault of his Dresden palace in Augustusstrasse contained "Eine Partie von dem guten grosen [sic] Tafel Service" which can be identified as the 'Brühlsche Allerlei' service[3]. At Brühl's death, the service was no longer complete, but the inventory still listed 1,913 individual pieces in 72 categories for the dinner and dessert table. Originally, it must have consisted of more than 2,000 pieces, similar in scale to the Swan service.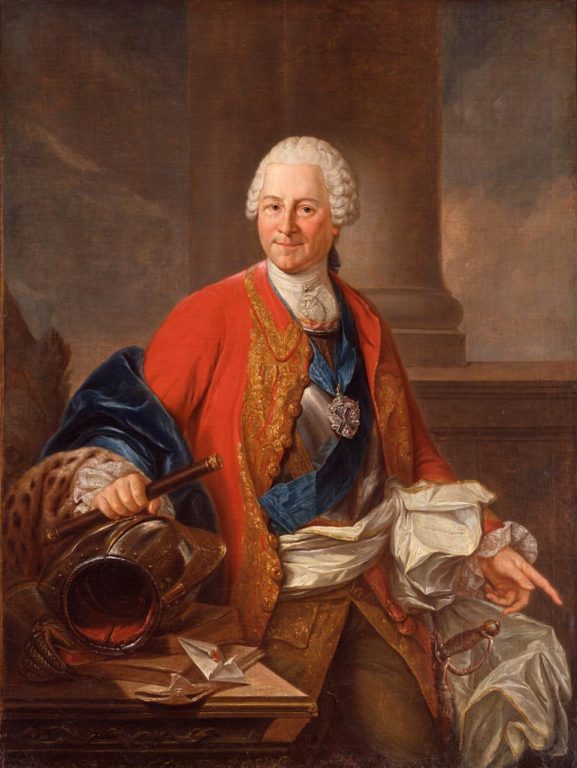 Heinrich von Brühl in a Polish costume by Marcello Bacciarelli
Staatliche Kunstsammlungen Dresden
Johanna Lessmann illustrates another trompe l'oeil dessert plate with a bouquet of flowers from the Bayerisches Nationalmuseum, Munich (Inv. Nr. KER 1561) and notes two others in the Museo Duca di Martina in Naples (Inv. Nr. 2927 and 2935), catalogue no. 152, p. 209)
Condition:
Some losses to extremities, no restoration
Provenance:
Robert G. Vater Collection
References:
Johanna Lessmann, 'Das Brühlsche Allerlei'- Ein Service für Heinrich Graf von Brühl', pp. 106-118, Schwanenservice, Meissener Porzellan für Heinrich Graf von Brühl, (Edition Leipzig 2000)
Ulrich Pietsch, 'Das Schwannenservice- Ein Hauptwerk der barocken Meissener porzellankunst', Ulrich Pietsch et. al., Schwanenservice, Meissener Porzellan für Heinrich Graf von Brühl, (Edition Leipzig 2000), p. 26
Catalogue, Schwanenservice, Meissener Porzellan für Heinrich Graf von Brühl, (Edition Leipzig 2000), no. 152, p. 209
SOLD
---
[1] Lessmann 2000 p. 115
[2] Pietsch 2000, p. 26
[3] Lessmann 2000 p. 107