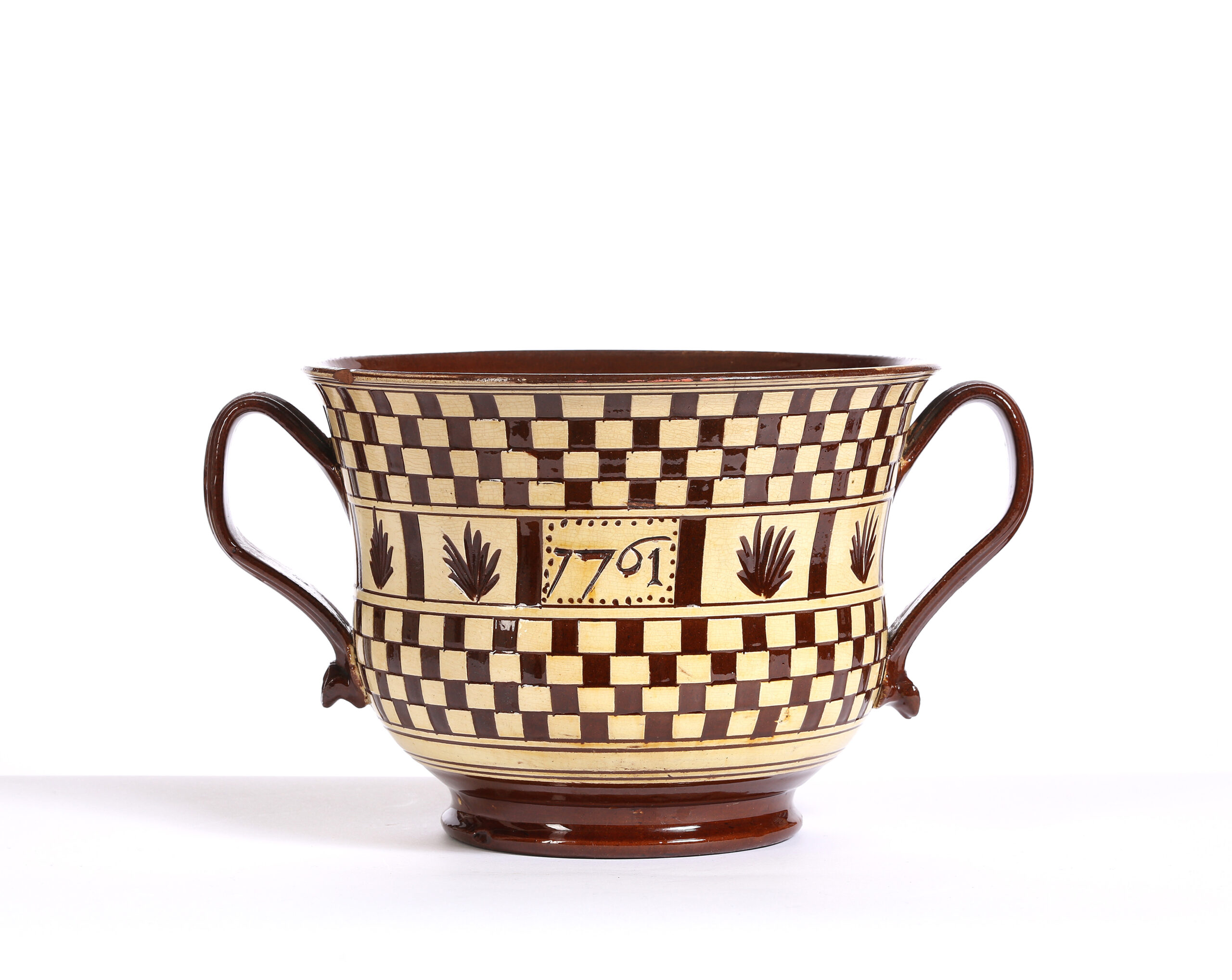 A STAFFORDSHIRE SLIPWARE POSSET POT
Dated 1761
Inscribed BK
17.6 cm high, 31.3 cm across
Finely thrown in a red clay and coated in a white slip through which the geometric 'diced' pattern has been carved.
This posset cup belongs to a small group of related wares that bear dates between 1755 and 1766. There are examples of the same form and design in the Henry H. Weldon collection dated 1766, Colonial Williamsburg, dated 1766 (Grigsby 1990, p. 165 no. 75)  and in the Burnap collection dated 1759. The Burnap Collection example was formerly in the Lord Revelstoke Collection (Taggart 1967, no. 46).
Warmed and spiced mulled wines and ales had been popular since the 17th century, according to the food historian Ivan Day, when milk or cream was added, they were usually referred to as possets. A typical recipe might include egg yolk, cream, sugar, oranges, nutmeg, cinnamon and a generous amount of sack or strong sherry. Large cups such as this were presumably made to celebrate communal events such as weddings. Possets also aided sleep – notoriously so when supplied by Lady Macbeth:
"The doors are open, and the surfeited grooms
Do mock their charge with snores. I have drugg'd their possets"
Condition:
Chip to rim, no restoration
Provenance:
Jonathan Horne Antiques Ltd.
The Longridge Collection no. 576 (This was apparently not amongst the pieces sold at Christies but from a private sale)
Upper Slaughter Manor, The Collection of Micheál and Elizabeth Feller.
Literature:
Leslie B. Grigsby, The Longridge Collection of English Slipware and Delftware, (2 Volumes), Jonathan Horne Publications, 2000, no. 576
References:
Ross E Taggart, (ed.), The Frank P and Harriet C Burnap Collection of English Pottery in the William Rockhill Nelson Gallery,
Leslie B. Grigsby, English Pottery: The Henry H. Weldon Collection, Sotheby Parke Bernet Publications, 1990,
Acquired by the Fitzwilliam Museum, Cambridge