Painted in the typical 'grand feu' Talavera palette of blue yellow and ochre with hunters with guns in a wooded landscape with a stag and doe, divided by two identical coats of arms set over the Cross of Santiago below a helm and mantling.
Alice Wilson Frothingham published our jar when it was in the Philadelphia Museum of Art and identified the arms as those of the Madrilenian hidalgo, Jerónimo Francisco de Eguía y Eguía (1658-1708) who became a knight of the Order of Santiago at the age of six in 1664. Frothingham suggests that it is very possible that it was made in that year to commemorate his election. After the death of his father in 1685, Carlos II granted him the title of the first Marqués de Narros, since the helm above the coat of arms is not surmounted by the coronet of a Marqués we can date this jar between 1664 and 1685.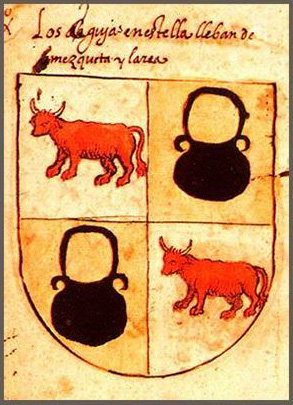 Jerónimo Francisco de Eguía y Eguía held various important posts including that of Presidente de la Casa de la Contratación de las Indias (President of the House of Trade of the Indies) and Consejero de Hacienda (Advisor to the Treasury).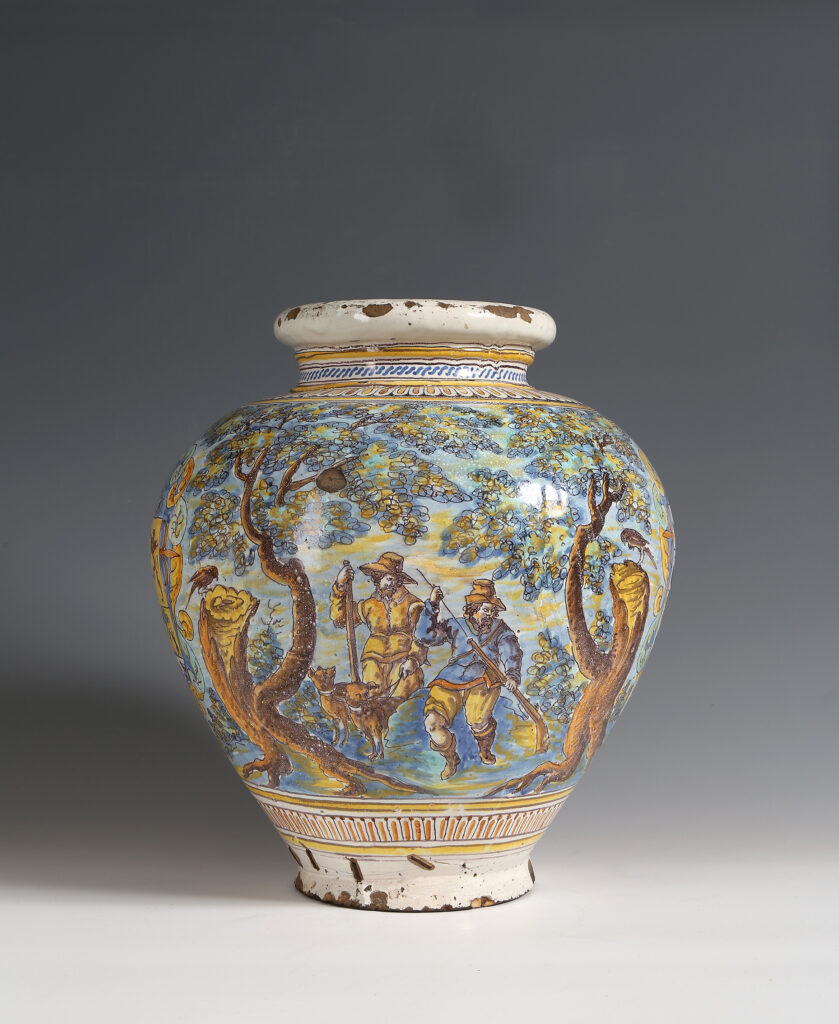 Talavera de la Reina had been an important centre of ceramic production since the second half of the 16th century, it expanded rapidly in the 17th century after a series of sanctions which forbade the use of silver and gold at table. A large jar of this form is uncommon, another is in the Museo Nacional de Artes Decorativas, Madrid and a blue and white example is in the Victoria and Albert Museum, London (see Ray, 2000, p. 187, no. 346).
Condition:
A long crack through and under the base held with old iron rivets, pierced in the base, glaze chips to neck and surface. No
modern restoration.
Provenance:
Acquired by The Philadelphia Museum of Art with their Annual Membership Fund in 1911. Deaccessioned by the museum in 1954 and sold at Freemans, 'Memorial Hall' auction, Philadelphia, October 25-30, 1954, lot 502
PMA accession number was:  1911-216.
Literature:
Alice Wilson Frothingham, Talavera pottery, with a catalogue of the collection of The Hispanic Society of America, (New York 1944), p. 35 & p. 40, fig. 34
References:
Frothingham cites:
Vicente Vignau y Ballester, and Francesco Rafael de Uhagón y Guardamino, marqués de Laurencín, Indice de pruebas de los caballeros que han vestido el hábito de Santiago desde el año 1501 hasta la fecha, Madrid 1901, p. 108
Anthony Ray, Spanish Pottery 1248-1898: With a Catalogue of the Collection in the Victoria and Albert Museum, (2000)
This item has been sold