A VINCENNES MODEL OF A SLEEPING CHILD, 'ENFANT DORMANT'
Circa 1749/50
16.4 cm long
Incised mark scrolling P
The child reclining with the right leg bend, lying on drapery which partly covers the head.
The underside of this soft-paste porcelain figure has an incised mark of a scrolling P.  Incised marks were applied by mouleurs (moulders), who formed the body of the piece and by répareurs (repairers) who refined the moulded details. They served as an in-house record to control the quality and quantity of the individual craftsman's work during the production process.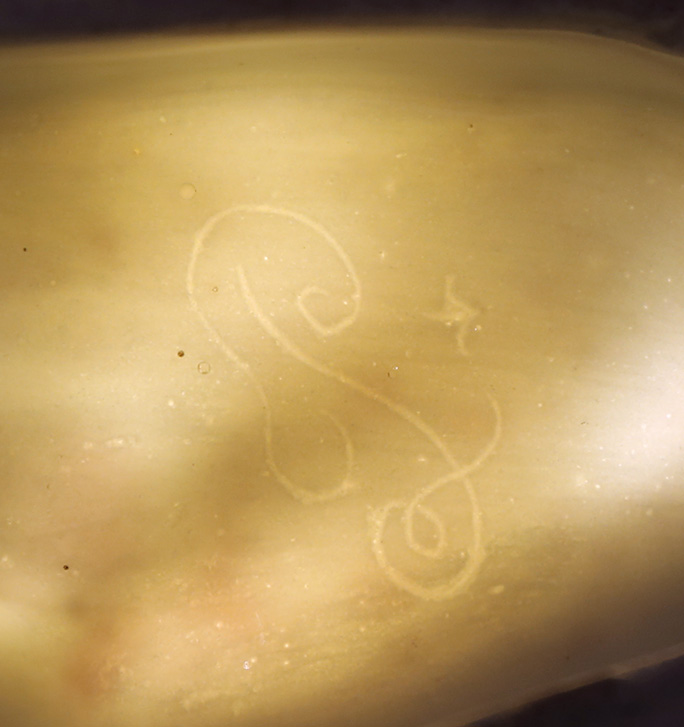 The incised scrolling P also appears on the similar figure at the Cité de la Céramique, Sèvres (MNC.18444).  This version is illustrated and the mark is listed in the table of incised marks in the Grand Palais exhibition catalogue of 1977/78, 'Porcelaines de Vincennes, Les Origins de Sèvres' by Tamara Préaud.
It also appears on a model of children kissing in the Belvedere collection, London. Joanna Gwilt in Vincennes and Early Sèvres in the Belvedere Collection writes that it is possibly the mark of the modeler Patouillet (or Patrouillet), who according to the Workmen's List compiled in 2003 by Tamara Préaud, is listed as an sculptor active at the factory from 1746-50, which would be consistent with the dating of the piece.
Bourgeois has previously attributed these models to the modeler Louis-Felix de la Rue but on the Workmen's list compiled by Préaud he is only recorded working at Sèvres in 1754.
Préaud mentions that in the inventory of October 1752 twenty-eight Enfant Dormant were listed at nine livres and four at two livres, and that eight mentions of sale were noted at 15 and then 9 livres. It seems possible that our figure is one of the figures of this series.
Further examples of our model are at the V&A (Museum number C.158-1929 and at the Huntington Art Collections, California (from the collection of Mary-Lou Boone, Inv. 2010.6.17), neither are recorded as having an incised mark.
A related model, without the drapery covering the head, is in the Belvedere Collection.
The models of the Sleeping Child and Children Kissing, are traditionally attributed to the Belgian sculptor François Duquesnoy, known as François Flamand or Il Fiamingo (b. 1597, d. 1643).
Condition:
Some original firing cracks visible in the underside, some black speckling in the glaze, no restoration
Provenance:
Possibly the one sold at Sotheby's London, the Property of Wilfred J. Sainsbury Esq. 30th March 1971, lot 192
References:
Tamara Préaud, 'Porcelaines de Vincennes, Les Origines de Sèvres', Grand Palais exhibition 14.10.1977-16.01.1978, p. 164, no. 480, p. 186, no. 75, p. 189
Tamara Préaud, 'Sèvres Workmen's List', 2003, French Porcelain Society Monographs
Joanna Gwilt, Vincennes and Early Sèvres Porcelain from the Belvedere Collection, 2014, p. 226 no. 163, p. 227 no. 164, pp. 246-247, p.  249 no. 30
Elizabeth Williams and Meredith Chiltern, 'Daily Pleasures, French Ceramics from the MaryLou Boone Collection', LACMA 2012, cat. no. 125, pp. 364-5
This item has been sold