A WEDGWOOD AND BENTLEY BLACK BASALT 'ENCAUSTIC-DECORATED' CALYX KRATER VASE
Circa 1770-1775
Iron-red painter's mark and faint 187
25.6 cm high, 28.1 cm diam.
Wedgwood was given a copy of Pierre-François Hugues d'Hancarville, Collection Of Etruscan, Greek And Roman Antiquities From The Cabinet Of The Honble. Wm. Hamilton, on September 20, 1769, by his admirer and patron Sir Watkin Williams Wynn. Wedgwood wrote to his partner Thomas Bentley "May not you give Ld. Cathcart a hint that we are preparing to paint the Etruscan Vases after Mr Hamilton's book?".
The form of our vase and the decoration are taken from plates in volume I of this work. Sir William Hamilton's 4th c. BC Apulian Column Krater, from which the frieze of our vase is taken, forms part of his first collection which entered the British Museum in 1772.
Josiah Wedgwood said in his Ornamental Catalogue of 1773: "It is evident the finer Sort of Etruscan Vases, found in Magna Graecia, are truly Greek workmanship, and ornamented chiefly with Grecian Subjects, drawn from the purest Fountain of the Arts". However, he still referred to them as Etruscan and named his new factory Etruria.
Wedgwood knew that his technique of decoration was completely different from the ancient Greek but for advertising purposes claimed: "The Art of Painting Vases in the Manner of the Etruscans has been lost for Ages;… The Proprietors of this Manufactory have been so happy as to rediscover and revive this long lost Art".
The decoration of these wares proved much more complicated than Wedgwood expected, he achieved a similar effect by using a black body, which Wedgwood called basalt, and painted the surface with slips and enamels which could be applied thinly and accurately with a matt rather than glossy surface. Wedgwood found these wares difficult to produce, writing to Bentley in 1768 he said: "I have been turning two or three sorts of faithfull copys from Etruscan Vases & am quite surpris'd both at the beauty of their forms, & the difficulty of making them, especially in pairs".
The wares were expensive, writing on December 3, 1772, he lamented "The Grecian vases we have are sadly too dear… Whenever we tell the price… I am sure of a full stare… & either some note of admiration or absolute silence"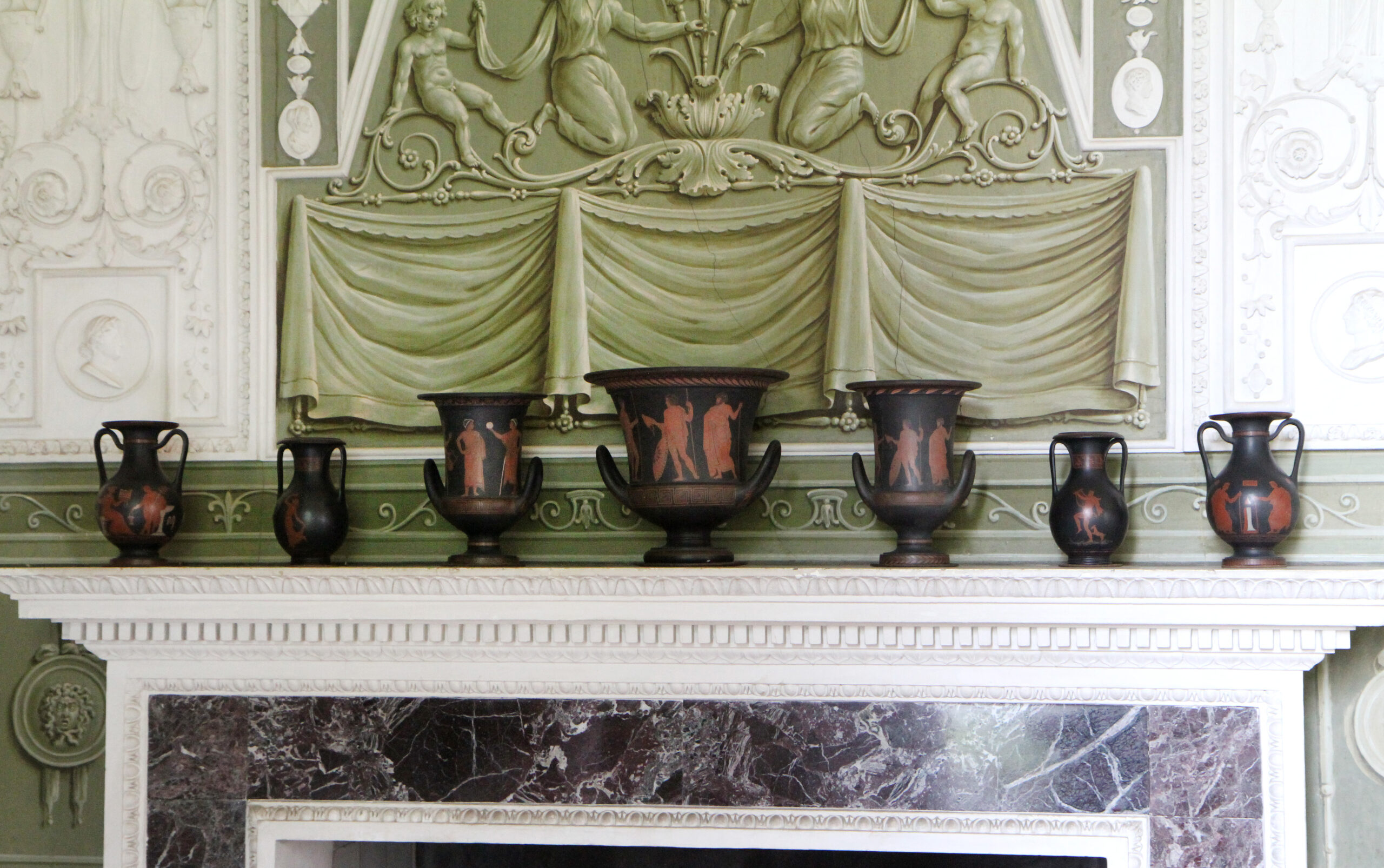 A vase of identical shape with similar decoration forms the central vase of a garniture of seven Wedgwood vases in Schloss Wörlitz near Dessau, Germany (Worlitz inventory no. II-322, SSG-WOL). The collection was formed from 1772 by Duke Leopold III of Anhalt-Dessau (1740-1817), after his return from a Grand Tour strongly influenced by the ideals of England and The Enlightenment. The schloss was finished in 1773 and holds one of the earliest collections of Wedgwood vases.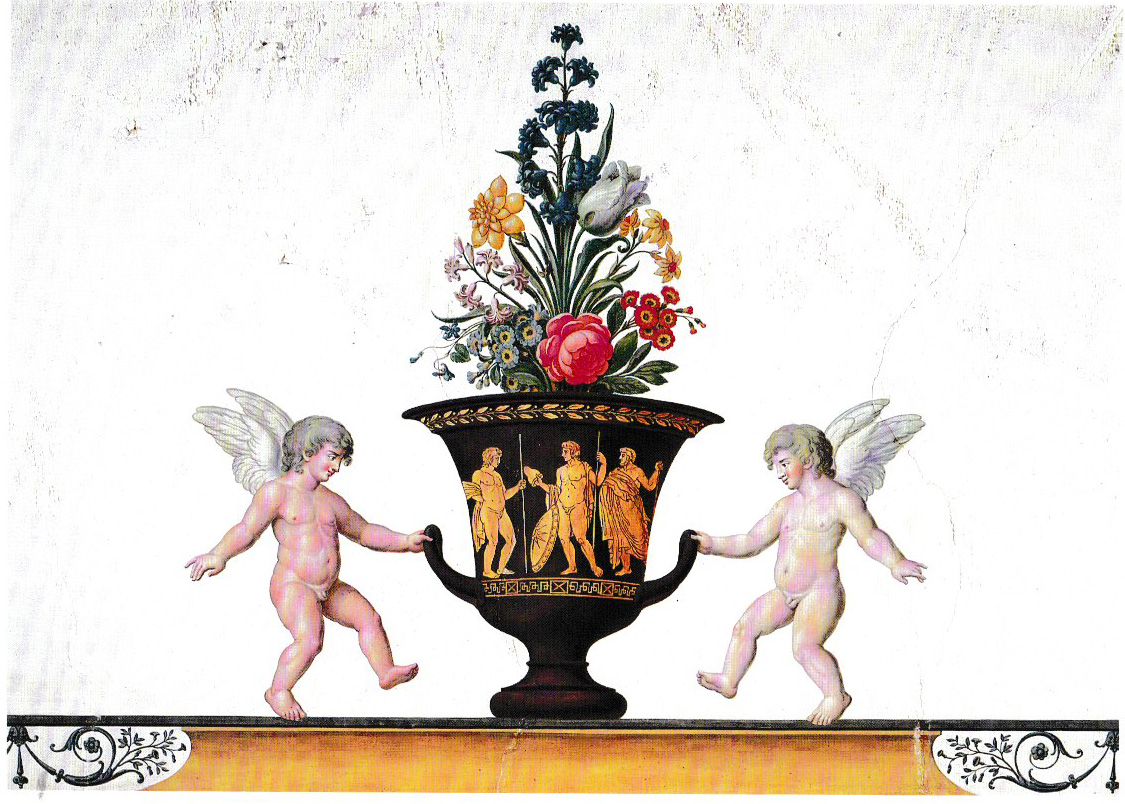 The Wörlitz vase was incorporated into the wall paintings by Johan Fischer in the Wörlitzer Flora-Temple completed in 1797
Sir William Hamilton in the centre pointing to d'Hancarville's book with Sir Watkin Williams Wynn on the left pointing to the Greek vase
Condition:
A loose plug in the centre of the base.
Provenance:
Lindsay Grigsby, Richmond, VA, 1 June 2004 (label and invoice)
Jeffrey Milkins Collection, no. 415
References:
Pierre-François Hugues d'Hancarville, Collection of Etruscan, Greek and Roman Antiquities from The Cabinet of The Honble. Wm. Hamilton, Antiquités Etrusques, Grecques Et Romains, Tirees du Cabinet de M. Hamilton, (4 volumes, Naples 1766-67 but possibly published 1767–76)
Thomas Weiss et.al., Wedgwood 1795-1995 – Englische Keramik in Wörlitz, (Seemann 1995) p. 30, catalogue no. 64
For a Wedgwood and Bentley marked 'encaustic-decorated' vase and cover with the same Bacchanalian scene, see the Spak Collection, no. 355 at the Law Library Special Collections, Florida International University (FIU)
https://ecollections.law.fiu.edu/spak-wedgwood-pottery/index.6.html
SOLD