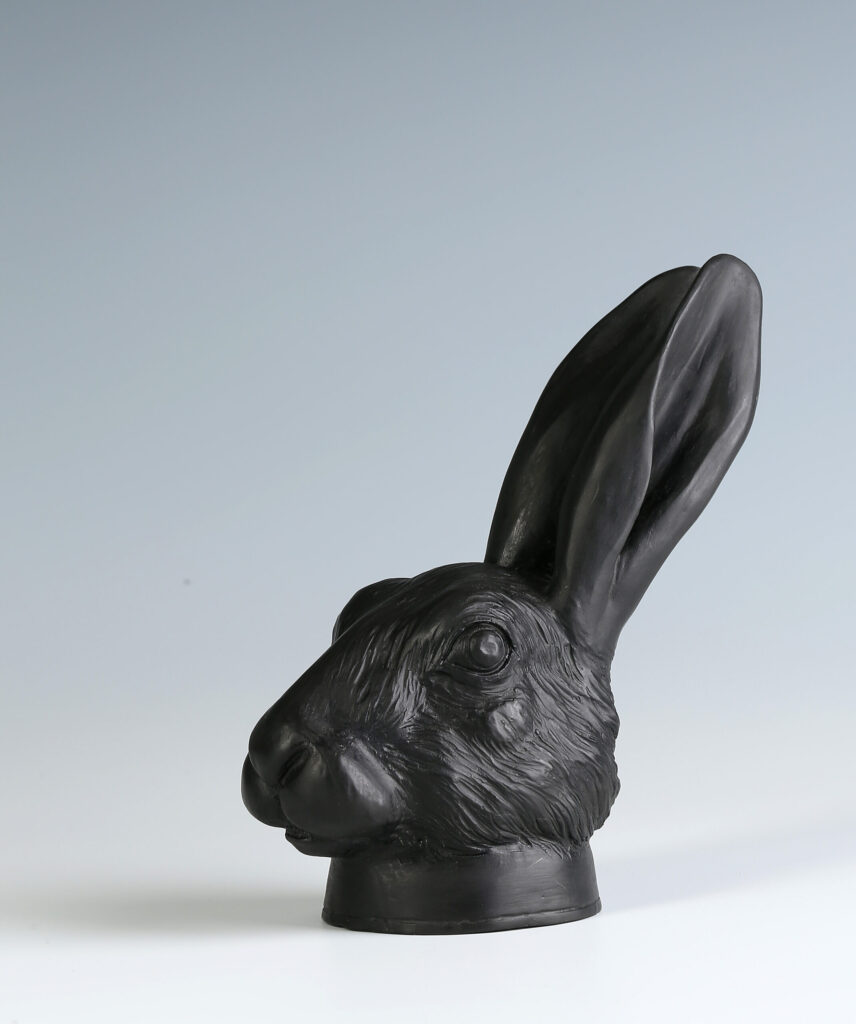 A WEDGWOOD AND BENTLEY HARE HEAD STIRRUP CUP
Circa 1775-1780
16.3 cm high
Impressed Wedgwood and Bentley mark to the back of one ear
On 11th July 1775 Josiah Wedgwood wrote to Thomas Bentley that:
"Mr Tebo has had a cast of a Hares Head before him some time, but it is not a likeness. -The wet plaister in Casting presses down the hair upon the face, & makes it like the head of a drown'd Puppy; Mr. Tebo cannot model anything like the face of a Hare – he has made many attempts at sundry times, but they generally turn out to be full as like Pigs as Hares. Besides we cannot tell what to do with the ears…"[1]
The unfortunate Mr Tebo may have been the French modeller Thibaut who had worked at Bow, Plymouth and Bristol, but clearly his skills were not what the exacting Josiah Wedgwood sought, and he left his employ in November 1775[2]. Unglazed basalt was an unforgiving material which required more accomplished sculptural skills than were needed for porcelain figures where the glaze and colours could conceal shortcomings.
Our naturalistically modelled cup, with wide eyes, perfectly captures an alert hare and must be by another modeller. The glazed interior points to its use as a drinking cup held by a mounted huntsman, although presumably such pieces were rarely used and were mostly ornamental.
On the 14 to 17 February 1776 'hares' heads at 2/6 were sent to the London showroom.[3] Another Wedgwood and Bentley marked hare cup is in the Weldon collection.[4] A basalt example with impressed lower case 'wedgwood' mark and a caneware example both of the late 18th century were in the Starr Collection.[5]
Condition:
Perfect
Provenance:
Robert J. Reichner Collection, IL, 2010
Jeffrey Milkins Collection, no. 593
References:
Edwards 1994
Diana Edwards, Black Basalt: Wedgwood and Contemporary Manufacturers, (Antique Collectors' Club, 1994)
Grigsby 1990
Leslie B. Grigsby, English Pottery: The Henry H. Weldon Collection, Sotheby Parke Bernet Publications, 1990
Reilly 1989
Robin Reilly, Wedgwood, (Stockton Press 1989)
SOLD
[1]Grigsby 1990, p.352 no. 206 note 2
[2] Reilly 1989 vol. I, pp. 472-473
[3] Edwards 1994 p. 66
[4] Grigsby 1990, p.352 no. 206, and Edwards 1994 colour plate 14
[5] Wedgwood & Beyond, English Ceramics from the Starr Collection, Sotheby's, New York, 23 October 2019, lots 78 and 79