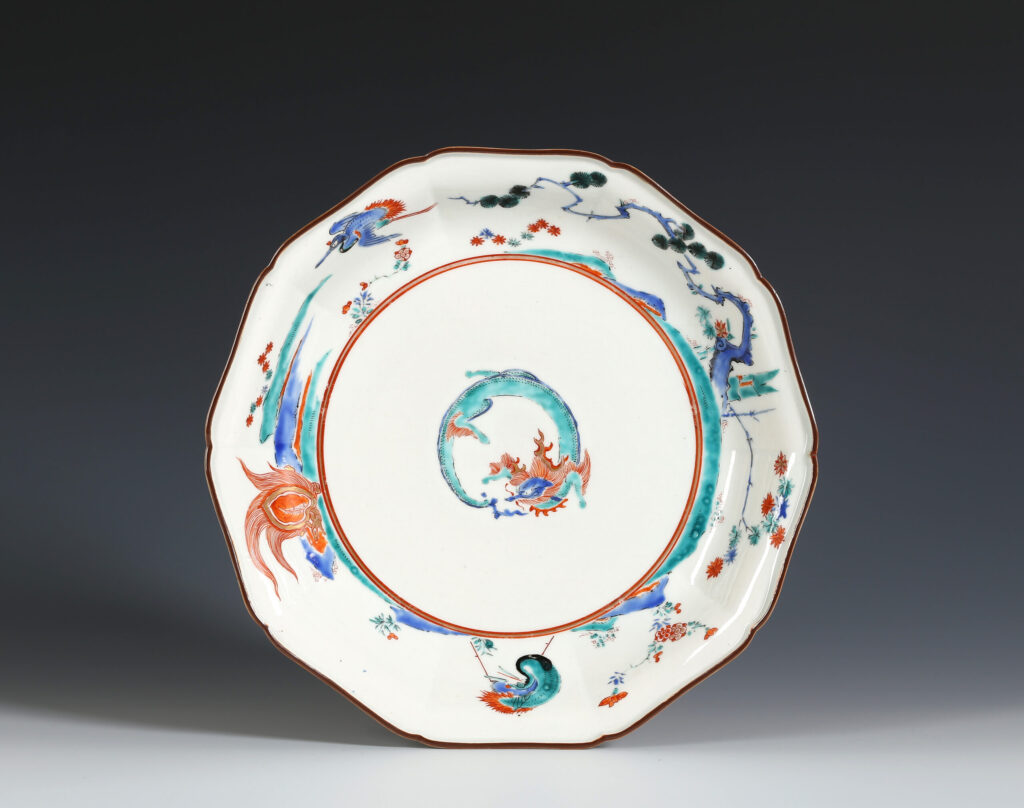 AN ARITA KAKIEMON STYLE DECAGONAL DISH
Japan
Circa 1670-80
25.0 cm across
Decorated with a curled dragon in the centre, the border with the 'flaming tortoise', two cranes and the 'Three friends of winter', pine, bamboo and prunus on a milky-white negoshide body. The petalled rim edged in brown.
The 'flaming tortoise' or minogame was the mythical turtle that was so old that it had gathered a tail of seaweed on its back and became a symbol of longevity[1]. It is often depicted with the crane and pine.
This dish was copied exactly at Meissen, but examples are uncommon, it was not produced for a service[2]. A Meissen example in the Porzellansammlung, Dresden, has the over-glaze blue crossed swords mark indicating that it was one of the pieces made for the French merchant Rudolph Lemaire between 1728-30 and subsequently confiscated[3].  Elements of these patterns were also copied in England at Chelsea and Bow, and in France at Chantilly.
Another Japanese example from the Gerald Reitlinger Collection is in the Ashmolean Museum, Oxford (see: Ayers, Impey & Mallet 1990 no. 123), and an example from the Henry Arnhold collection is now in the Frick Collection, New York
In the early decades of the 18th century, when imports from Japan had dwindled, Kakiemon porcelains were the most valued of all porcelains
Condition:
Perfect

Provenance:
Lady Victoria Leatham collection
References:
Ayers, Impey & Mallet 1990
John Ayers; Oliver Impey; J. V. G. Mallet; Porcelain for Palaces: The Fashion for Japan in Europe 1650-1750, (Oriental Ceramic Society, 1990)
Cassidy-Geiger 2008
M. Cassidy-Geiger, The Arnhold Collection of Meissen Porcelain 1710-50, (2008)
Fitski 2011
Menno Fitski, Kakiemon Porcelain: A Handbook, (Amsterdam: Leiden University Press), 2011
Pietsch & Jakobsen 1997
Ulrich Pietsch and Kristian Jakobsen, Frühes Meissener Porzellan, Kostbarkeiten aus deutschen Privatsammlungen, Catalogue of the exhibition at the Hetjens-Museum, Deutsches Keramikmuseum, Düsseldorf 1997, (Hirmer, München, 1997)
Rückert 1966
Rainer Rückert, Meissener Porzellan 1710-1810, exhibition catalogue, (Hirmer, Munich, 1966)
SOLD
[i] Fitski 2011, pp. 155 &159
[ii] .  For a Meissen example from the collection of Augustus the Strong with the Japanese Palace Inventory no. N = 49 W. see Rückert 1996, No. 291 and for another with inventory no. N = 153 W see Pietsch & Jakobsen 1997, no. 144; another, with an incised AR mark was sold in Koller auction (17 March 2016, lot 1737)