AN ENGLISH DELFT DISH
Brislington
'The Alomode Dress, or the Maidens Mode Admir'd'
Dated 'January ye 8 day/1701' to the reverse, and again 1701 on the front
34.1 cm across
Decorated with the imagery and text copied from an undated broadsheet, entitled 'The Alomode Dress, or the Maidens Mode Admir'd and Continued by the Ape, Owl and Mrs Puss'. A satirical take on the vanities and shortcomings of aspiring, foolish and insalubrious members of society imitating modern fashions. The ape being vain and undiscriminating, the owl foolish, and the cat – as was slang at the time – a 'loose' woman.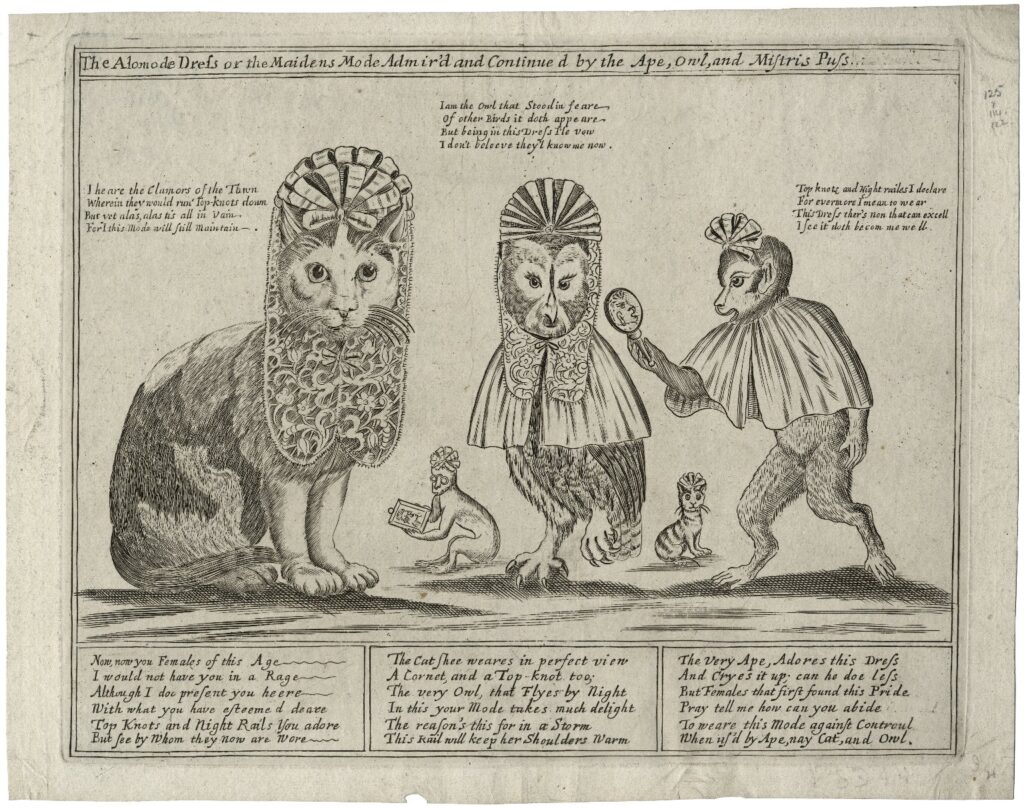 A surviving example of the broadsheet is in the Folger Shakespeare Library, Washington DC
Satirical subjects are extremely rare on English delftware of this period, far less common than those depicting chinoiseries, religious and classical scenes, or popular figures of the day. This is a particularly exceptional example for the amount of detail and sociological interest it carries.
Only one other dish decorated after this broadsheet is known, the famous example from the Glaisher Collection in the Fitzwilliam Museum, Cambridge, (C.1443-1928), dated 1688 which was once attributed to London, but is now considered to have been made in Brislington near Bristol. Although that dish is of a different form, with a turquoise glaze that is often associated with Brislington and decorated with a blue-dash decoration to the edge, we believe that this dish is also from Brislington and by the same hand.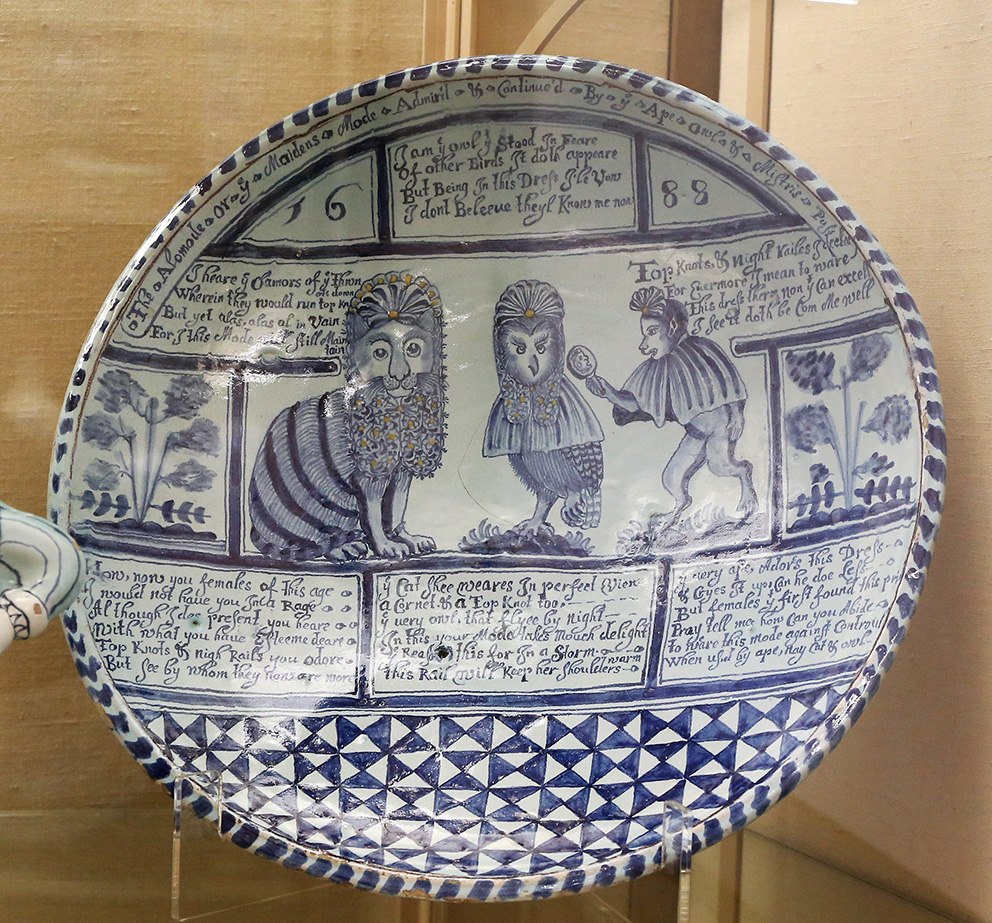 Another large dish from the Fitzwilliam Museum (c.38-1934), one of a series attributed to Brislington, is illustrated in Dated English delftware (Lipski and Archer, 235) carries an inscription to the reverse, worded in the same distinctive format to this one:  'E:W/Widdor January/ye 20 Day A yard/1703', and is also of Form E as defined by Michael Archer (Delftware in the Fitzwilliam Museum, p403)
The text of the verse reads:
'The Alomode Dress, or the Maidens Mode Admir'd and Continued by the Ape, Owl and Mrs Puss'
1701
I am ye owl yt Stood In Feare
Of other Birds It doth appeare
But Being In this Dress I 'le vow
I don't Beleeue theyl know (me) now
I heare ye Clamors of Ye Town
Wherein they Would run top knots
But yet alas, alas, Tis all in vain
For I this Mode will still Maintain
Top knots & night Railes I declare
For Evermore I mean To Ware
This dress ther's non Y can Excell,
I see it Doth becom Me Well.
Now, now, you females of this age
I would not have you In a Rage
Although I doe present you heare
With what you have Esteemed deare
Top Knots & night Rails you adore
But See by whom they now are wore.
Cat shee weares In perfect View
A Cornet & a Top Knot too
Ye very owl that flyes by Night
In this your Mode takes much delight.
Ye Reason this for In a Storm
This Rail Will keep her shoulders warm.
Ye very ape, Adores this Dress
& Cryes It up, Can he doe Less
But Females Y first found this pride
Pray tell me how can you Abide
To Weare this mode against Controul
When used by ape, nay cat & owl.
Condition:
Good condition, no restoration, small rim chips
Provenance:
Private collection
References:
Michael Archer, 'Delftware Chinoiserie at Brislington in the late Seventeenth and early Eighteenth Centuries', Transactions of the English Ceramic Circle, vol. 19 part 3 (2007), p. 509-526
Louis L. Lipski and Michael Archer, Dated English Delftware. London: Sotheby Publications (1984), p. 66-7, no. 235
SOLD