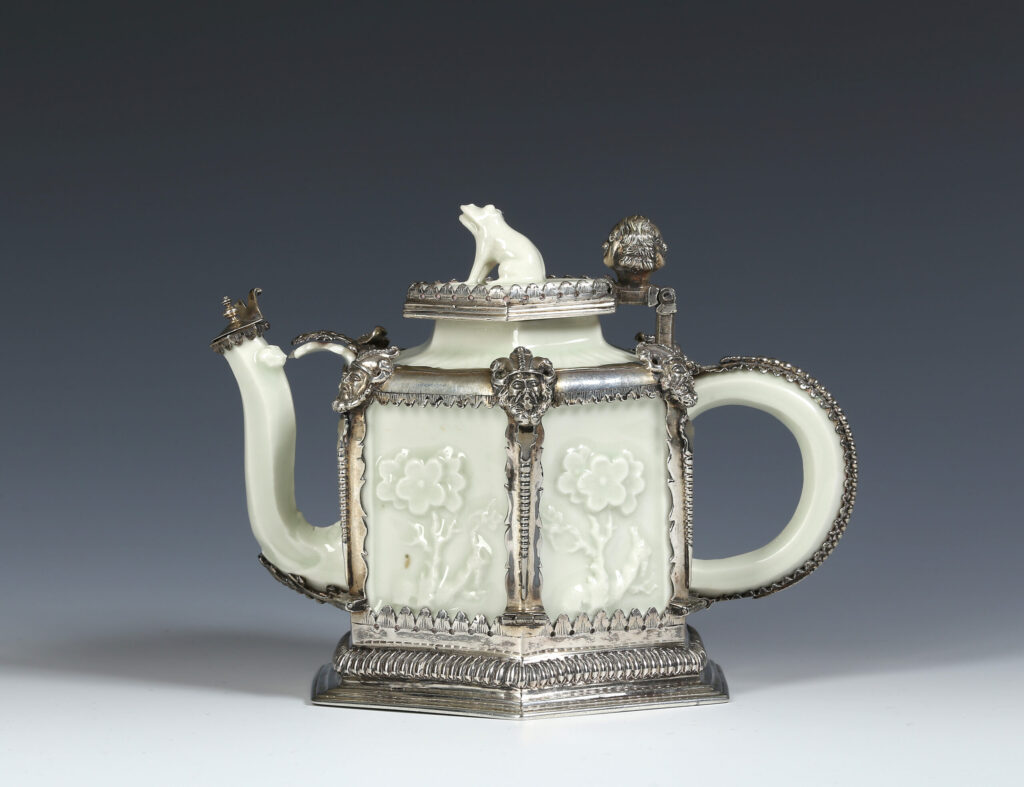 TEAPOT WITH SILVER MOUNTS,
Vienna,
Factory of Claudius Innocentius Du Paquier
Circa 1720-25
14.2 cm high, 18.2 cm across
The teapot dates from the earliest phase of the Du Paquier period of Vienna porcelain. The octagonal body is moulded with panels of raised prunus and has a distinctive finial in the form of a frog, a motif unique to early Du Paquier and which can be seen on a teapot from the Lokar collection[1]. The experimental nature of the porcelain is evident from the warped angle of the spout.
At this early period a Vienna teapot was such a precious rarity that it was adorned with unusually substantial silver mounts. The mounts are unmarked but have features that are characteristic of Huguenot silver of the 1720s, such as the 'rat tail' beading and the cut-out edges.
The unusual moustachioed and bearded mascarons with three plumes which are fixed to each corner are very similar to those on the two-handled cup with the Arms of the Hon. George Treby of 1723 by Paul de Lamerie[2] now in the British Museum.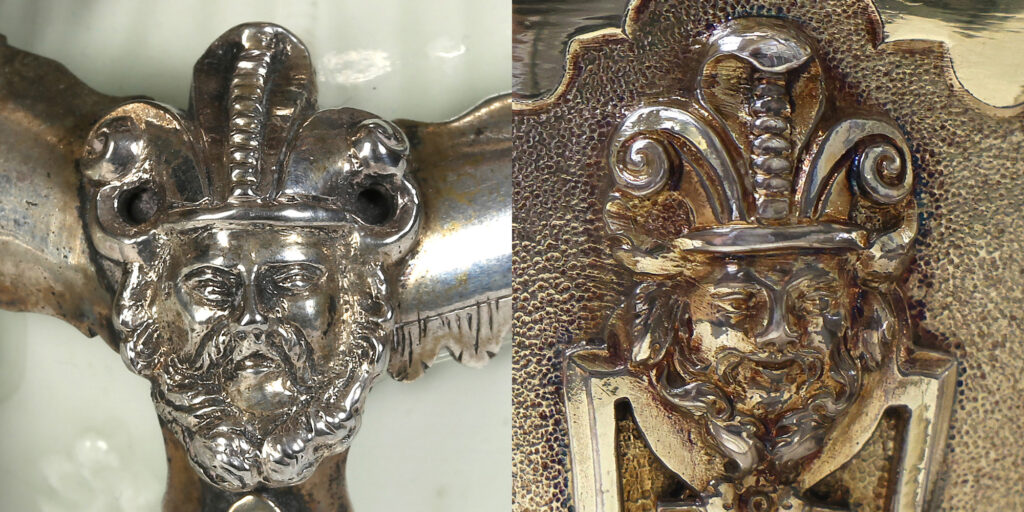 Huguenot goldsmiths settled in Berlin, The Hague, Amsterdam as well as London and Dublin introducing this international Regence style across Northern Europe. Without a mark it is difficult to be certain where the mounts were made.
We are grateful to Drs. Giovanni Lokar, Andreina d'Agliano, Tessa Murdoch and Rainer Zietz for help with this entry.
Condition:
Chips to the underside of the cover, glazed firing fault through the base of the spout.
Provenance:
Property of The Hon. Catherine Mary Wass, OBE (1942-2021) most likely inherited from the 7th Viscount Gort in 1975 from Hamsterley Hall, Co. Durham
References:
Hayward 1959
J. F. Hayward, Huguenot Silver in England 1688 – 1727, (Faber Monographs on Silver, 1959), pl. 8
Chilton 2009
Meredith Chilton et. al., Fired by Passion, Viennese Baroque Porcelain of Claudius Innocentius du Paquier, (Arnoldsche, 2009)
SOLD
[1] Chilton 2009, vol. I, p.224, fig. 3:4a. Meredith Chilton comments that the green frog on the Lokar example is most likely to be the edible frog, rana esculenta.
[2] Hayward 1959 pl. 8, I am grateful to Rainer Zietz for pointing this out.