A LOOSDRECHT TEAPOT
The Netherlands
Circa 1774-1775
The teapot 11.4 cm high, 16 cm across
The cup 6.0 cm high
The saucer 14.4 cm diam
Various incised potters marks of lines and perhaps an 'a
Painted with a cockerel and a hen reserved on a pink-washed ground.
This style of painting has been associated in the past with Louis Victor Gerverot, who was a painter of Fantasievögel at the Weesp and Höchst manufactories, but it does not correspond to his known styles of decoration.
Gerverot originally trained at Sèvres as a painter but spent many years travelling and working for short periods in at least ten porcelain factories mostly in Germany, notably at Höchst. In these factories he learned the skills of colour preparation and porcelain making as well as painting. In the Netherlands he worked at Weesp in around 1768/69 and then from around 1774-1779 at Oud-Loosdrecht with Pastor Johannes de Mol. De Mol had turned to Gerverot for technical assistance in 1773 whilst he was working at Schrezheim in Germany, Gerverot joined him becoming a shareholder in his enterprise in 1775.
These early pink-washed teawares were once thought to have been made at the first Dutch porcelain factory at Weesp but are now known to have been made in the earliest years at Loosdrecht. Some old undecorated stock from Weesp might also have been decorated at Loosdrecht but these pieces are normally marked. The very experimental nature of the porcelain and the thin dry glaze clearly place them in the earliest exploratory phase of the new factory.
Condition:
Handle restuck (old rivets holes filled), end of spout repaired.
Provenance:
J.M. Noothoven van Goor, Arnhem, who was collecting from the 1930s. These pieces were published from his collection in 1943.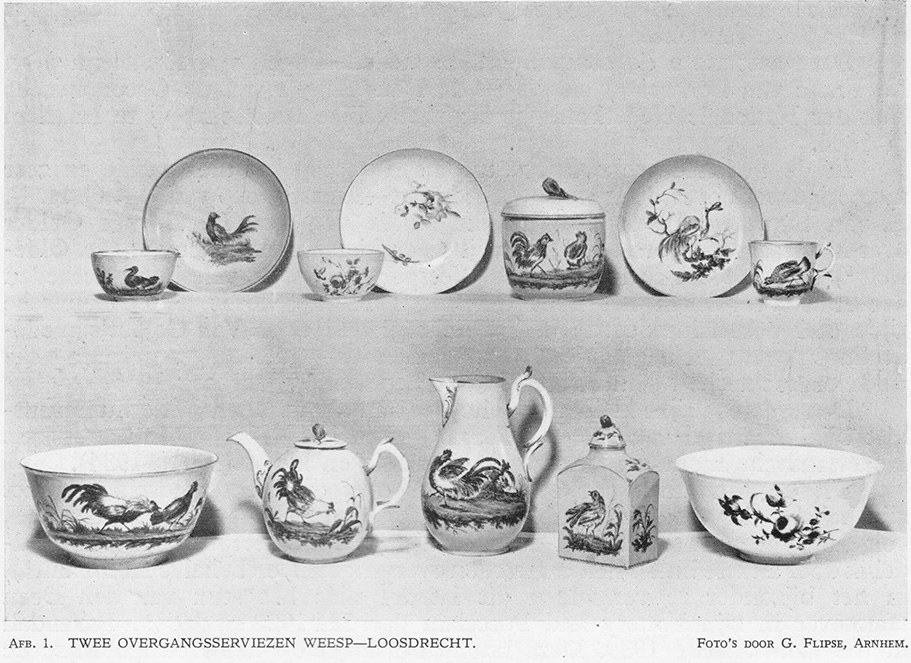 References:
Charlotte Jacob-Hanson, 'Further Findings on the Life and Career of Louis Victor Gerverot', American Ceramic Circle Journal, Vol. XIV, April 2007, pp. 50-75.
"Louis Victor Gerverot – New Attributions" Vormen uit Vuur, Nr. 201, 2010/4, pp. 8-15. (Frankenthal, Weesp, Höchst, Loosdrecht).
This item is sold