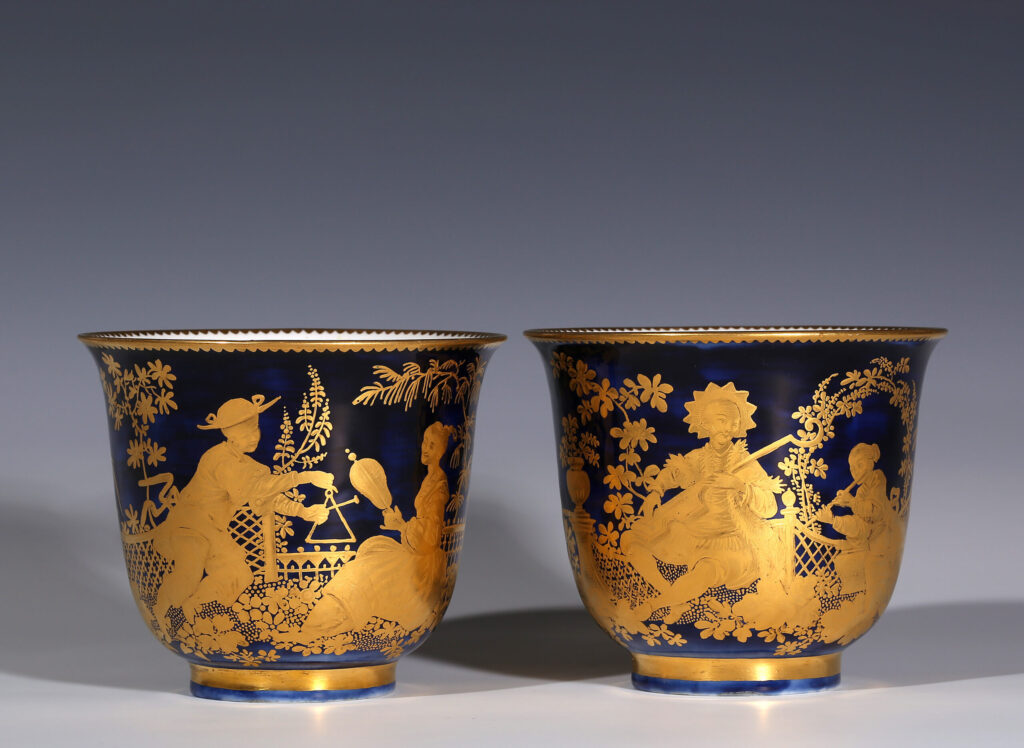 TWO CHELSEA MAZARINE BLUE 'CABINET CUPS'
Circa 1761
10.2 cm diam. 9 cm high
Gold Anchor marks
Sumptuously gilded with extensive ciselure depicting Chinese musicians on a vibrant mazarine blue ground, these beakers are Chelsea's spectacular riposte to the gold decoration on the bleu lapis ground of Vincennes porcelain of the mid-1750s.
Chelsea had undergone a transformation during the Seven-Years war partly in response to the rapid flowering of Vincennes-Sèvres. Until this point Meissen had been the dominant influence but gradually, as examples of Vincennes began to arrive in England, before the start of hostilities in 1756, taste began to shift. A few British visitors to Paris such as Lords Bolingbroke and Hervey are documented buying Vincennes from 1755 and pieces had arrived earlier as gifts.[1] Henry Fox of Holland House had received pieces from Lady Hervey in Paris as early as 1753 and it was perhaps from there that Chelsea could borrow pieces to copy as they had done earlier with Meissen.[2]
The new phosphatic paste and brilliant glaze of the early Gold Anchor period allowed the introduction of such striking ground colours which were celebrated in the Chelsea factory sale catalogue of 1761:[3]
'A Catalogue of the LAST YEAR'S PRODUCE Of Valuable CHELSEA PORCEALAINE MANUFACTORY
Consisting of …the rare and inimitable Mazarine Blue and Gold, and other very rich Colours of exquisite Beauty and Magnificence
The Proprietor, N. Sprimont, after many Years intense Application, has brought this Manufactory to its present Perfection; ….'
Listed in the:
'FIRST DAY's sale' on 'Thursday, April 30th, 1761.'
'Lot 75 A beautiful pair of large cabinet cups curiously enamelled with birds, upon a very rich gold ground.'
Mackenna illustrates two large beakers or 'cabinet cups' of the same form. From the surviving examples it seems as if they never had stands and, as their name suggests, where intended for display. This would account for the untouched quality of the gilding of our pair which must rank as amongst the very finest of their type.
Similar Chinese musicians are found on other wares such as the teapot in the National Gallery of Victoria[4], and on teawares from the collections of the Earls of Jersey at Osterley Park in West London. The designs are in the manner of the chinoiseries of Jean Pillement, but we have not found a precise correspondence.
Related figures, trellises and foliage are found in the decoration of Tournai porcelain genre painting of the early 1760s.[5] This is because the painter Joseph (Henri-Joseph) Duvivier left Chelsea for Tournai in modern-day Belgium in around 1762. It is quite possible that he was responsible for the gilding on our beakers.
Condition:
Perfect and unrubbed
Provenance:
A C J Wall Collection
References:
Dumortier and Habets 2015
Claire Dumortier and Patrick Habets, Porcelaine de Tournai, Scènes galantes et décors historiés, Brussels, (2015)
Legge & Mallet 1984
Legge, Margaret, and Mallet J.V.G., Flowers and fables: A survey of Chelsea porcelain, 1745-69, (National Gallery of Victoria, Melbourne, 1984)
Mackenna 1952
Severne Mackenna, Chelsea Porcelain, The Gold Anchor Wares, (1952)
Manners 2007
Errol Manners, 'Some Continental Influences on English Porcelain', English Ceramic Circle Transactions, vol. 19, pt. 3, 2007
SOLD
——————————————————————————————————————————————————————————
[1] for a discussion of this see Manners 2007 pp. 454 – 463, which can be download from the 'Publications' section on the Home Page of our website
[2] Manners 2007, pp. 441-447
[3] Transcribed in Mackenna 1952 Appendix 1
[4] Illustrated Legge & Mallet 1984, p. 80. no. 177
[5] Dumortier and Habets 2015, pp. 57 & 73