TWO NAPLES, REAL FABBRICA FERDINANDEA FIGURES OF A GENTLEMAN AND A LADY
1792-1800
17.2 cm high
Both with crowned 'N mark in underglaze-blue
Probably modelled by Filippo Tagliolini, the gentleman wearing a blue coat, yellow waistcoat and pink breeches, holding his black hat in his left hand and a green handkerchief in his right, the lady wearing a pink headband, red bodice with white fichu and spotted white skirt, holding a small dog in her arms.
In the 1780s Ferdinand IV built the Villa Communale, which originally housed the Farnese sculptures, and a large park from land reclaimed form the sea on the coast between Naples and the port of Mergellina. The Passegio Reale – or Royal Promenade in the park- was originally reserved just for the nobility but was opened to the and the wealthy bourgeoise of Naples for special holidays such as the Festa di Piedigrotta.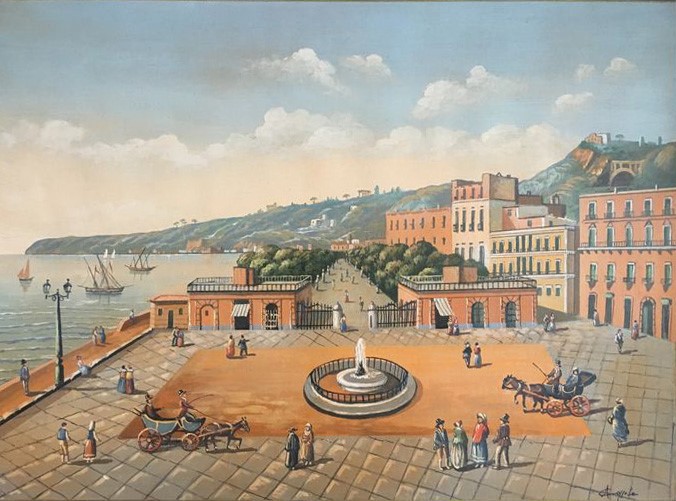 The Passegio Reale, Naples
Versions of these figures were originally modelled for the centrepiece of the desert service commissioned by King Ferdinand IV in 1792 from his porcelain factory, The Real Fabbrica Ferdinandea, to accompany the Servizio delle Vedute Napolitane also known as The Servizio del'Oca. This large table-centrepiece depicted figures and groups representing the Neapolitan bourgeoisie promenading in the Real Passeggio in a gently satirical way.
The sculptor Filippo Tagliolini, the Head modeller at the factory, is best known for his classical biscuit porcelain figures produced at Naples which largely copy the newly unearthed models from Pompeii and Herculaneum and famous works from the Farnese marbles in the Royal Collection. His versatility is only now becoming clear from his early training in Baroque Rome to some remarkable works produced in Venice for the Cozzi factory and in Vienna before his move to Naples in 1780 (to be published shortly). Alvar Gonzalez Palacios in the exhibition 'Civiltà del '700 a Napoli' (1979-80) attributed most of the popular sculpture in the Real Fabbrica Ferdinandea to him but Angela Caròla-Perrotti has argued convincingly that Tagliolini was only responsible for the more important royal commissions such as these pieces (for a full discussion see Angela Caròla-Perrotti,  Le Porcellane dei Borbone di Napoli (1986), IV. 1. I modelli di Filippo Tagliolini p, 477 f.). Caròla-Perrotti also notes that the painter Giovan Battista Polidoro was paid to paint the figures for the service.
The lady dressed in the fashions inspired by the style adopted by Marie Antoinette (Queen Maria Carolina's sister) and her circle at the Petit Trianon, their 'Peasant clothing'. A chemise a la Reine or Gaulle which consisted of thin layers of muslin belted at the waist, sometimes worn with an apron or a shawl, was fashionable just in the very years when their world in Paris was falling apart. The gentlman is in the latest fashions adopted by the wealthy bourgeoisie.
Condition:
No restoration
Provenance:
Anon. sale, Christie's London, 24 March 1969, lot 142 (the male figure – illustrated);
Collezione Fiordalisi
Literature:
Angela Caròla-Perrotti, La Porcellana della Real Fabbrica Ferdinandea (1978), no.244 (the male figure);
Angela Caròla-Perrotti, Le Porcellane dei Borbone di Napoli (1986), plate LXXXVII
Exhibited:
Naples, Museo Archeologico Nazionale, 'Le Porcellane dei Borbone di Napoli: Capodimonte e Real Fabbrica Ferdinandea 1743-1806', 19 December 1986-30 April 1987
These items have been sold