A GREEN GLAZED WILLIAM DE MORGAN SGRAFFITO VASE
Decorated by Achille or Lodovico Farina (c.1867-1932)
Sands End Factory, Fulham
August 1890
18.8 cm high
Incised with a capital 'F' in a hexagram
and 'Fatto in Londra in Fabricca De Morgan e Co, Augosto 1890'
A small baluster vase incised through a pale slip under a deep green glaze with two facing griffins and Cupid breaking his bow, the neck with a band of key pattern between dots and lozenges.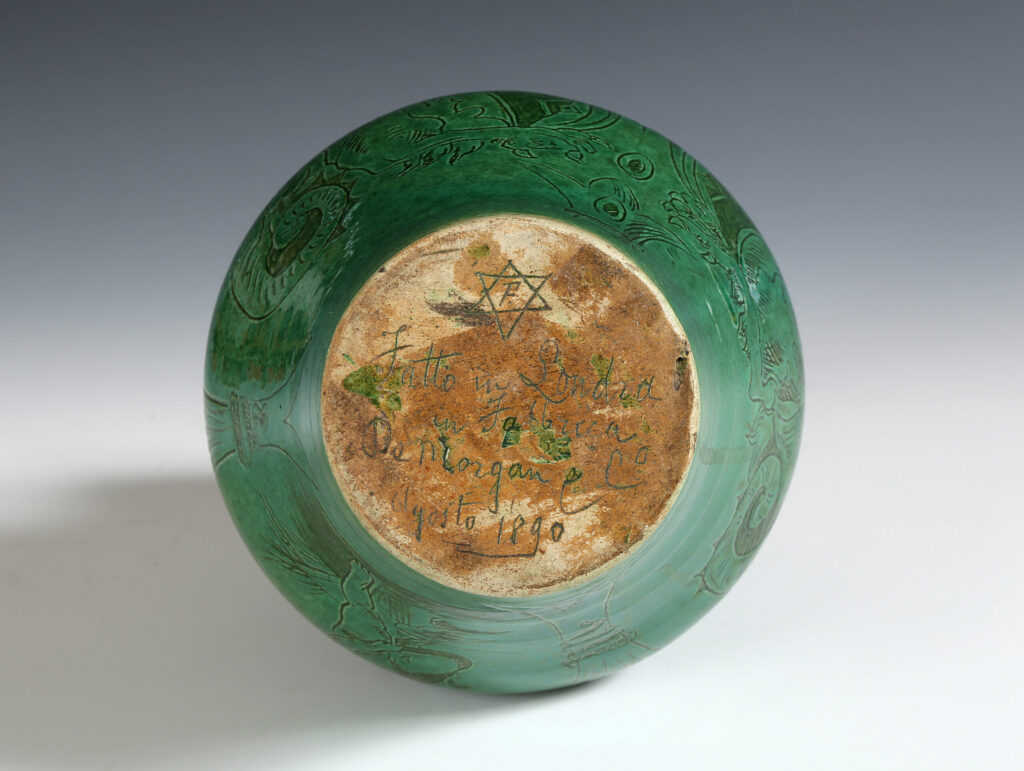 The figure of 'Cupid breaking his bow' is after an etching by Guido Reni of 1600-1640 (British Museum Registration no. U,3.188. We are grateful to Antony Griffiths for this information)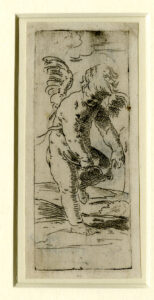 Before William de Morgan started spending his winters in Florence, he employed several Italian assistants in his Sand's End factory in Fulham where he had moved to, in 1888, from Merton Abbey. The name Farina is linked to pieces produced in the 1890's, a plate with sgraffito decoration in the V&A (Assession no. CIRC.338-1965) dating from 1890 has the same mark as our vase but the inscription 'In Fabbrica W. De Morgan & Co – Londra 1890'.
Achille's father, Lodovico Farina (c.1835-1911), had taken over the family ceramic workshop, A. Farina e Figlio, after the death of his father, also called Achille, in 1879. It ran into financial difficulties and is thought to have been sold in 1888. It is likely that it was sold after the 1888 Italian Exhibition held at Earl's Court in London had finished, as in the exhibition catalogue it is mentioned that Cav. Farina supervised a team of workers at the Faenza Pottery Pavilion showing the complete process of manufacturing faience.  The objects made, once fired, were offered for sale.  It is very likely that William De Morgan met father and son Farina at the Exhibition as we know from letters of Ulisse Cantagalli that De Morgan visited the exhibition in May 1888 (Raccanello 2011, p. 134 and 139).
Whether they were both offered a job at the De Morgan factory at Sand's End is not clear but in the 1890 census, the year that our vase was made, Achille is recorded as the son of an "Artist Potter" and as a "Sculptor, potter, artist's modeller" living in Fulham with his father.
Andrea Fabbri (Fabbri) suggests that it is most likely that the more artistic son Achille was responsible for the De Morgan pieces signed with the 'F' at the centre of a hexagram, a variant of the mark that had already been used by the family workshop in Faenza.
William Gaunt & MDE Clayton-Stamm (Gaunt & Clayton-Stamm, 1971) attributed works with the hexagram mark to A. Farini (rather than Farina).  The attribution to A. Farini of a series of very finely painted dishes dating from 1901 with the 'Acrosticon' mark, which were fired at the Cantagalli factory, (Gaunt & Clayton-Stamm, 1971), is confusing.  Achille Farina was in London in March 1901 and the census of 31st March 1901 records him as a 'Storekeeper and Glass Merchant', his ties with De Morgan seem to have ceased by that the time the 'Farini' dishes were made. In the 2 April 1911 census, the year Achille's father died, his occupation was listed as 'Artist Modeller'. Farina and Farini are maybe completely unrelated but seem to have been confused, see Del Pellegrino 2005, pp. 29-37.
Condition:
Three chips to rim
References:
Fabbri
Andrea Fabbri, Decoratori faentini a Londra a fine Ottocento: Farina, Marcucci e Rava. L'arte di Achille Farina il giovane. Andrea Fabbri, Academia.edu https://www.academia.edu/8410461/Decoratori_faentini_a_Londra_a_fine_Ottocento_Farina_Marcucci_e_Rava_Larte_di_Achille_Farina_il_giovane
Raccanello 2011
Justin Raccanello, 'Cantagalli beyond Italy', in Il Risorgimento della Maiolica Italiana: Ginori e Cantagalli / The Revival of Italian Maiolica: Ginori and Cantagalli, ed. Livia Frescobaldi Malenchini and Olivia Rucellai (2011)
Racanello
Justin Racanello, Chiaroscuro Iridescente, the experimental lustre glaze of Ulisse Cantagalli,  nos. 1 and 2
Gaunt & Clayton-Stamm 1971
William Gaunt & M D E Clayton-Stamm, William de Morgan, (Studio Vista 1971), pp. 44, 45, pl. 119 – 122, 138, 141
Del Pellegrino 2005
Walter & Karen Del Pellegrino, Re-evaluating the British & American view of the works of Master ceramicist Achille Farina (2005)
'The Italian Exhibition, London 1888', catalogue, p. 28
https://babel.hathitrust.org/cgi/pt?id=gri.ark:/13960/t9190b48g
'Achille Farina', Mapping the Practice and Profession of Sculpture in Britain and Ireland 1851-1951, University of Glasgow History of Art and HATII, online database 2011, https://sculpture.gla.ac.uk/view/person.php?id=ann_1252074298
Price: £1,900.00