A LATE MING CHINESE KRAAK PORCELAIN DISH WITH SILVER–GILT MOUNTS
The porcelain: Jingdezhen, Jiangxi province, c.1613–1625
The mounts: unmarked, probably England (London), or possibly the Netherlands, or North Germany, second half of the 17th century
The dish 35.9 cm diam.; Length across the handles 39.8 cm
Chinese porcelain mounted with silver in Europe from the 17th century is rare. Such treasured porcelains from the East were sometimes mounted in precious metal to enhance their value and repurpose them for their own specific needs. The exuberant baroque flame–edged and engraved silver panels on the rim, enriched with a thin layer of gold, form the mounts to which the cast silver double–scroll foliate handles have been applied converting the dish to a tray. Rather than being associated with dining it may have been used as a presentation tray or layette basket for fine linen baby clothes given to a new mother, which for grand English families were made in beadwork or silver, see an example of the latter, c. 1670, in the Victoria and Albert Museum.[1]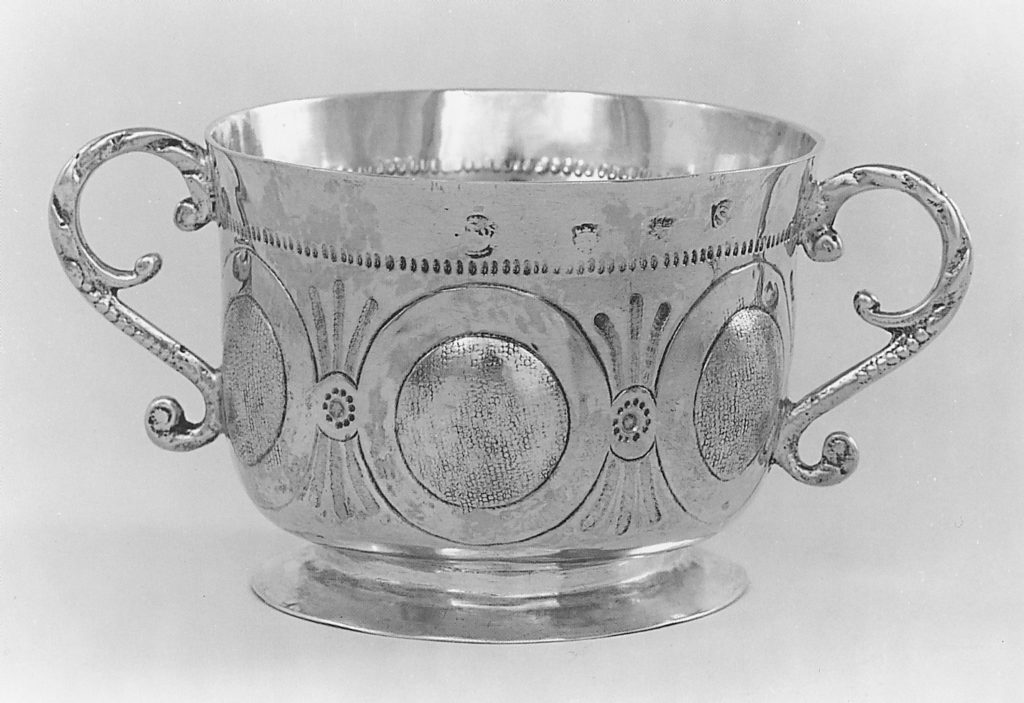 England 1655/66, Sterling and Francine Clark Art Institute, 1955.334
The handles on our dish are similar to those found on English silver such as those on the two-handle cup with London hall marks for 1655/56 in The Clark Art Institute[2]
The dish is painted in layered tones of cobalt blue with three geese on rockwork and another in flight, beside lotus and other water plants. In the Wanli/Tianqi period, roughly 1575 to 1640, Kraak ware—immediately recognizable for its striking panelled decoration—became a truly global product. The name, Kraak, is associated with the Dutch word 'carrack' describing Portuguese galleons which distributed this porcelain throughout Asia, Africa, Europe, the New World and the Caribbean.[3]
The thinly potted porcelain itself is from a group identified by Marina Rinaldi as Border VII.2, notably without the ruyi–head motif separating the alternating scale and swastika–diaper patterns around the cavetto, and with hastily drawn lingzhi (sacred fungus) in eight oval panels on the underside divided by tassels and lines. Typically, it has the coarse kiln sand adhering to the foot rim.[4] This group was produced in large quantities and similar examples have been found in the Dutch East–Indiaman Witte Leeuw (1613) which sank in the South Atlantic Ocean, near St. Helena, on its homeward bound voyage to Amsterdam, and the Hatcher junk (c.1643), an Oriental vessel wrecked in the South China Sea possibly chartered by the Dutch East India Company. The painting on our dish is particularly well executed and is similar in style to those depicted in a row above the panelling in the frequently cited Interior in a Dutch Home, possibly West Frisian, c. 1630–35, in the Musée d'art et de histoire, Geneva, as well as a number of Dutch still lives executed in the 1640s.[5]
This important unpublished dish, joins a significant list of Kraak wares mounted in precious metal in England, Northern Germany and the Netherlands, of which the most impressive are the suite in the Metropolitan Museum of Art, formerly at Burghley House (44.14.1–5).[6]
[1] Loan: Gilbert.619-2008
[2] Beth Carver Wees, English, Irish and Scottish Silver at The Sterling and Francine Clark Art Institute, 1997, cat. no. 18
[3] For a recent in–depth study of marine and terrestrial archaeological finds of Kraak, see Teresa Canepas, Silk, Porcelain and Lacquer: China and Japan and their Trade with Western Europe and the New World, 1500-1644, London, 2016
[4] Marina Rinaldi, Kraak Porcelain: A Moment in the History of Trade, London,1989, classifies this as Border VII.2, c. 1615–30, and for examples of similar Pls. 93 & 96, p. 104–5
[5] William R. Sargent, Treasures of Chinese Export Ceramics from the Peabody Essex Museum, Salem and New Haven, 2012 fig.8 ; and Canepas 2016, fig. 11.93, p. 208
[6] Philippa Glanville, 'Chinese Porcelain and English Goldsmiths c. 1560–1660', V&A Album, 3 (1984), pp. 246–56
Condition: Good condition, typical fritting to the rim
Price: £36,000