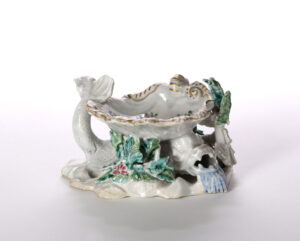 A BOW DOLPHIN SALT OF 'MUSHROOM-GLAZED TYPE
Circa 1746-48
13.6 cm across, 8.3 cm high
No marks
This is perhaps the most ambitious model of the 'Mushroom-grey' or Drab-glazed' class of Bow porcelain which was first systematically grouped together by Hugh Tait in the exhibition of documentary Bow material at the British Museum in 1959. These were then identified as the earliest of Bow porcelains. It is characterised by a distinctive semi-opaque greyish glaze and a muted palette derived from famille-rose porcelains.
The colouring is typical of the decorating styles of the London enamellers who also worked on Limehouse wares and Chinese porcelain around the mid-1740s. It has the unusual feature gilt border decoration.
Perhaps less than forty examples of this class are recorded and our recently discovered shell salt supported on dolphins is amongst the most ambitious of the forms known. It must be based on a silver original and is reminiscent of Chelsea models by Nicholas Sprimont.
Anton Gabszewicz, in a recent lecture to the English Ceramic Circle, has convincingly established that this group links the porcelains of the 'A' marked group, the porcelains of the first patent of Thomas Frye and Edward Heylyn of 1744, to those of the first bone ash porcelains of Thomas Frye's patent of 1749. The muted famille-rose palette echoes that of 'A' marks wares as does the way of colouring petals with raised washes of colour.
No examples of this group have been found in excavations of the Bow site which is perhaps not surprising for such a rare group.
We know of five other examples of this form in:
The British Museum (1966, 2-1,1)
Museum of Fine Arts, Boston
The Mint Museum, Charlotte, North Carolina, Delholm Collection (1986.4.15)
The Geoffrey Freeman Collection, Pallant House.
And one in a private collection
Condition:
3.4 cm section of base missing, chips and losses
References:
Anton Gabszewicz, Bow Porcelain, The collection formed by Geoffrey Freeman, (1982), p. 24, no. 4
'Bow Porcelain, 1744-1776, A Special Exhibition of Documentary Material to commemorate the bi-centenary of the retirement of Thomas Frye', The British Museum, London 1959
Price:
£8,500