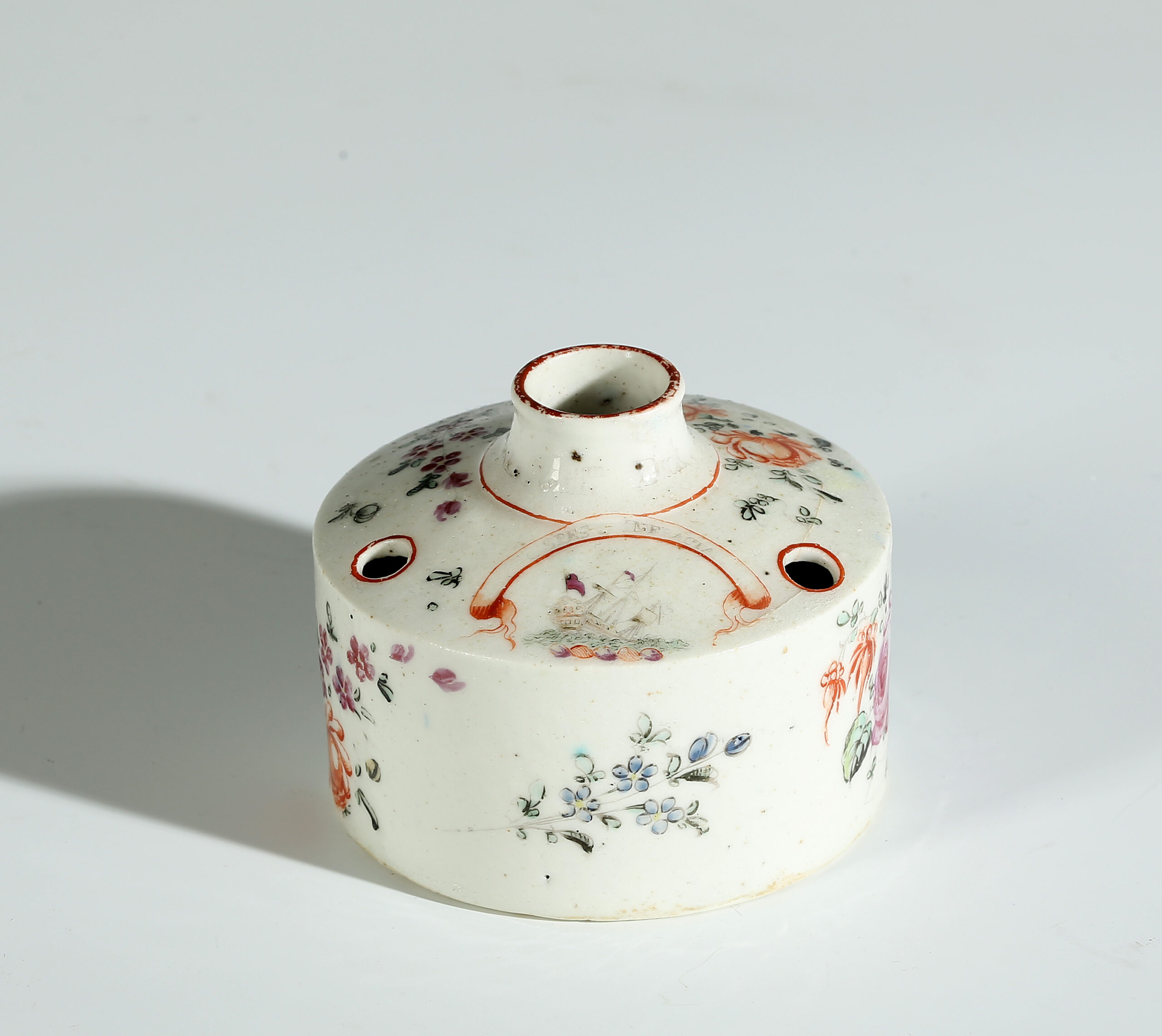 A DOCUMENTARY WEST PANS INKWELL
Scotland
Circa 1764-77
7.8 cm diam, 6.2 cm high
No mark
Of cylindrical form with tapering shoulder, the raised neck with a faint inscription 'WILLm DICK', above a painted blazon of a sailing ship in distress, beneath a motto banner inscribed 'SPES INFRACTA', the sides painted with roses and other flowers, the shoulder pierced with three apertures to hold quills, the well and neck with an iron-red line.
William Littler (1724 – 1784) and his wife, Jane, an able painter, had established the porcelain factory of Longton Hall in Staffordshire, but this ambitious venture ended in bankruptcy in 1760. The Littlers moved to Scotland to the hamlet of West Pans on the Firth of Forth near Edinburgh to found the first porcelain factory in Scotland, an advertisement of 3 April 1764 shows that they were in production there by then[1]. By 1775 they were once again in financial difficulty and ceased production around 1777.
William de Dick, the ancestral head of the Scottish clan Dick, was the first magistrate in Edinburgh in 1296. The family motto translates as 'Hope goes Unbroken'.
George Haggarty notes that only two other West Pans inkwells have been recorded[2], one dated 1768 and another from the Bernard Watney Collection[3].
Dick or Dickey is a sept of the Douglas Clan.
Condition:
Hairline cracks to shoulder, chip to well, wear to decoration, rim and inscriptions
Provenance:
Estate of Sarah Belk Gambrell 
References:
Haggarty 2021
George Haggarty, The Alistair Leslie Collection, volume one: Eighteenth Century West Pans Porcelain c. 1764-77, (UP Publications 2021)
Price: £6,500

[1] Haggarty 2021 p. 8.
[2] Haggarty 2021 p. 112, WP 95.
[3] Bernard Watney Collection, sold Phillips, London, 1 November 2000, lot 891.