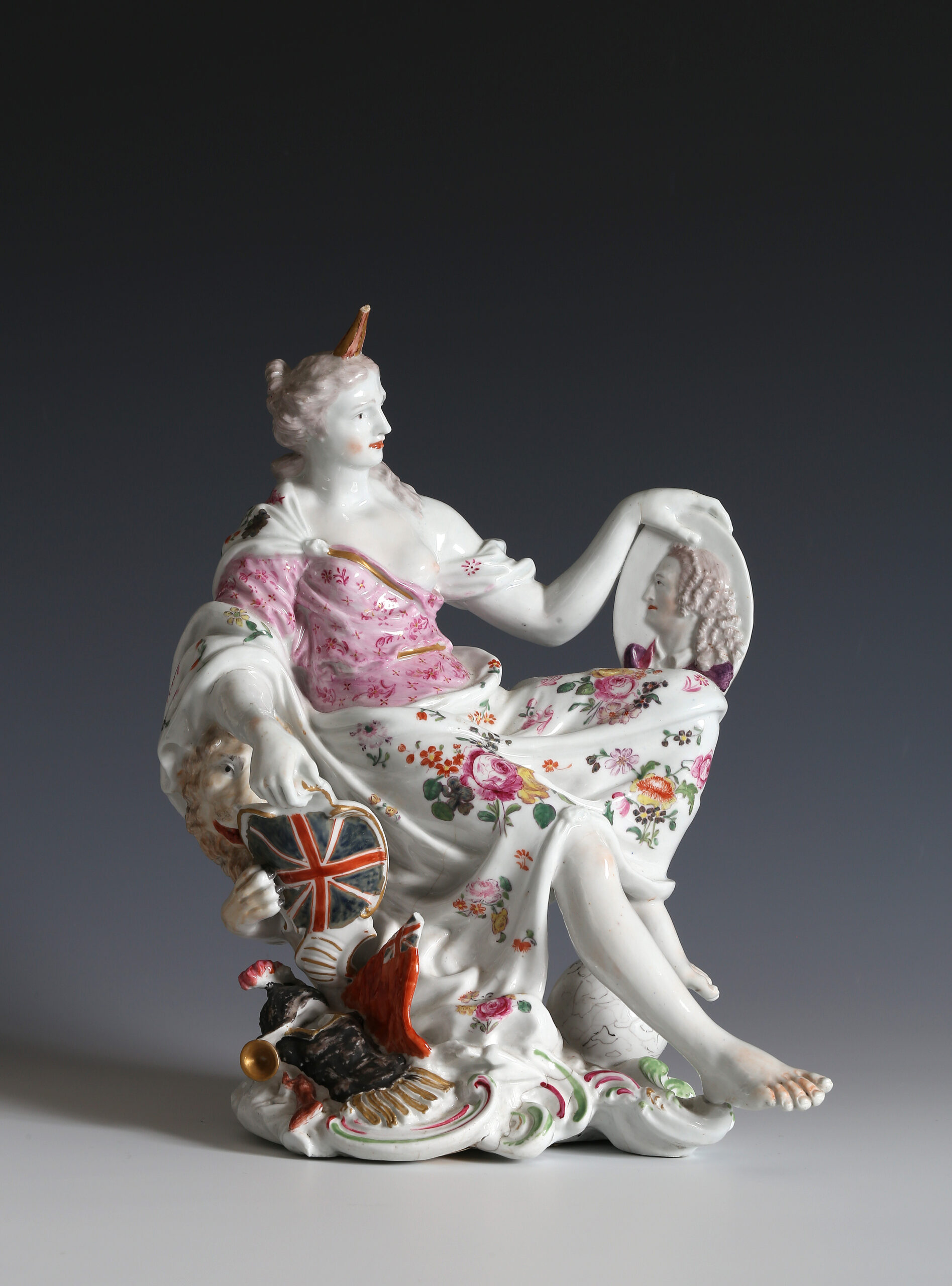 A VAUXHALL FIGURE OF BRITANNIA
Nicholas Crisp's Vauxhall Factory, London
Circa 1759-60
28.5 cm high, 24.0 cm wide
The seated figure of Britannia holds a medallion with a profile portrait of George II. She rests her left foot on a celestial globe and is supported by the British Lion, the Union Flag and military trophies celebrating victories in the Seven-Years War (1756-63).
This is the probably the largest and most ambitious figure made at the Vauxhall factory. It is tempting to identify it as the work of John Bacon, the noted sculptor, whose early career started with an apprenticeship at the Vauxhall porcelain factory.
The British Magazine and Review, or Universal Miscellany, for October 1782, says:
'In the year 1755, he [John Bacon] was placed with Mr Crisp of Bow Church Yard, who having a Manufactory of China at Lambeth, which Mr Bacon sometimes attended, he had an opportunity of observing the models of different sculptors, which were frequently sent to a pottery in the same premises to be burned. The sight of these models inspired him with an inclination for this art'.
These 'models of different sculptors' were probably terracottas.
Roger Massey notes that the Universal Magazine of Knowledge (September 1800) reports that at Vauxhall John Bacon[i]:
'was chiefly employed in forming shepherds, shepherdesses, and such like small ornamental pieces; yet, for a self-taught artist to perform even works like these with taste, and, in less than two years, form (as he did) all the models for the manufactory, was to give indications of no ordinary powers.'
This model, along with numerous others, has in the past been attributed to Longton Hall, but the presence of soapstone in the paste and the occasional use of a type of transfer printing of flowers that can be associated with Nicholas Crisp's Factory at Vauxhall, (which is found on other examples of this group) confirm the attribution to Vauxhall. Although no sherds of figures emerged from the excavations at Vauxhall Cross in 1989, the documentary evidence for their existence is summarised by Roger Massey (English Ceramic Circle Transactions, Vol. 25 (2014), pp. 1-21.
Other examples of this model of Britannia have transfer prints displaying scenes of the Seven Years War and the example in the Victoria and Albert Museum has the Prussian arms on its pedestal. This is likely to celebrate the events of 1759 when a series of victories by the British armed forces in North America, Europe, India, and in various naval engagements caused that year to be referred to as William Pitt's 'Annus Mirabilis'. It was the turning point of the Seven Years' War. Alternatively, it could commemorate the death of George II in 1760.
Condition:
Firing cracks, tip of Britannia's crest lacking
Provenance:
Estate of William Kelly Simpson
Collection of Abby Rockefeller Mauzé.
Purchased Antique Porcelain Co., London, 1961 (Partially legible label of The Antique Porcelain Company)
Note: William Simpson (1928-2017) was Professor of Egyptology at Yale University. His wife Marilyn née Milton (1931-1980) was the daughter of Abby Rockefeller (1903-1976) who was the daughter of John D Rockefeller.
References:
Massey 2014
Roger Massey, Vauxhall porcelain figures, Transactions of the English Ceramic Circle, vol. 25 (2014), pp.1 – 21
Price: £14,500

[i] Massey 2014, p. 6 & 7