This rare English model of Guanyin, the Chinese goddess of Mercy, has been slip cast in a mould taken from a Chelsea version of the 'Raised Anchor' period which has in turn been taken from  a Chinese  Dehua or blanc de chine original of the late 17th century. A raised bump on the back remains where the raised anchor mark from the Chelsea original would have been.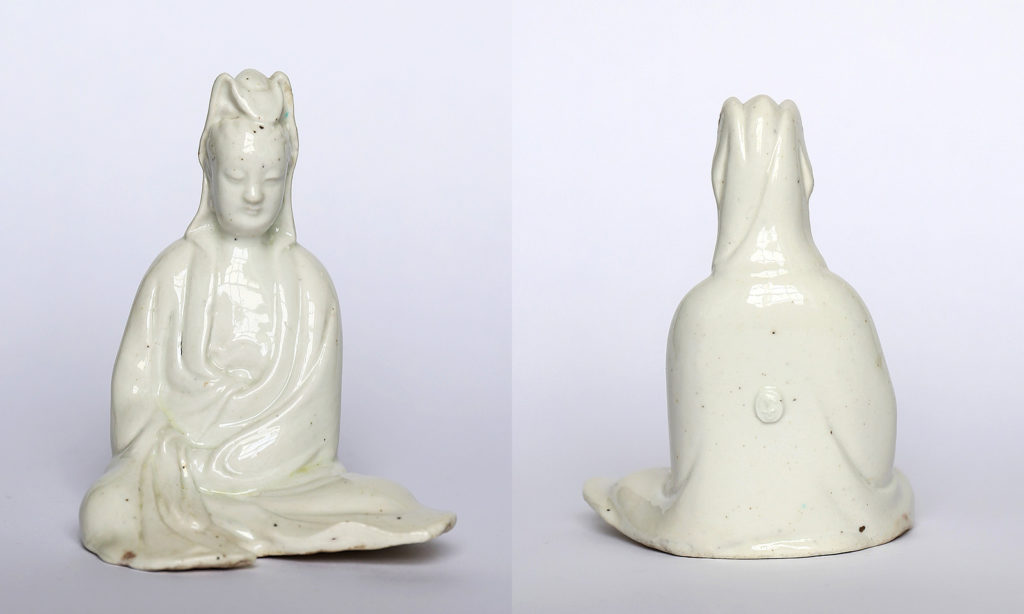 Chelsea raised anchor, British Museum
This piece is part of a group that had previously been attributed to early Longton Hall, but has now been reattributed by Peter White to an early phase of the Derby factory from around 1750, predating the 'dry-edge' period.  White calls this earlier type 'Group A', (ECC Transactions 25 (2015)  pp. 165-176).
The attribution to the 'snowman' class of Longton Hall, had been suggested because this group shares the characteristic soft modelling but it differs in quality of glaze. The glaze is thin and clear as opposed to the thick bubble-filled glaze of the Longton Hall 'snowman' type. The glassy whiteness of the porcelain is closer to that of Chelsea and early Derby.
Other pieces of this group are also directly moulded from other Chelsea models such as the cream jug in the Victoria and Albert Museum incised to the Base with 'D 1750' (C.629-1920) and another in the Colonial Williamsburg Foundation (1962-17) with incised 'Derby' in the same cursive hand. Other figures are copied from Bow such as the variant of the famous Kitty Clive on a shaped base. Further figures derive from Meissen.
Other examples of this model can be found as part of the Katz Collection in the Museum of Fine Arts, Boston; illustrated in an Exhibition of Eighteenth Century European White Porcelain, by Winifred Williams as Longton Hall, and another from the Geoffrey Godden Collection illustrated in Derby Porcelain, by John Twitchett (no. 99, p. 102), this is said to have 'patch marks' and has been dated a little later.
Condition:
Small chip to headdress. Some bubbling of glaze to the edge of the base and reverse
References:
Peter White, 'Two Distinct early Derby white groups of figures and some quandaries', ECC Transactions 25 (2015) pp. 165-176
Winifred Williams, Exhibition of Eighteenth Century European White Porcelain, (June 1975), no. 40, p. 41 (as Longton Hall)
John Twitchett, Derby Porcelain, (1980) no. 99, p. 102
Price: £6,000