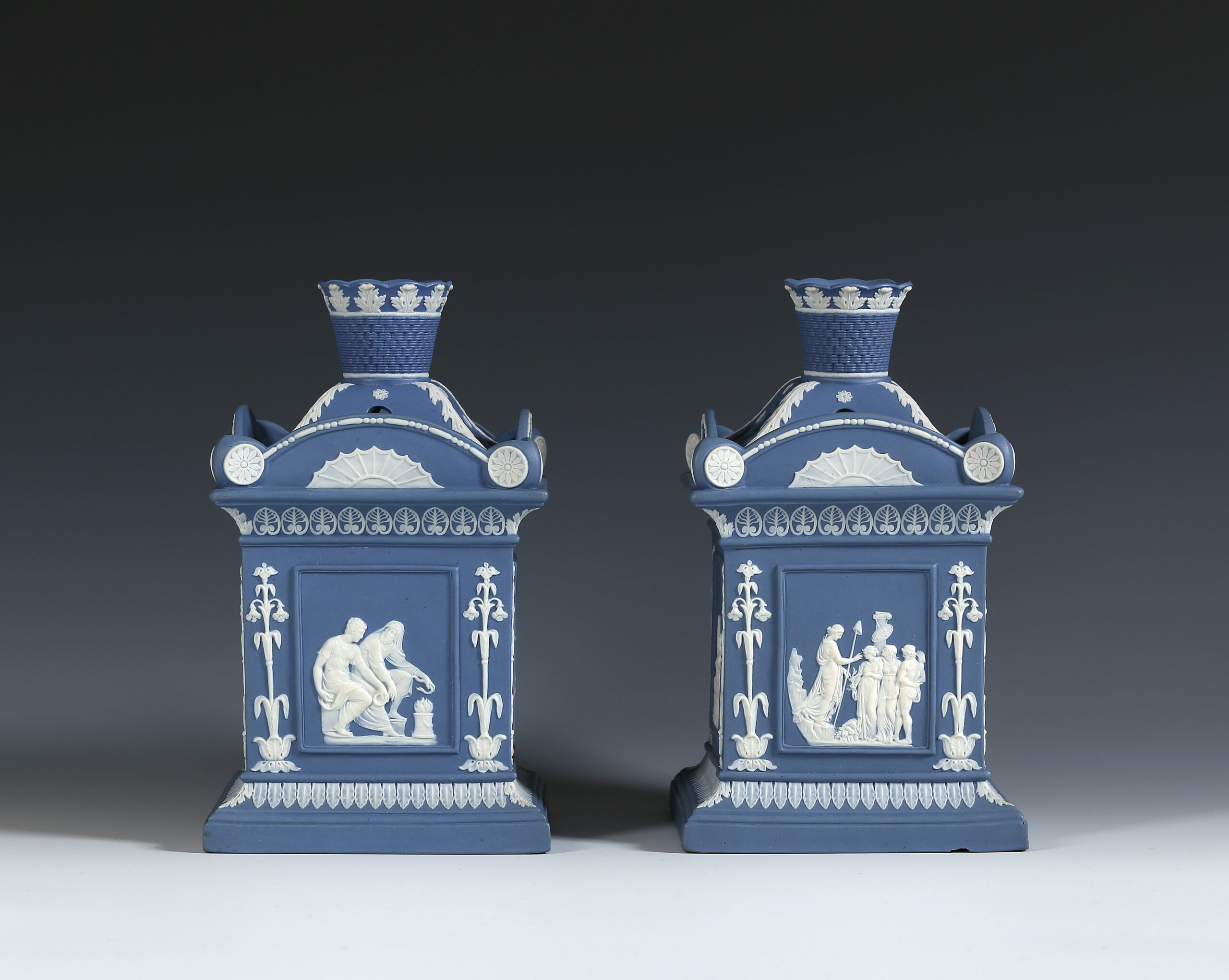 A PAIR OF SOLID JASPER FLOWER HOLDERS AND COVERS
James Neale & Co. Hanley, Staffordshire
Commemorating the French Revolution
Circa 1789
20.9 cm. high 12.8 cm wide
Impressed 'NEALE & Co' marks
The form and decoration of these bulb pots follow Wedgwood examples almost exactly and easily match the quality of finish.[1].
Although commercial rivals, James Neale and Josiah Wedgwood also worked together, and Neale supplied wares to Wedgwood to make up large orders. On our pieces the impressed 'NEALE & Co' marks have been overlayed with a rather durable covering (now partly removed) to conceal their origin either in the art market or perhaps by Wedgwood themselves.
A billhead dated 20 November 1783 confirms this close relationship and lists goods being sold to Wedgwood by Neale and Wilson[2]. We also know that James Neale and Josiah Wedgwood collaborated as they sat together on a committee to investigate an attempt in 1789 to smuggle tools, equipment and samples to Denmark to set up a rival pottery. The committee met on 16 July 1790[3].
On one of our flower holders there are two jasper reliefs representing France holding a staff with the revolutionary Phrygian cap, attended by Peace, Art and Labour. The king, Louis XVI, is represented by a shield bearing the fleur-de-lys hanging on a column.
Josiah Wedgwood pioneered a market for political souvenirs to commemorate such events as the French Revolution which was initially welcomed by his fellow liberals. In this case, in order to respond quickly to the event, Wedgwood simply adapted the design of the Sydney Cove medallion which was made from clay dug in Sydney harbour in 1788[4].
The figure previously representing Peace is now probably intended as Fortuna or Concordia before allegories of Hope, Art and Labour[5].
James Neale was a London retailer or 'chinaman' and probably had very little practical knowledge of potting himself. The production was left to his man in Staffordshire, Robert Wilson who took over the factory in 1792 from Humphrey Palmer.
Other scenes on our pieces include Britannia, Hope, the Sacrifice to Concordia (Roman goddess of harmony) and panels of Nemesis, Aesculapius and Diomedes.
A single Neale & Co. example, of the same model as ours with the Revolutionary relief, is in the Victoria and Albert Museum[6].
Condition:
Shallow chip to underside of base, and chip to one upper corner.
Provenance:
With Jeremy Ltd, London 1995 (£6,500)
References:
Edwards 1987
Diana Edwards, Neale Pottery and Porcelain, 1763-1820, (Barrie and Jenkins 1987)
Wood et. al. 2008
Pamela J.Wood, Gaye Blake Roberts and Robin Emmerson, Wedgwood: The Felix Joseph Collection of 18th century Jasper, (Nottingham Castle Museum and Art Gallery, 2008)
Price: £8,500

[1] Wedgwood examples of the same form and decoration, but with differing covers, are in the Beeson Collection in the Birmingham Museum of Art, Alabama, see Edwards 1987 pl. 47 p. 74. And the Victoria and Albert Museum https://collections.vam.ac.uk/item/O148594/bulb-pot-josiah-wedgwood-and/
[2] Edwards 1987, p. 45 pl. 22.
[3] Edwards 1987 p. 45 – 46.
[4] The design was by Henry Webber (1754 – 1826) and was engraved by William Hackwood.
[5] For a Wedgwood medallion of the subject see: https://collections.vam.ac.uk/item/O1745749/medallion-josiah-wedgwood-and/
[6] https://collections.vam.ac.uk/item/O148592/flower-holder-james-neale/