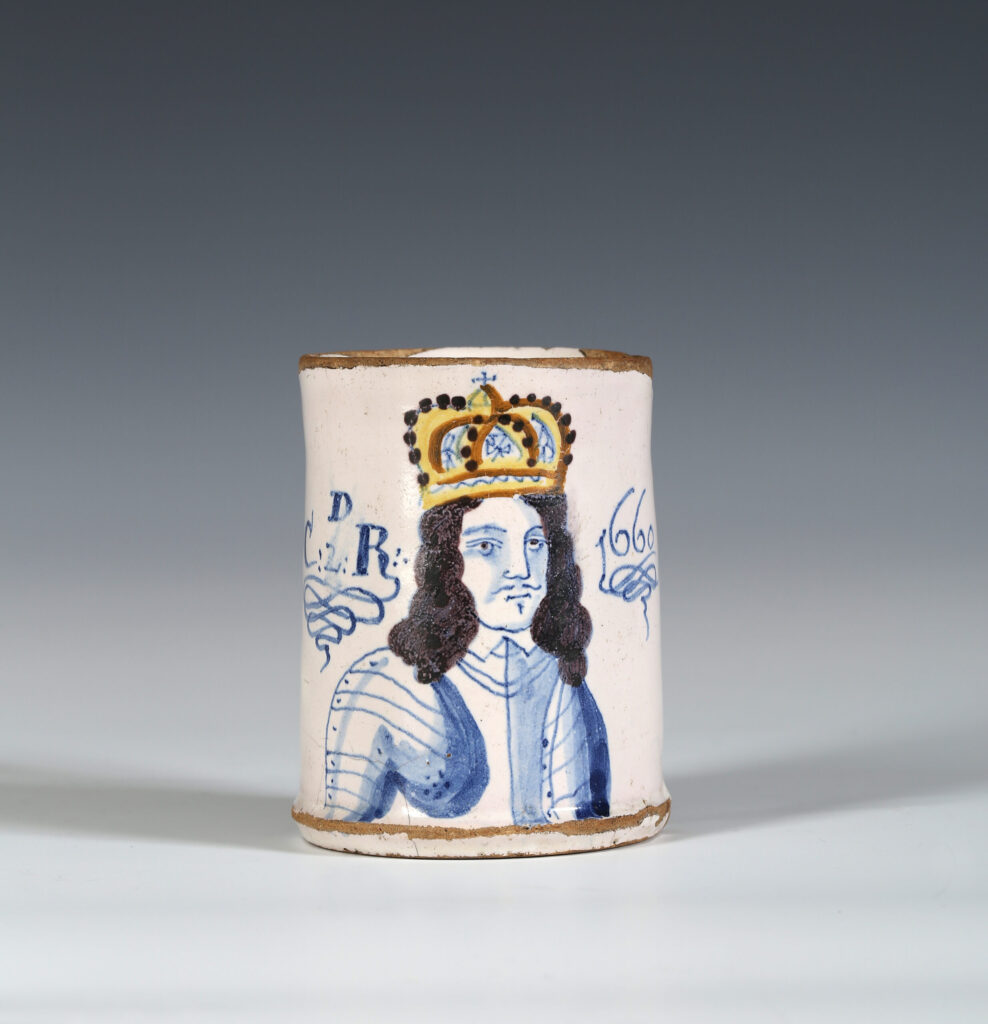 AN ENGLISH DELFT CHARLES II DATED MUG
London, probably Southwark
1660
9.5 cm high
7.5 cm across the base
7.0 cm across the rim
GOD SAVE THE KING!
On the 29th May 1660, his 30th birthday, Charles II rode into London in triumph, having landed at Dover four days before. Three weeks earlier Parliament had proclaimed him as King and sent a delegation to Holland to invite him to return to his Kingdom.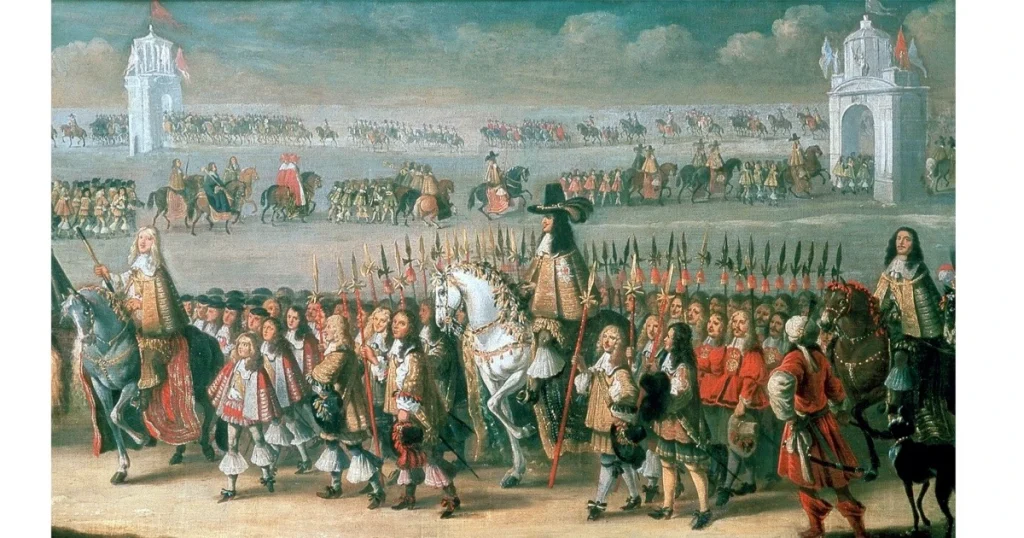 Charles was greeted at St George's Fields by the Lord Mayor of London in Southwark, the borough where our mug was made. A huge procession, formed of the army, the London bands and City dignitaries crossed London Bridge. The parade took seven hours to pass, and it was already early evening by the time the King reached Whitehall. Charles was greeted by the assembled peers and MPs at the Banqueting House, which had been the scene of his father's execution eleven years before. The Speakers of both houses greeted him with loyal speeches and the MPs queued to kiss his hand.
London celebrated the momentous occasion, Whitehall Palace was hastily refurbished, and a new crown commissioned. This, the St Edward's Crown, is the one that is still used at the coronation today.
King Charles II was crowned at Westminster Abbey on 23 April 1661.
This mug and the three other known similar examples must have been made after the announcement of his return to London in the summer of 1660 and before the end of that year. On ours, as in two of the others, Charles is shown in armour.
This is one of four known examples of the form which are dated 1660.
The other known examples are:
Museum of London No. A .4946
Colonial Williamsburg, Virginia, (1956-531)
Ex. Collection of Margaret Cadman, sold Christie's South Kensington, 11 October 2002, lot 1,
Charles II had previously been crowned in Scotland in 1651 using the Scottish 'Honours' but had fled to France after his defeat at the Battle of Worcester in 1751.
This tankard was recently discovered in a car boot sale and its previous owner had a thermoluminescence test done at Oxford Authentication. Their analysis report N122j75 proved inconclusive as the clay contained a component which gave rise to a background signal making unsuitable for reliable TL testing. However, this mug bears very close comparison to the example at Colonial Williamsburg, published in Dated English Delftware by Lipski and Archer. Frank Britton in London Delftware notes the similarity in style of painting to a series of dated blue-dash chargers between 1661 and 1662.
Condition:
Losses to glaze around rim and foot, glaze cracks and fine body crack from the rim and in foot. Two thermoluminescence test holes filled.
References:
Lipski & Archer 1984
Louis L. Lipski and Michael Archer, Dated English Delftware, London: Sotheby Publications (1984), p. 166, no. 746
Britton, 1987
Frank Britton, London Delftware, (Jonathan Horne, 1987), p. 123, no. 72 and p. 86 colour plate H
The other recorded examples:
Museum of London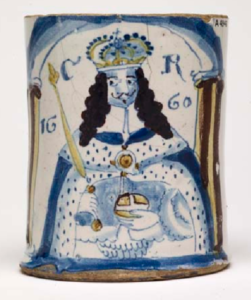 Colonial Williamsburg
Ex, Cadman Collection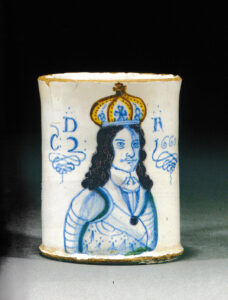 Price: £55,000