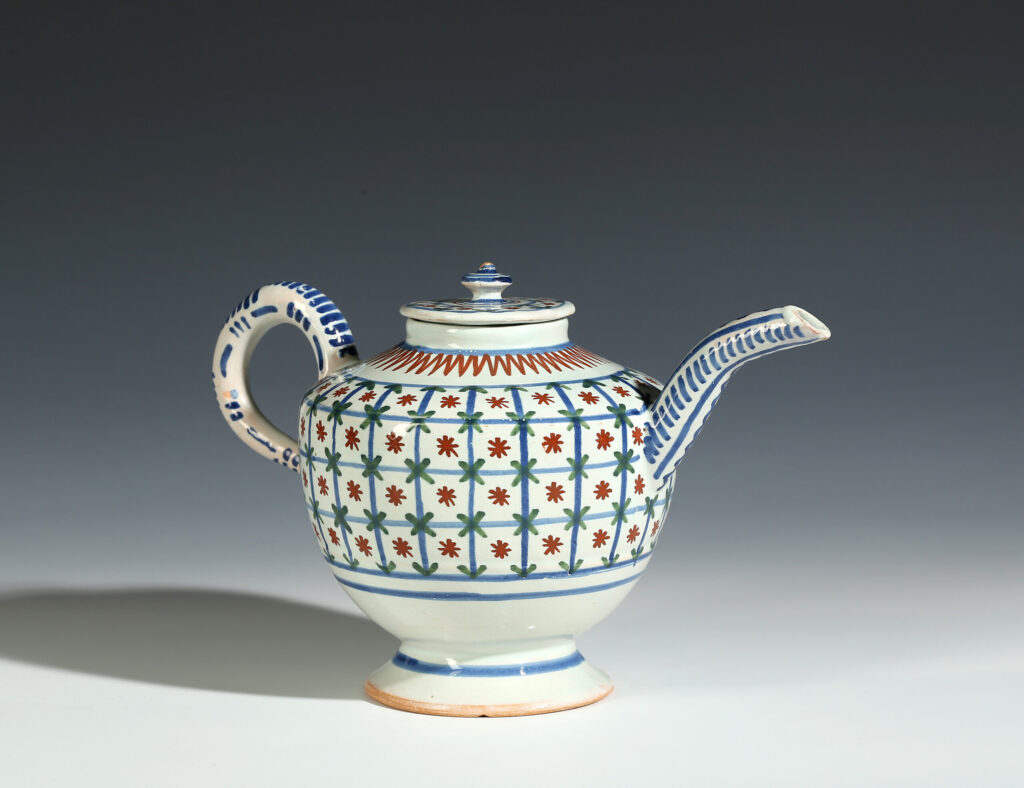 AN ENGLISH DELFT CHEQUERED TEAPOT
Bristol or London
15.0 cm high, 24.9 cm across
Circa 1740
Teawares are uncommon in English delft, the material not being ideal for the retention of hot liquids, and this form is a rare variant.
A section of a cup with the same pattern has been excavated at Fort Michilimackinac on the Great lakes of North America.[1] It was a French, and later British frontier fort and trading post at the Straits of Mackinac which connect Lake Huron and Lake Michigan in the present-day state of Michigan. It was built by the French around 1715 and abandoned in 1783. The French relinquished the fort to the British in 1761. The First Nations Ojibwe population killed most of the British residents in 1761 in the conflict known as Pontiac's War.
Leslie Grigsby notes that a blue and white version of this pattern also appears on a cup and saucer excavated at the Chiswell-Bucktrout site in Colonial Williamsburg, Virginia.[2]
Grigsby discusses a cylindrical tankard with this distinctive chequer pattern, from the Longridge collection, inscribed 'Union', which commemorates the Act of Union between Scotland and England ratified by the respective parliaments in 1706 and 1707. Plates celebrating the Union occur with the Monogram of Queen Anne dating them to between 1707 and her death in 1714, other examples are known with the GR monogram for King George indicating that the Union was still being celebrated on delft in subsequent years.[3] Our teapot could perhaps celebrate the Union at the time of the Jacobite Rising in 1745 when Unionist fervour ran high.
Condition:
Body cracks stabilised, chip on spout and two on lid restored
References:
Grigsby 2000
Leslie B. Grigsby, The Longridge Collection of English Slipware and Delftware, (2 Volumes), Jonathan Horne Publications, 2000, vol II
Miller & Stone 1970
J. Jefferson Miller and Lyle M Stone, Eighteenth-century ceramics from Fort Michilimackinac: a study in historical archeology, (Smithsonian Institution Press,1970)
Ray 1968
Anthony Ray, English Delftware Pottery in the Robert Hall Warren Collection, Ashmolean Museum, Oxford, 1968
Price: £7,000

[1] Miller & Stone 1970, pp.34-35
[2] Grigsby 2000, p. 282, D256
[3] see Ray 1968, pp. 119,120 p. 7