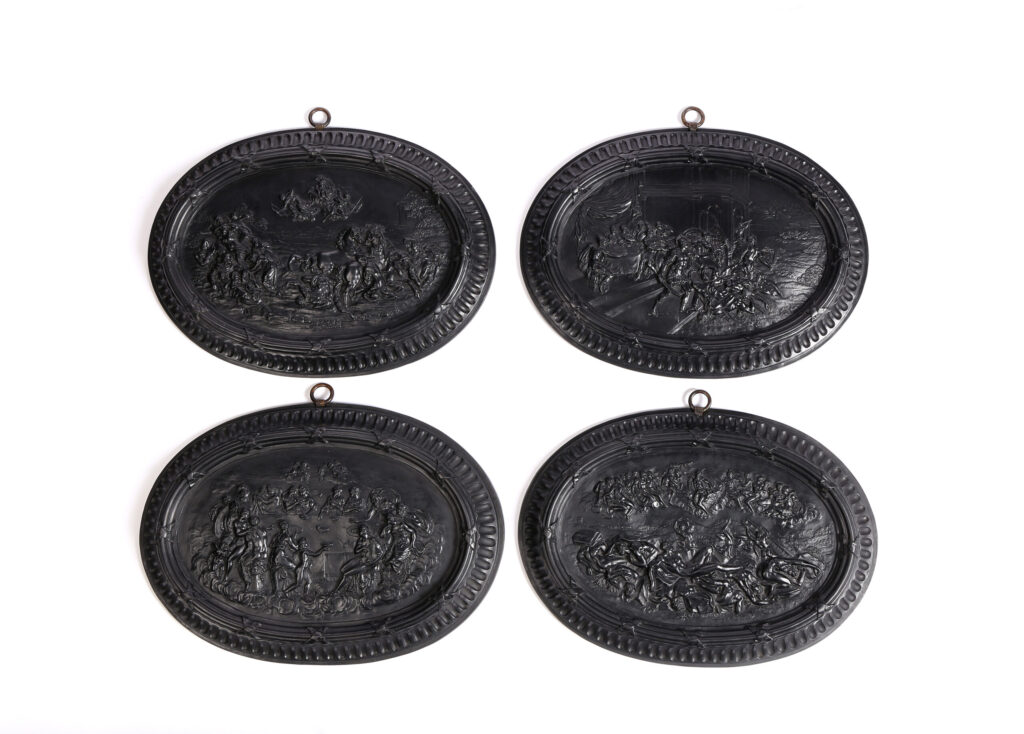 FOUR WEDGWOOD & BENTLEY BLACK BASALT OVAL PLAQUES
Circa 1773
20.5 to 20.9 cm high, 28.2 to 29.0 cm across
unmarked
These plaques with their integral frames are after designs by Guglielmo della Porta (1515 – 1577) for bronze plaques. Della Porta produced sixteen designs of episodes taken from Ovid's Metamorphoses, they were modelled in clay by his workshop assistant, Jacob Cobaert.
Our plaques represent:
'War of Jupiter and Titans'
'Feast of the Gods'
'Marriage Supper of Perseus and Andromeda'
'Destruction of Niobe's Children'
Wedgwood and Bentley also made one other from this series, 'An Antique Boar Hunt'.
It is not known from whom Wedgwood and Bentley acquired casts but they first appeared in their 1773 trade catalogue. The Christie and Ansell catalogue of the 1781 sale of the Wedgwood and Bentley inventory included a 'Death of Niobe's Children' amongst other medallions and stated that they were "very proper and elegant pictures for the decoration of large halls and staircases".
Diana Edwards notes that Wedgwood complained about the difficulty of firing these plaques and that he sold a perfect plaque of the Feast of the Gods for £1.1.0, and an imperfect one for 10/6 (W/M 1449, 11 May 1776) (Edwards 1994, p. 75, fig. 77) 
Condition:
Traces of gilding to frames, chip to Niobe near suspension ring, minor nicks to Jupiter's rim, Marriage Supper neatly broken across from 5 o'clock. (difficult to see) 
Provenance:
Seals Simons, Philadelphia
Skinner, Boston, 10 July 2010, sale 2513, lot 68
Collection of Jeffrey Milkins and Steven R. Parker, no 585
Exhibited:
'Destruction of Niobe's Children' and 'Marriage Supper of Perseus and Andromeda'
Mint Museum, Charlotte, North Carolina, 'Classic Black: The Basalt Sculpture of Wedgwood and His Contemporaries', 9 February 2020- 3 January 2021, nos. 24.1 and 25.1 (2)
Literature:
Gallagher, Brian D, Classic Black: The Basalt Sculpture of Wedgwood and His Contemporaries, exhibition catalogue, (Mint Museum of Art, 2020), pp. 107 – 110, nos. 24.1 and 25.1
References:
For an example of the 'Feast of the Gods', after a bas-relief by Gugliemo della Porta see: Aileen Dawson, Masterpieces of Wedgwood in the British Museum, p. 37, fig. 25 (accession no 1878,1101.186).
For two simply framed versions, circa 1785, from the Kadison Collection, see: Robin Reilly, Wedgwood, (Stockton Press 1989), Vol. I, pl. 692 and 693
Colonel Maurice H. Grant, Makers of Black Basaltes, first published 1910, pl. L, fig. 1 'War of Jupiter and the Titans'
Diana Edwards, Black Basalt: Wedgwood and Contemporary Manufacturers, (Antique Collectors' Club, 1994),
Price: £8,500