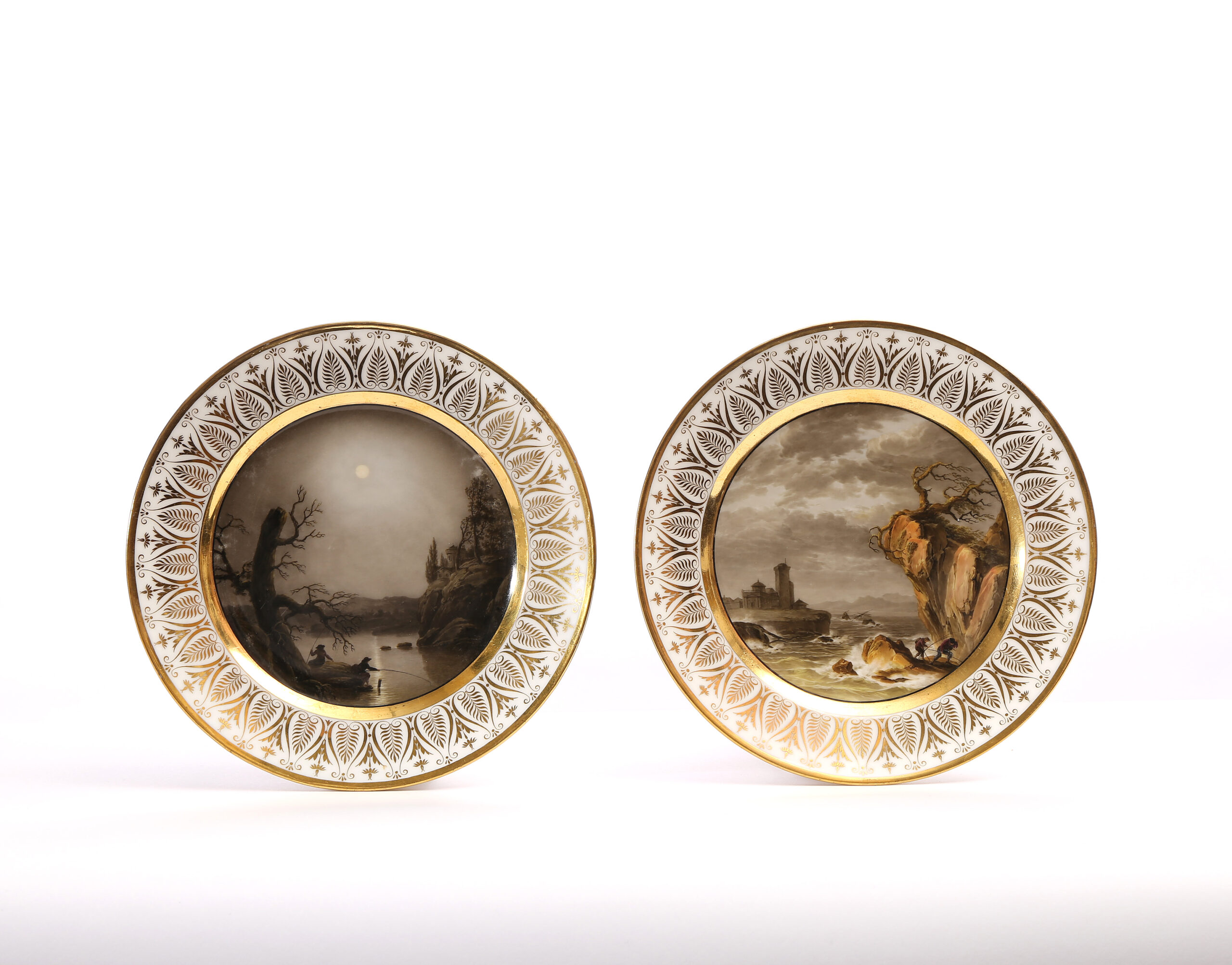 TWO PARIS PORCELAIN PLATES
Painted with a night and a storm scene
Dihl and Guérhard, rue du Temple, Paris
'M.fre de Dihl & Guerhard' marks painted in gold
Circa 1797 -1805
21.7 cm diam.
One painted with a calm moonlight scene of anglers, the other with a storm-wracked coastal view of a shipwreck and fleeing fishermen; both within gilt anthemion borders.
Iris Moon has interpreted the similar stormy scene on a remarkable pair of Dihl and Guérhard vases acquired by the Metropolitan Museum of Art, New York, in 2014 as reflecting the turbulent period of the French Revolution.[1]
The factory of Dihl and Guérhard was established under the protection of the duc d'Angoulême in 1781 and continued after the Revolution under their own name. At the end of the 18th century, they produced the most inventive and highest quality porcelains of all the Paris factories, rivalling and sometimes surpassing Sèvres itself. Following a new deed of partnership in 1787, they moved from the cramped factory on rue de Bondy to a larger space near the Temple prison where they continued to thrive and prosper through these difficult years.
Plinval de Guillebon suggests that this mark was in use from the époque révolutionaire from 1797,[2] and illustrates a plate with the same gilt border signed by Demarne.[3]
Condition:
Some slight surface scratches and wear
References:
De Guillebon 1995
Plinval de Guillebon, Faïence et Porcelaine de Paris, XVIII – XIX Siècles, (1995)
Moon 2016
Iris Moon, Stormy Weather in Revolutionary Paris: A Pair of Dihl et Guérhard Vases: Metropolitan Museum Journal, v. 51 (2016)
Price: £7,000

[1] Moon 2016, p. 115.
[2]De Guillebon 1995, p. 426, no. 125.
[3] Op. cit. p.290, pl. 271.