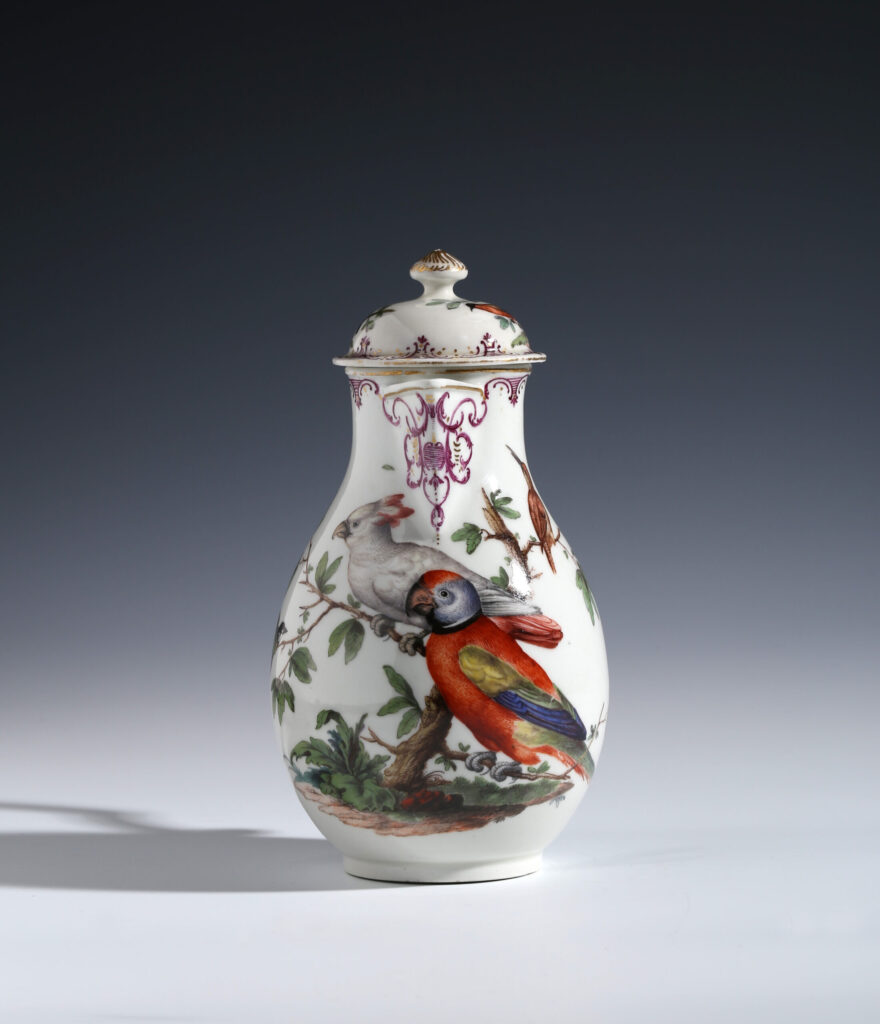 A LUDWIGSBURG COFFEEPOT
Decoration attributed to Gottlieb Friedrich Riedel
Circa 1760-65
19.2 cm. high
Crowned addorsed 'C's mark
Decorated to the fore with a parakeet and cockatoo surrounded by European birds in branches; and with floral decoration to the reverse in puce, a vine beginning and ending in a rococo scroll along the handle, and a bouquet below the terminal.
The models of these vases are in the same spirit as designs by Riedel, with rich swags of flowers, pierced sections, rococo moulding, and bucolic vignettes in cartouches.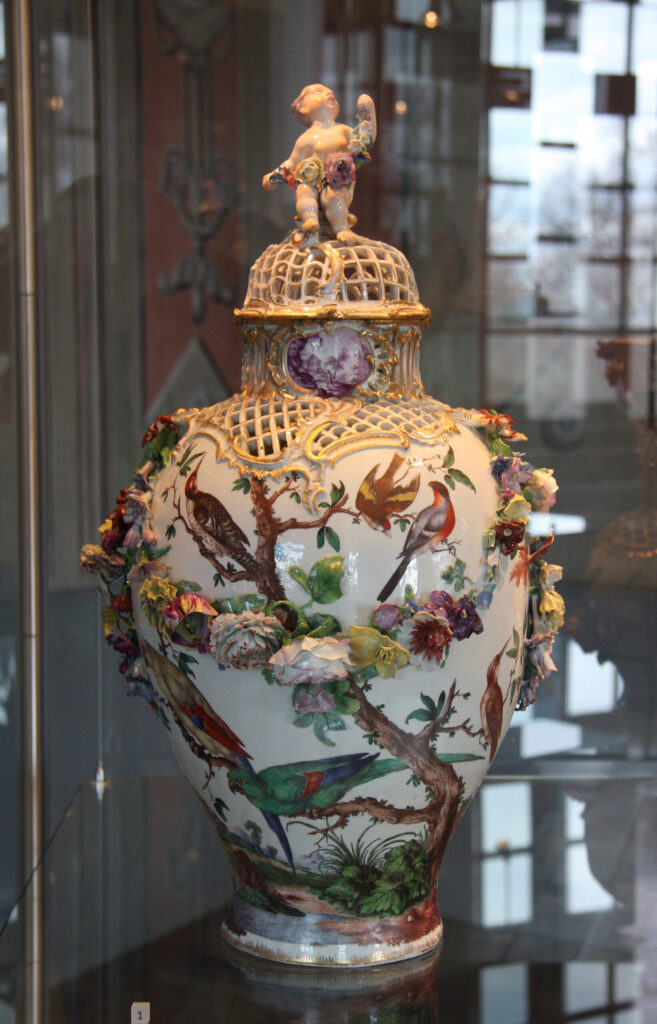 This quality of draughtsmanship is rare on Ludwigsburg porcelain and is comparable to a set of magnificent vases in Schloss Ludwigsburg, where the model and painting are attributed to Gottlieb Friedrich Riedel.
Vase designs by Gottlieb Friedrich Riedel, Graphische Samlung der Staatsgalerie Stuttgart, inv: C3946/C3944 1770/75, illustrated in Flach 1997 (pp. 438, 439)
Riedel is also known to have drawn exotic birds, which suggests that he might have been the designer, and perhaps the painter of the grand vases at Schloss Ludwigsburg as well as the painter of the coffeepot we are presenting here. The designs below were produced after his departure from the Ludwigsburg porcelain factory but are illustrative of his work.
There are also a series of models of exotic birds that were produced at Ludwigsburg, which were inspired by the birds that Carl Eugen, Duke of Württemberg, the owner of the Ludwigsburg factory, kept in his menagerie. These birds are very rarely found outside of Schloss Ludwigsburg and would presumably have been made for Carl Eugen himself. We have not been able to identify the birds on our coffeepot exactly, but the two main birds on the front do bear a similarity to the parrot and cockatoo below, from Schloss Ludwigsburg.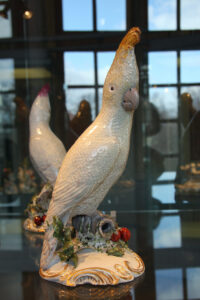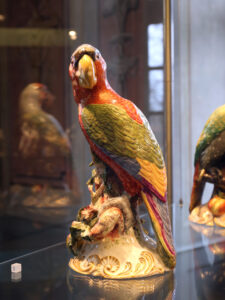 A parrot and cockatoo, modelled by Jean Jacques Louis in 1767
The exotic birds on our coffeepot may be loosely based on a Lory and a Salmon-crested Cockatoo Cacatua moluccensis. The smaller birds may be European natives including a Hawfinch or Brambling, a Great Tit and Treecreeper but painted with some inaccuracies. We are grateful to to Llŷr Davies of Waddeston Manor for his assistance in identifying the birds.
Condition:
Minimal wear to the gilding, no restoration
Provenance:
Paper label 'Röbbig Munchen' to the base
Westphalian private collection, since 1989
Literature:
Illustrated in 'Hans Dieter Flach, Ludwigsburger Porzellan: Fayence, Steingut, Kacheln, Fliesen, (Arnoldsche Publishers, 1997), p649, plate 1274
References:
Flach 1997
Hans Dieter Flach, Ludwigsburger Porzellan: Fayence, Steingut, Kacheln, Fliesen, (Arnoldsche Publishers, 1997)
Jansen 2008
Reinhard Jansen, Glanz des Rokoko: Ludwigsburger Porzellan aus der Sammlung Jansen, (Arnoldsche Publishers, 2008)
Price: £17,000