A MEISSEN BOTTGER PORCELAIN WASTE BOWL WITH A VIEW OF THE ALBRECHTSBURG AT MEISSEN
Circa 1726
9.6 cm high, 16.7 cm diam.
Gilt numeral 46.
Painted with a large view of the fortress of the Albrechtsburg dominating the town of Meissen on the banks of the Elbe traversed by the old, covered bridge, beside the Jacob's or Water Chapel. The scene set within a gilt lobed quatrefoil cartouche with panels of Böttger lustre.  The reverse with another view of boats laden with barrels on the Elbe. The interior with panel of Chinese figures in the manner of J. E. Stadler.
Alexander Thiele, 1726, Vue du Chateau Electoral de Meissen en Saxe et des Environs, du coté du Couchant (British Museum 1870,0625.422)
A snuff box of around 1755, from the Designmuseum Denmark (Inv. B 259/1939), painted with a view of the Albrechtsburg from upstream to the south, is after one of a series of six prints of the Dresden area by Alexander Thiele of 1726 (Bodinek 2018, II, no. 320). Our scene must be from another source or life since it is painted from the north, looking downstream. This must be one of the earliest depictions of the location of the factory on Meissen porcelain.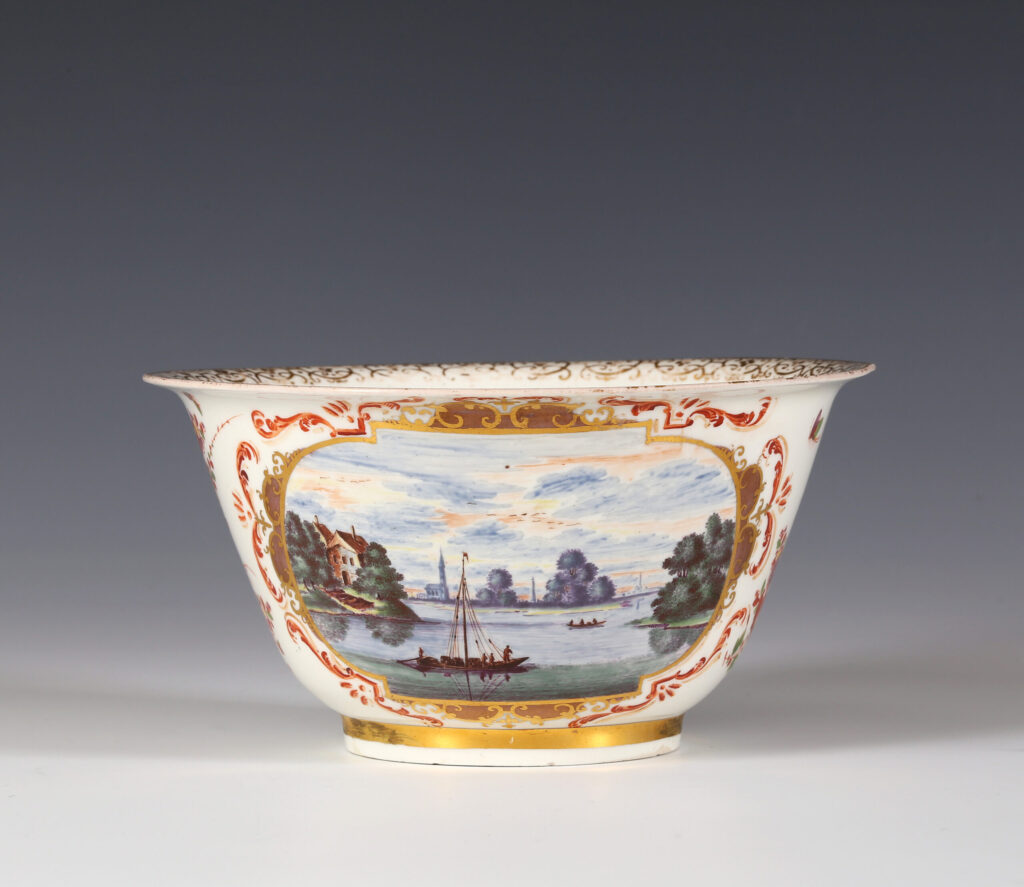 The late gothic fortress of the Albrechtsburg, originating in the 15th century, is considered the first residential palace in Germany. It was largely unused by the Dukes of Saxony until Augustus the Strong decided to establish the Meissen porcelain factory there in 1710. Being on the river Elbe, just 25 kilometres downstream from Dresden, the fortress was well positioned for the transport of the heavy raw materials and wood required for the manufacture of porcelain and for the ultimate delivery of the finished wares. The boat laden with barrels depicted on the reverse may well be engaged in just such transport.
The fortress was chosen as a secure place to protect the arcanum from spies and to imprison Johann Friedrich Böttger, the errant alchemist and co-discoverer of these secrets. Porcelain was made there for 153 years, from the founding of the factory in 1710 until 1863 when a purpose build factory was established below in the town of Meissen.
Condition:
Broken neatly across and restuck, some wear to gilt border
Provenance:
Margarete Oppenheim Collection, Berlin, sold Julius Böhler, Munich, 18-22 May 1936, lot 797 (part)
Otto Blohm, Hamburg, sold by Hans W. Lange, Berlin, 18-19 November 1938, lot 559 (part)
Herbert Wolfe Collection, sold at Bonhams, 17 June 1998, lot 38
Collection of Sir Jeffrey Tate Kt. CBE and Klaus Kuhlemann, sold by agreement with the Executor of the Estate of the late Margarete Oppenheim,
Bonhams, London, 22 July 2020, lot 19
References:
Claudia Bodinek, Raffinesse im Akkord – Meissener Porzellanmalerei und ihre grafischen Vorlagen, (Petersberg: Imhof, 2018), vol. II, no. 320
Price: £13,500