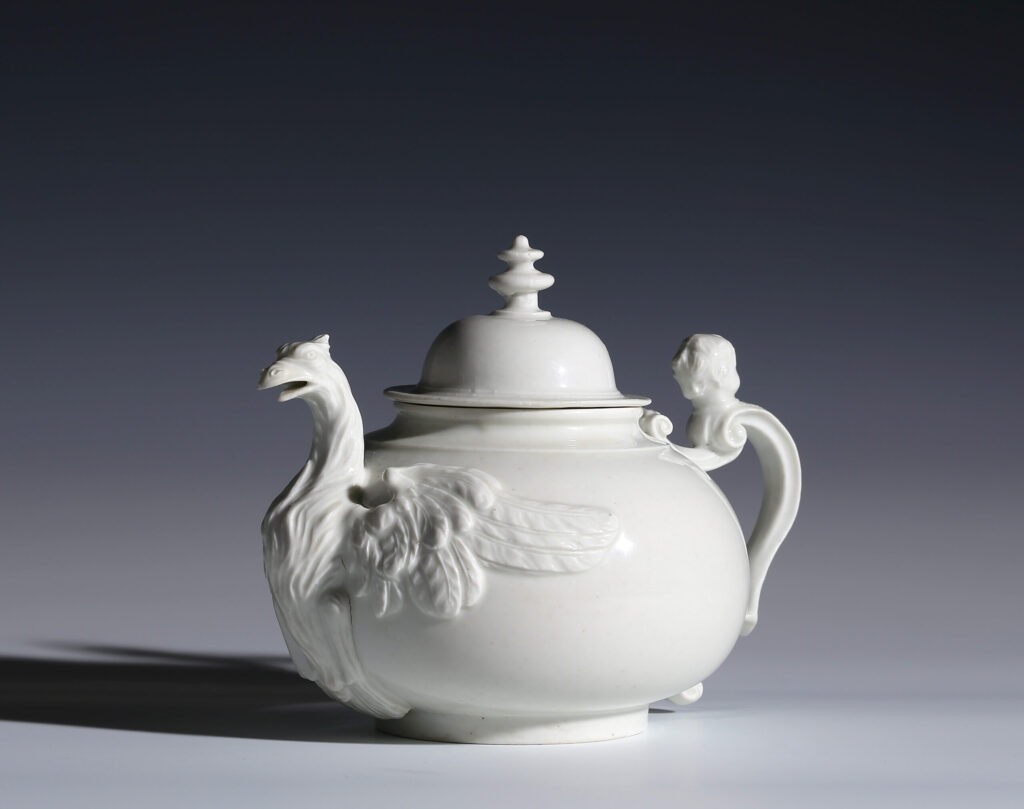 MEISSEN BÖTTGER PORCELAIN EAGLE TEAPOT (ADLERKANNE)
Circa 1713-1720
16.8 cm across, 12.8 cm high
The globular body with domed cover, the spout crisply modelled as an eagle with outspread wings, the scroll handle surmounted by a child's head. 
This most dramatic of early Meissen teapot forms was probably one of the first models designed by Johann Jakob Irminger, the Dresden court silversmith, who was employed at Meissen from 1710 to create new designs (So die inventions und neuen Desseins besorget). The model appears in Böttger stoneware with a slightly squatter body and is listed in the 1711 inventory of the Meissen manufactory as 'Thee Krügel mit den ganzen Adler' [Teapot with the whole eagle], (Claus Boltz, 1982, pp. 7-40). Our example in white Böttger porcelain is modelled without the raised talons found on most of the Augsburg gilded examples and is perhaps an early prototype.
For Augustus the Strong, owner of the Meissen factory and King of Poland, an eagle with outspread wings was of particular significance as it represented Poland's highest order of chivalry, The Order of the White Eagle, which he established on 1 November 1705. It was given to eight of his closest diplomatic and political supporters.
Nearly all of the known examples of this form are decorated in gold in Augsburg. Only one other white example is recorded, from the Marjorie West Collection now in the High Museum, Atlanta, (accession no. 2018.166 a-b), this was formerly in a German aristocratic collection, sold at Sotheby's Munich, 8 December 1999, lot 101 (for Deutschmark 115,000). 
Condition:
Two chips to lid, minute chip tip of beak and tiny chip on edge of handle restored
References:
Claus Boltz, "Formen des Böttgersteinzeugs im Jahre 1711", in Mitteilungsblatt der Keramikfreunde der Schweiz, 96/1982, pp. 7-40
Price: £65,000