TWO HAUSMALER DECORATED EARLY MEISSEN BEAKER
Possibly Bayreuth, associated to the workshop of Johann Friedrich Metzsch
The porcelain 1710-15, the decoration circa 1725-40
6.7 cm high
Unmarked
Of particularly high quality, painted with continuous landscape scenes depicting mythological subjects, one with Europa and the bull, the other with Neptune on a chariot drawn by hippocampi, the interior rims with wide gilt borders.
The form of these beakers, on high stepped feet are one of the earliest produced at Meissen and are close to Böttger stoneware models. The hausmaler, or outside decorators, worked on whatever white porcelain they could find, often using Chinese porcelain or old Meissen stock sold off by the factory.
These two beakers were acquired separately in 1993 but are closely related, and seem to be part of the same set.
Although of high quality the decoration does not fall easily into any of the known groups of hausmalerei. The distinctive palette and the garland around the bull's neck are close to that of the Metzsch workshop in Bayreuth and the inner gilt border has similarities to a saucer in the Gardiner Museum, Toronto, signed with the monogram of Metzsch. A number of hands of differing quality worked in Bayreuth workshops, these beakers are amongst the most accomplished.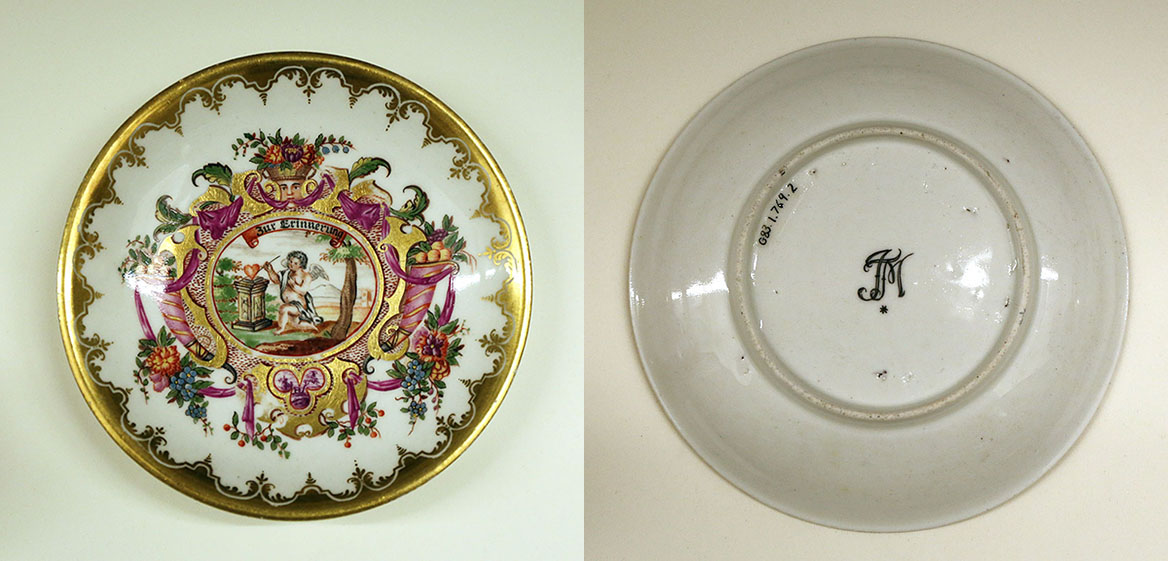 The Gardiner Museum, monogram of Johann Friedrich Metzsch
Condition:
Slight wear to gilt borders, no restoration.
Provenance
The Neptune beaker sold at Sotheby's London, 23 June 1993, lot 135;
The Europa beaker sold at Phillips London, 1 December 1993, lot 62
Private Collection, London.
Price: £10,000