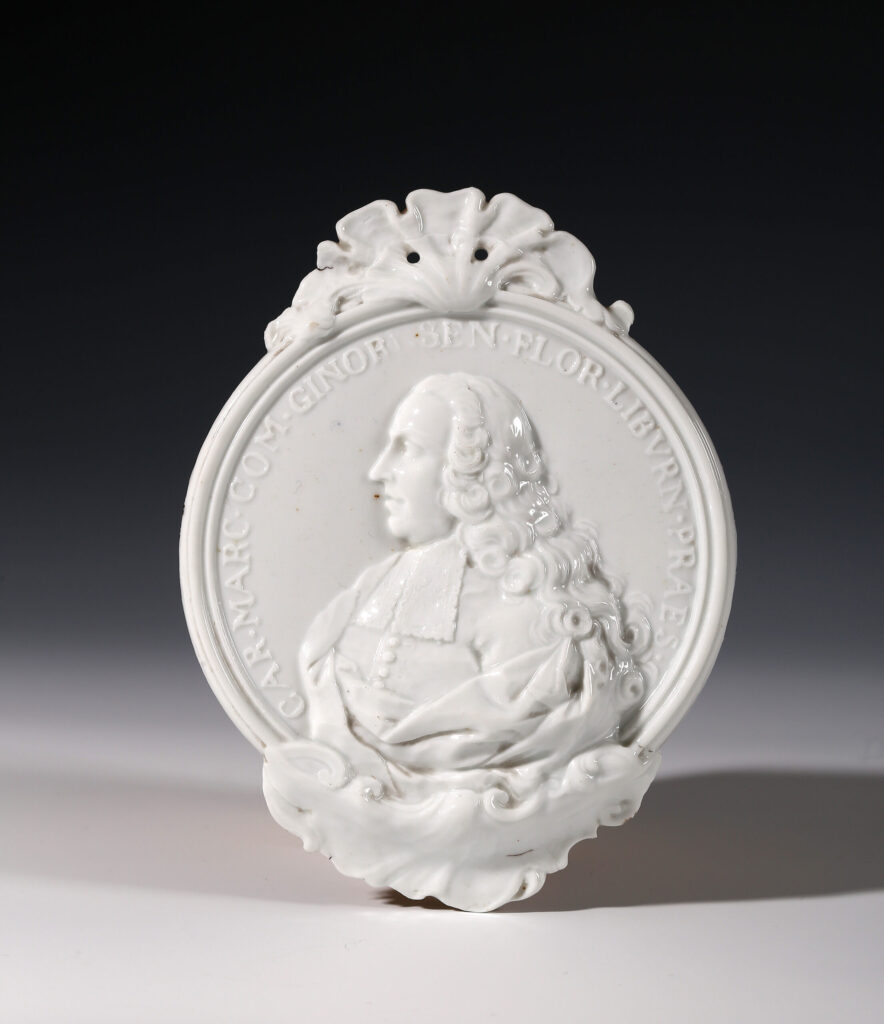 Of circular form with moulded rococo ornament. It depicts the Marchese Carlo Ginori, founder of the Doccia factory and was made after his death in 1757. Around the border of the plaque, it is inscribed:
CAR.MARC.COM.GINORI.SEN.FLOR.LIBVRN.PRAES
For: Carlo Marchese and Count Ginori, Senator of Florence and Governor of Livorno
On the left-hand shoulder of the Marchese, amongst the drapery, one can just make out the forked ribbon of the cross of the Cavelieri dell'Ordine di S. Stefano (the Knights if the Order of St Stephen). This corresponds to a larger bust of the Marchese that is known to have been modelled by Gaspero Bruschi, the head modeler of the factory, and lends to a convincing attribution here as well.
The plaque seems to be based on a bronze medal and while an exact match has not been found, there are two that bear a similarity to this one. We once had one ourselves (pictured below), and an example of the other can be found in the Bargello Museum. Both examples have views of Livorno to the reverse.
A notably crisp example of our plaque is in the Museo di Sesto Fiorentino, Florence, and another in the Palazzo Madama in Turin.
References:
Winter ed. 2003
Sandro Bellisi and John Winter, Le Statue del Marchese Ginori. Sculture in porcellena bianca di Doccia, Florence 2003, pp. 34-35 no. 2
Liverani 1967
Giuseppe Liverani, Il Museo delle Porcellane di Doccia, (Milan 1967), p. 68 pl. X
Price: £7,500