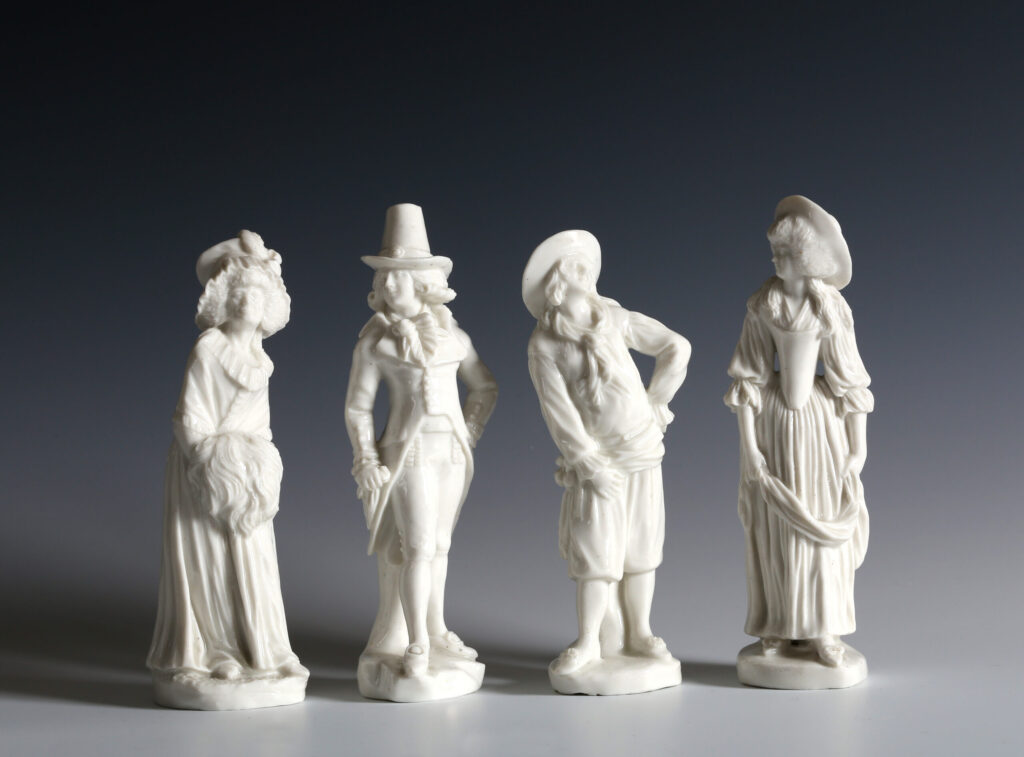 FOUR 'REAL PASSEGIO' FIGURES
Real Fabbrica Ferdinandea
Naples,
Circa 1792-1800
17.2 to 18.5 cm high
In the 1780s Ferdinand IV built the Villa Communale, which originally housed the Farnese sculptures, and a large park from land reclaimed form the sea on the coast between Naples and the port of Mergellina. The Passegio Reale – or Royal Promenade in the park- was originally reserved just for the nobility but was opened to the and the wealthy bourgeoise of Naples for special holidays such as the Festa di Piedigrotta.
A centrepiece celebrating the people of Naples was created for the desert service commissioned by the King in 1792 from his porcelain factory, The Real Fabbrica Ferdinandea, to accompany the Servizio delle Vedute Napolitane also known as the Servizio del'Oca. This large table-centrepiece comprised standing figures and seated groups representing the Neapolitan bourgeoisie in contemporary fashions promenading in the Real Passeggio in a gently satirical way. One document records that 75 accompanying figures were made, the originals supplied to the court were coloured but further examples, coloured and white, were sold.
The figure of a lady is traditionally (but probably wrongly) thought to represent Emma, Lady Hamilton
A similar figure of a peasant or sailor with the incised signature 'Aniello', for the modeller Aniello Ingaldi, is illustrated by Angela Caròla-Perrotti, La Porcellana della Real Fabbrica Ferdinandea (1978), nos. 183-184.
A coloured example of the figure of the elderly lady is illustrated by A. Mottola Molfino, L'arte della Porcellane in Italia: Il Piemonte, Rome e Napoli (1977), no. 325, along with a group incorporating the same figure (no. 328).
Condition:
The young sailor with edge of hat restored
Provenance:
Collezione Fiordalisi
Literature:
The fashionable gentleman: Angela Caròla-Perrotti, Le Porcellane dei Borbone di Napoli (1986), no. 504 
Exhibited:
The fashionable gentleman: Naples, Museo Archeologico Nazionale, 'Le Porcellane dei Borbone di Napoli: Capodimonte e Real Fabbrica Ferdinandea 1743-1806', 19 December 1986-30 April 1987
References:
Caròla-Perrotti 1986
Angela Caròla-Perrotti, Le Porcellane dei Borbone di Napoli (1986)
Molfino 1977
A. Mottola Molfino, L'arte della Porcellane in Italia: Il Piemonte, Rome e Napoli (1977)
Price: £8,500 for the set of four