Painted with a central medallion inscribed 'LUCRETIA. ROMANA', flanked by roundels of Achilles and Caesar Augustus divided by panels of birds and cornucopia set against a deep orange ground.
The outer edge of the cavetto inscribed with four mottoes:
PER VERTU S AQUISTA ONORE
FAMA RENGNANTES PERSUPEPBIA
PER ESTIMATO EST (the text is uncertain due to restoration)
FIDELIS USQUE AD MORTEM
Which can be translated as 'With virtue one acquires honour', 'Fame reigns over pride' and 'Faithful unto Death'.
Our stand is related to an armorial example in the Wallace Collection with the monogram 'CB' on the reverse; this is thought refer to Cristoforo Bourbon di Petrella (1436-1502), Bishop of Cortona which would date it to before 1502.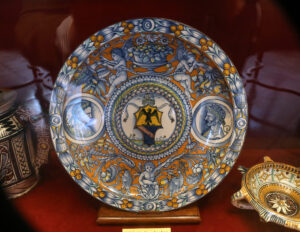 Wallace Collection C24
Another related piece in the William A. Clark Collection now in The National Gallery of Art, Washington, is inscribed 'L' on the reverse. Wendy Watson suggests that the painter of the Corcoran dish, although familiar with the alphabet, was probably functionally illiterate, the inscription on our stand is more coherent.
This stand or basin would have supported an ewer which would have contained water, scented with rosemary or chamomile, for washing one's hands after dining. A fork was a novelty in 16th century Italy, and since diners used their fingers such an ewer was an essential part of dining practice.
A similar, if less carefully drawn, monogram perhaps reading 'NOQ', appears on the back of a lustred Deruta ewer stand at the British Museum (Thornton & Wilson 2009, II, no. 272, Museum no. 1855,1201.81, formerly Bernal Collection). Giulio Busti has not been able to identify the monogram with any of the known Deruta potters of the early 16th century, it could also refer to the owner.
Condition:
The body of the dish is intact with no cracks and minor chipping. 35% of the glaze surface of the front of the dish has flaked off and is missing, this has been restored.
The reverse of the dish is in good condition with three small glazes losses restored.
References:
A. V. B. Norman, Wallace Collection Catalogue of Ceramics 1: Pottery, Maiolica, Faience, Stoneware, Trustees of the Wallace Collection, 1976, p. 72, C.24
Wendy M. Watson, Italian Renaissance Maiolica from the William A. Clark Collection, The Corcoran Gallery of Art, 1986, p. 78, no. 28 Inv. 26.332 (since transferred to The National Gallery of Art, Washington)
We are grateful to Dr Elisa Sani and Giulio Busti for help with this description.
Price: £12,000