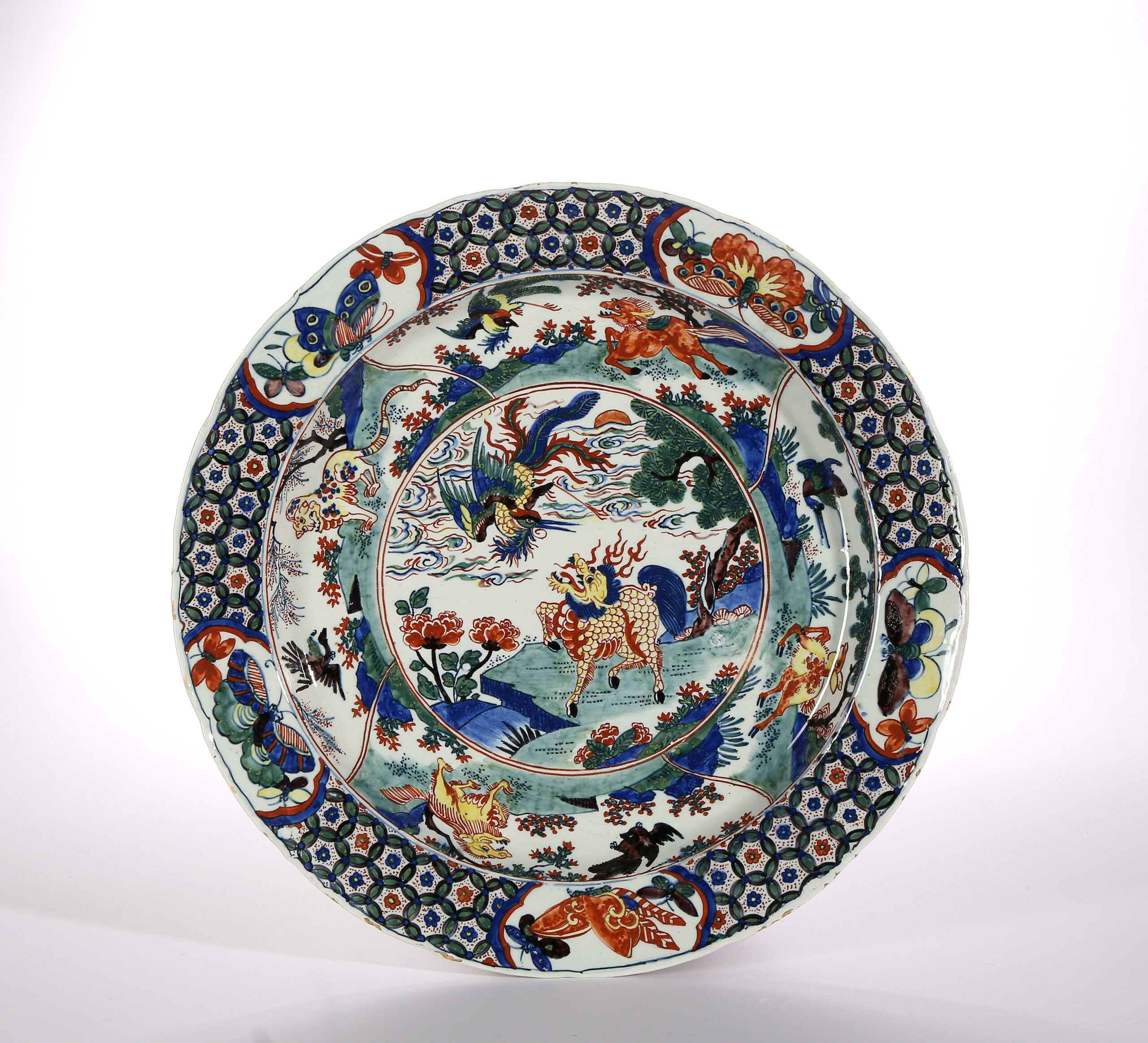 Copied precisely from a Chinese porcelain famille-verte original. The dish is covered with an additional kvart glaze which gives a glossy finish similar to porcelain and allows the colours to be more vivid.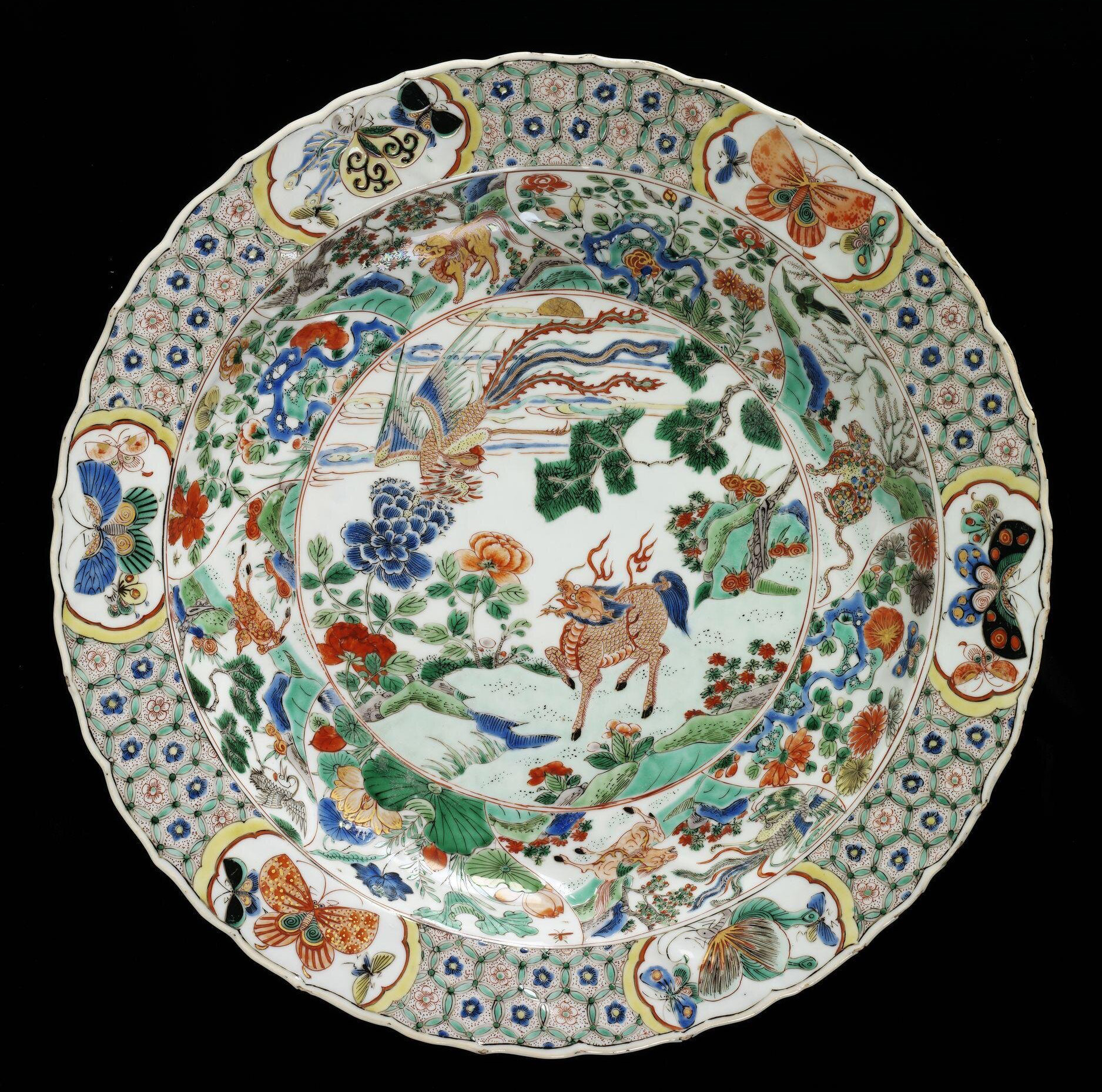 Chinese famille-verte dish, Kangxi period,
Salting Bequest, (Victoria and Albert Museum C.1180-1910)
This dish is a remarkable demonstration of the technical prowess of the Delft potters. There were a number of obstacles to achieving such an exact copy of a Chinese porcelain famille verte dish in pottery. It requires the full palette of colours available, including red and black which are notoriously difficult to fire; and also the brilliant kvart glaze which can induce the colours to run.
Only a few genuine examples of this type are known such as a dish of the same design in the Rijksmuseum (BK-NM-12106) illustrated in Delffse Porceleyne, Dutch delftware 1620-1850, (Van Dam 2004, no. 60) (although described as being 48 cm, the Rijksmuseum piece is in fact 38 cm across).
A group of copies made at the end of the 19th century have recently been identified. These have been the subject of a study conducted at the Rijksmuseum details of which have been published in Natuurlijke Pracht 2, Een selectie van vormen uit vuur uit de Terra Verde Collectie, Stichting (Jaap Jongstra, Leen Groen, Anneliese van Hoesel 2021, pp. 482 – 491).
Our dish has been analysed at the Rijksmuseum by X-ray fluorescence (XRF) spectroscopy where it was compared with their dataset of 17th and 18th century Delft pottery. It was concluded that:
'The peak areas of the elements in the white glaze, the blue decoration and the draught of the dish are similar to those of the other measured 17th and 18th century Delft objects in the Rijksmuseum collection. In general, they also agree well with the other eight objects by De Roos.  The dish has a relatively high manganese content, but this was also the case with two of the other kilin dishes in the Roos marked group. Moreover, it is well within the variation of manganese within Delft.'
Condition:
A chip restored at 10 o'clock, a small section of the rim restuck at 3 o'clock
References:
Jaap Jongstra, Leen Groen, Anneliese van Hoesel, Natuurlijke Pracht 2, Ein selectie van vormen uit vuur uit de Terra Verde Collectie, Stichting Terra Verde Collectie 2021
Delffse Porceleyne, Dutch delftware 1620-1850, Jan Daniel Van Dam, 2004
For a very similar Chinese version (V&A No. C1180-1910) see Masako Shono, Japanisches Aritaporzellan im sogenannten Kakiemonstil als Vorbild für die Meissener Porzellanmanufaktur, 1973, no. 21
Provenance:
Paper label for Desurmont Collection, 1914
Paper label for Vandermeersch
Collection of Christophe Perles, Pescheteau-Badin, 18 June 2018, lot 23
Price: £25,000