A HAFNERWARE WHISTLE BEAKER
Southern Germany or Silesia
Circa 1550-1600
16.7 cm high
The baluster body supported on a hollow base with a mouthpiece connected to three whistles applied to the sides. Decorated with vertical bands of ochre, manganese, white/tin glaze and green separated by channels formed by knife-cut partitions.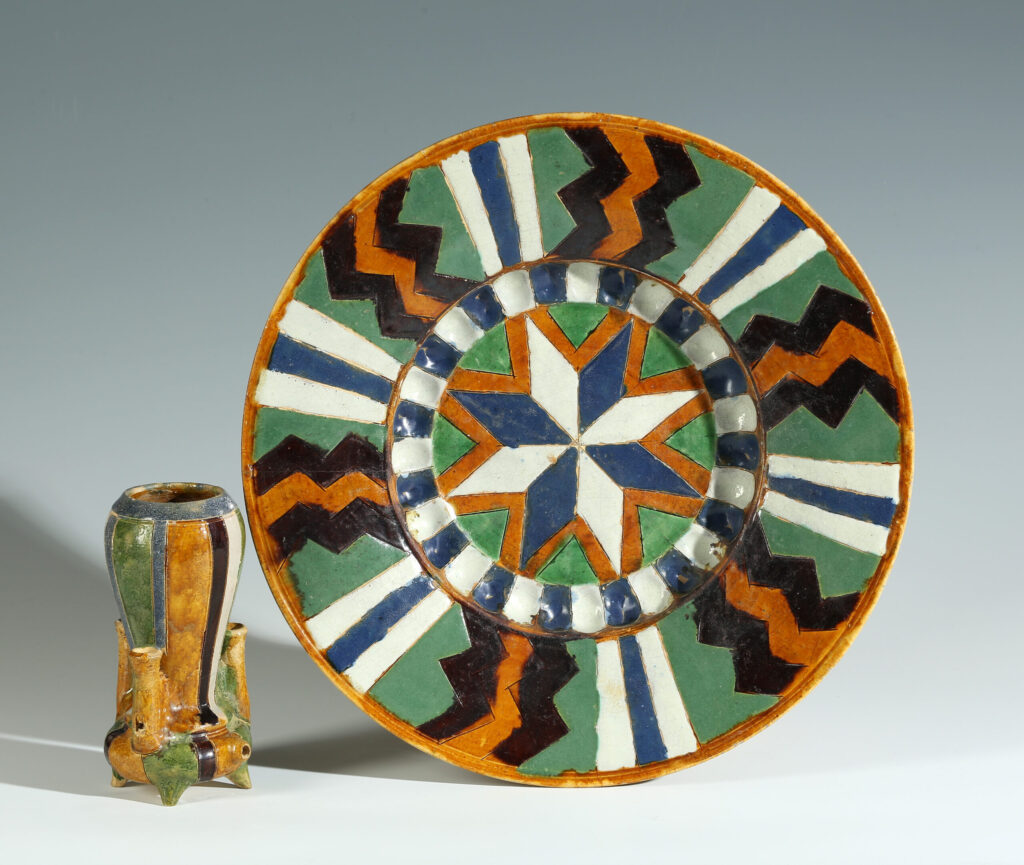 This type of pottery evolved from the tradition of German stove tile production, distinctive for their vibrant glazes and rich colour palette. The technique and glazes used are identical to those on the rare dish with radiating design that we currently have in stock, it is probably from the same workshop. We have found other examples of these dishes in the MAK Vienna, and the other illustrated in black and white in the Lanna collection, Prague.
Perhaps a child's toy or a novelty drinking game? We have not found any comparable examples, in pottery or other media. The note changes when the apertures are covered with ones figures.
Thermoluminescence Analysis by Oxford Authentication, sample No. N122e11, estimated the date of the last firing to be between 350 and 550 years ago, thus consistent with our dating.
Condition:
Some glaze cracks, no restoration
It was said to be excavated in Antwerp in the 1970s or 80s, there is some sign of the surface degradation and iridescence that one would expect
Provenance:
Former collection of Mr. Tiemen Helperi Kimm (1930 – 2017), former curator of the "Niemeyer Tabaksmuseum" and director of the "Noordelijk Scheepvaartmuseum" in Groningen
Reportedly found during excavations in Antwerp (late 1970s / early 1980s)
References:
'Sammlung des Freiherrn Adalbert von Lanna, Prague', Rudolph Lepke's Kunst-Auctions-Haus, Berlin, 9-16 November 1909, lot 591
Price: £15,000