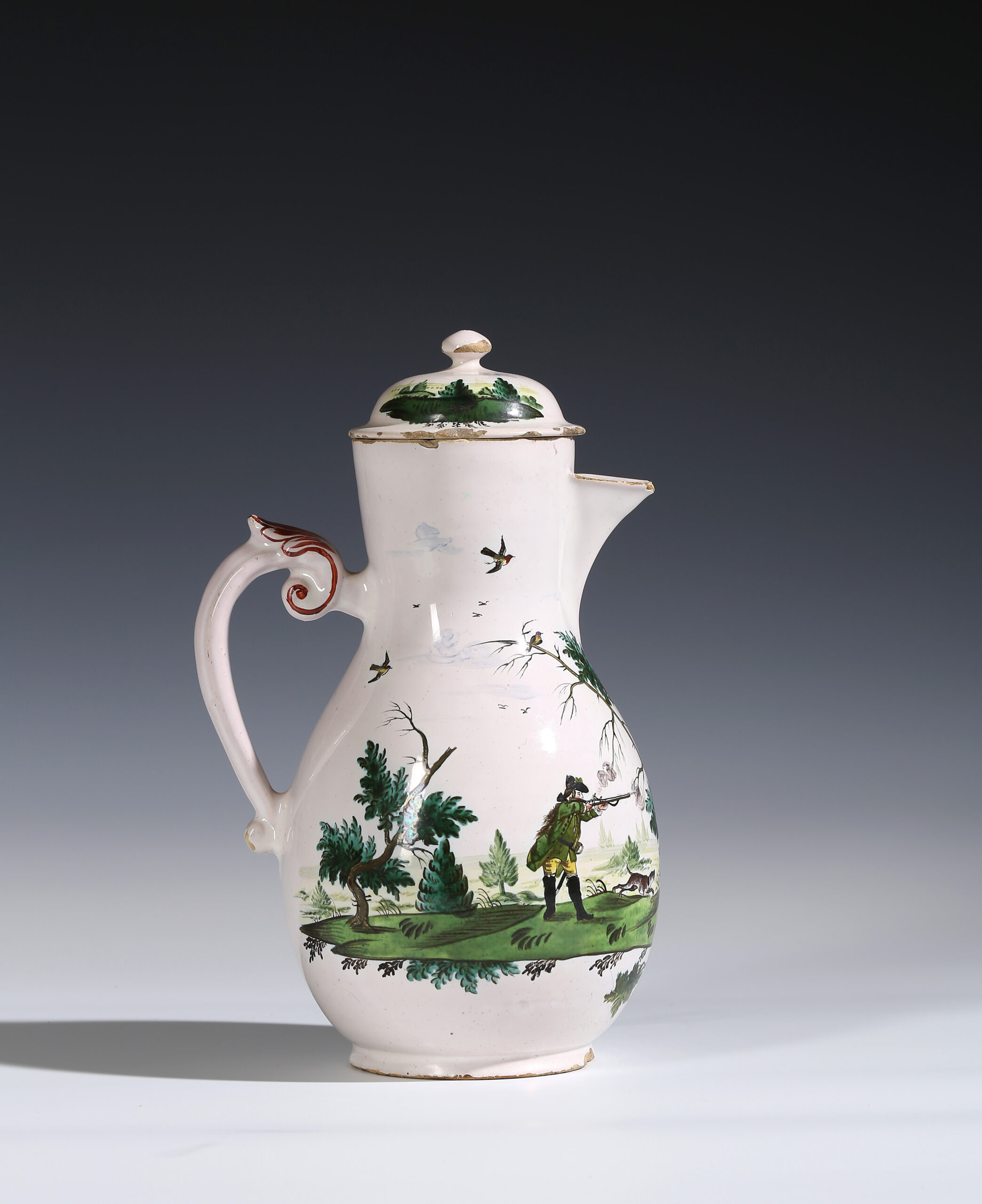 A KÜNERSBERG FAIENCE COFFEE POT
Circa 1760
23.6 cm. high
No mark
Depicting a continuous hunting scene to the body of the pot, with the huntsman in the act of shooting, his dog in chase and the stag rearing up in response.
As with many of these Künersberg hunting pieces the landscape is characterful and detailed with a layered depth to the background and the partially bare trees of late autumn. The handle with a scroll thumb rest highlighted in red. The lid with two opposing generic landscapes. Hunting scenes such as these are said to be derived from engravings by Johan Elias Ridinger, and rank amongst the most accomplished and iconic of the products made at the Künersberg factory.
The Künersberg factory was founded by the merchant and banker Jakob von Küner in 1745 on his Künersberg estate near Memmingen (illustrated below) and gained imperial privilege from Emperor Francis I in 1746. The factory was a business venture which strove to achieve a high-quality product, competing with the faience of Strasbourg. Jakob von Küner ran the factory until 1751 before passing it on to his son Johann Jakob who continued into the mid-1760s. The products of the Künersberg factory are considered amongst the finest quality of 18th century European faience.
Condition:
A number of chips, fine body crack, no restoration
References:
For a more detailed discourse on the Künersberg factory with a particular focus on these hunting subjects, follow this link for a lecture by Peter Vogt which he presented on behalf of Keramos on 27 April 2023
https://www.keramikfreunde.de/keramos-kabinett/hunzelmann
Price: £16,000