A LARGE SALTGLAZE STONEWARE 'BARTMANNKRUG'
Cologne or possibly Frechen
With the Arms of England
1560-70
37.5 cm high, 32 cm deep
The central oval medallion has the double-headed eagle of the Holy Roman Empire above the arms of the city of Cologne flanked by rampant lion supporters and short classical columns.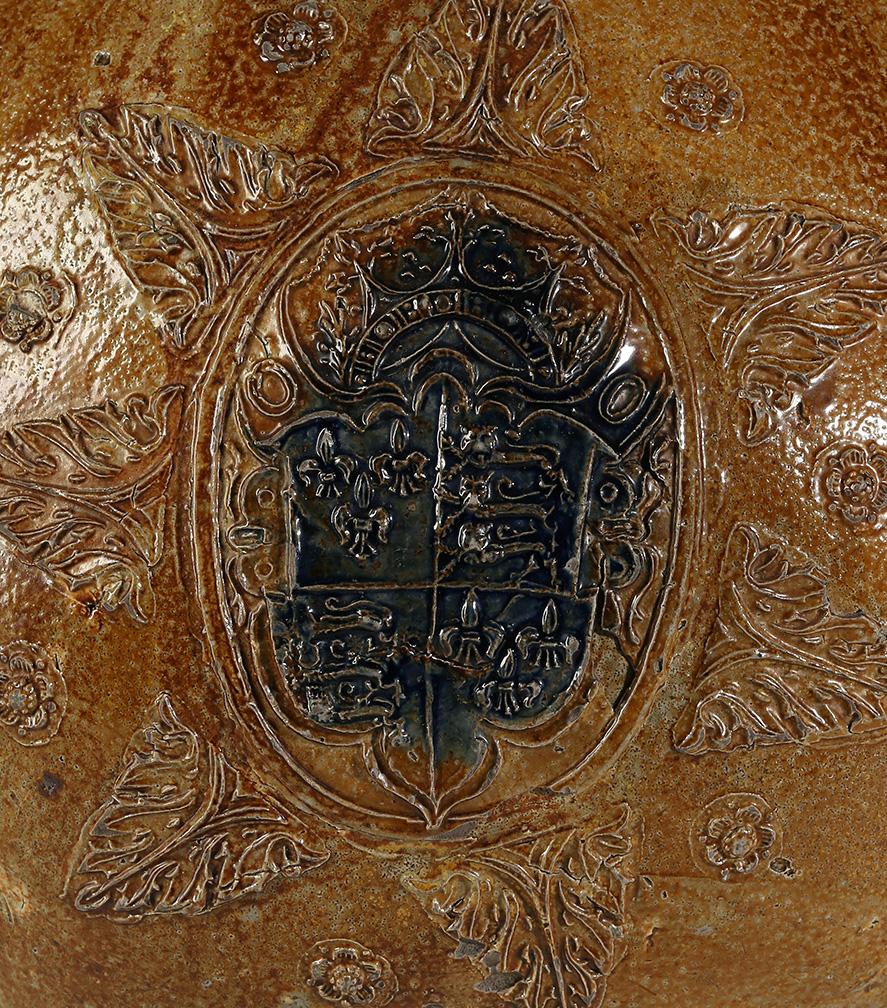 On either side are two medallions with the Tudor arms of England of the period of Elizabeth I.
Vessels from Cologne and Frechen can be very similar as the potters of Cologne were forced out of the city and re-established themselves in the nearby town of Frechen seven miles to the southeast. Some of their names, such as Master Richardt von Frechen, indicate that they had originally come from there. Civic archives in Cologne show that there was powerful opposition to the presence of potters due to the risk of fire and the noxious fumes generated by the salt glaze process. After 1566 potters are no longer mentioned in civic documents in the city.[1]
Since our jug bears the arms of Cologne it is likely to have been made there. David Gaimster illustrates another large example with similar radiating acanthus palmettes around the medallions also with the arms of the city of Cologne, and attributes it to Cologne or possibly Frechen.[2] Gaimster cites Reineking von Bock noting that fragments of this type have been excavated at two kiln sites in Cologne but also in Frechen.[3]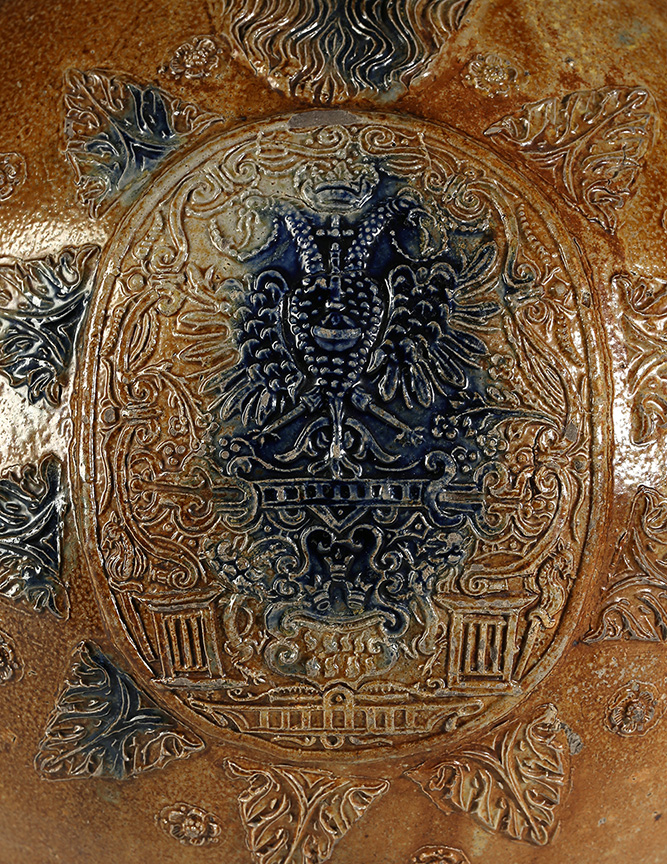 There was a huge trade in stonewares from Cologne and Frechen down the Rhine and over to England where the technology for such high-fired wares did not yet exist. Most of this trade was in smaller utilitarian jugs for tavern use, such pieces as our jug represent the peak of production.
Bartmaske or bearded facemask is thought to represent the folk tradition of the wild man, popular in north Europe. The arms of the city of Cologne are represented by the three crowns of the Magi (whose bones are kept in a golden sarcophagus in Cologne Cathedral) and ermine tails representing the virgins of Saint Ursula, the British princess, who were martyred by Attila the Hun in Cologne in the 4th Century. 
Condition:
Chips around rim of neck, top of handle and body, no restoration
Provenance:
Dirven, Eindhoven
Private collection B. Overduin, Bloemendaal/Spain
Private collection Overduin, c. 2002
Art dealer De Eenhoorn, Zaltbommel
Private collection Markus Prill, Germany
Private collection Jaeschke, Germany
Vecht, Amsterdam, 2020
Literature:
Illustrated in the catalogue of the 'XVe Oude Kunst- en Antiekbeurs', 1963, in Delft, Stand no. 6, J. Dirven
References:
Gaimster 1997
David R.M. Gaimster, German Stoneware, 1200-1900: Archaeology and Cultural History, (British Museum Press, 1997)
Reineking von Bock, 1986
Gisela Reineking von Bock, Kunstwerbemuseum der Stadt Koln: Steinzeug, (Stadt Koln, 1986)
Price: £32,000

[1] Gaimster 1997, p. 193
[2] Gaimster 1997, p. 207, no. 47
[3] von Bock 1992, cat. 274