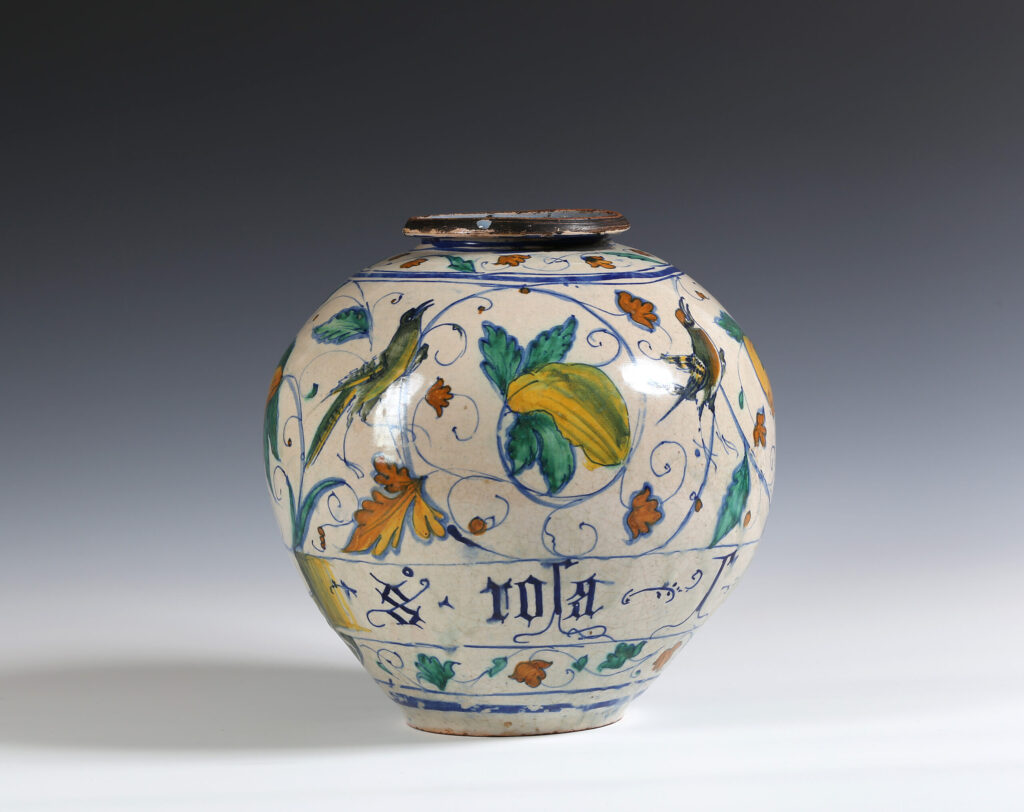 A MAIOLICA GLOBULAR PHARMACY JAR VENICE or the MARCHES
Mid 16th century
28.6 cm high, 29 cm diam
Painted with birds, quinces and gourds in a spiralling meander above a scroll inscribed 'S. Rosa. S'.
Our jar is of a form associated with Venice where they are often painted with fruit, although ours is unusual for its elegant draughtsmanship and the inclusion of birds. However, Cipriano Piccolpasso does depict a bird amongst fruit in his design titled 'Frutti' for Venetian maiolica in his treatise on the potter's art, Li tre libri dell'Arte del Vasaio, written around 1557 (Piccolpasso 1557 – 1980 vol. I, fol.67, II, p. 114 or p. 68 in the manuscript). The birds on our jar can perhaps be identified as a chaffinch and three greenfinches. Piccolpasso also noted that designs of foliage were done at Venice and Genoa more than elsewhere and the blue 'berretino' ground around the inside of the neck also suggests Venice.
'S. Rosa. S' is perhaps for Rosatus Solutivus syrupus, a syrup having an aperient action; prepared by infusing rose petals with water, followed by straining, adding sugar and evaporating the product. (Drey 1979, p. 228). Although often described as pharmacy jars, they could also be for preserved delicacies; a globular jar with the inscription 'peri˖ quonditi' for pere condite or candied pears is in the Museo d'Arte Antica, Milan, (see Drey 1978, p. 63 pl. 26a [wrongly numbered 24a] and p. 58).
Condition:
Good condition, no restoration
References:
Rudolf E. A. Drey, Apothecary Jars, Pharmaceutical Pottery and Porcelain in Europe and the East, 1150 – 1850, (Faber and Faber 1978)
Cipriano Piccolpasso, Li tre libri dell'Arte del Vasaio, The Three Books of the Potter's Art, translated and introduced by Ronald Lightbown and Alan Caiger-Smith, 2 vols. (London 1980)
https://collections.vam.ac.uk/item/O1321808/li-tre-libri-dellarte-del-manuscript-piccolpasso-cipriano/?carousel-image=2006AY2147
Poole 1996
Julia E. Poole, Italian Maiolica and Incised Slipware in the Fitzwilliam Museum, (Cambridge University Press 1996)
Price: £9,500