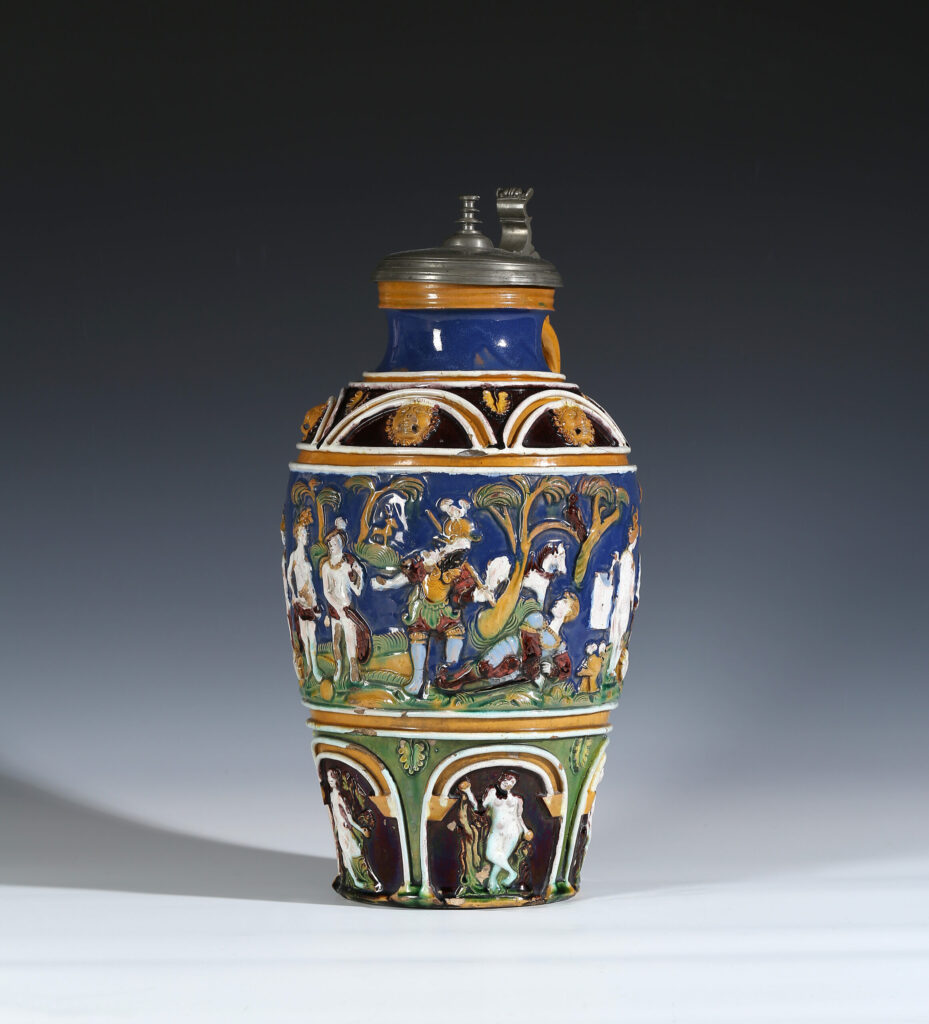 HAFNERWARE JUG
Workshop of Paul Preuning, Nuremberg
Circa 1550
38.8 cm. high to top of pewter thumbpiece
33.9 high to top of rim
The pewter cover with three marks for Saalfeld
The oviform body with a twisted handle, decorated in moulded relief across three bands, divided by white tin-glazed cables. The large central band with a continuous scene depicting the Judgement of Paris repeated twice. The top band with lionhead masks and oak leaves, the lower band with goddesses holding apples within arched panels.
The workshop of Paul Preuning was based outside the Tiergarten Gate of Nuremberg and emerged in the 1540s at a time when its wealth and cultural flowering made Nuremberg the centre of the German Renaissance. The techniques used developed out of the Hafnerware tradition of pottery stove tiles. Preuning's pots are distinctive for their bright glazes, relief moulds, and geometric banded designs. The production lasted for around fifty years and were made largely for a local market. Unlike stoneware they were not widely exported and do not survive in large numbers.
In May 1548, it was declared that the Lutheran doctrine should be abolished. In June, Preuning's workshop is recorded as having made some jugs bearing Christ on the Cross flanked by a drummer and a piper where the Virgin and St. John would usually stand. The iconography was considered blasphemous and Preuning was arrested and questioned for three days. Paul Preuning said that his relative Kunz Preuning had made them. The jugs were all smashed and others in the workshop which showed the Crucifixion with dancing peasants were also confiscated.
The Judgement of Paris, using the same moulds, appears on a jug in the Kunstgewerbemuseum, Berlin.
One interesting feature of our piece is the unfired red pigment applied in some areas over the brown glaze. A good red was a colour that all potters had great difficulty in achieving with fired glazes. The same dry red pigment can also see it on this example in the Victoria & Albert Museum:
https://collections.vam.ac.uk/item/O117410/jug-preuning-paul/
Hera promised Paris land and riches, Athena victory in battle and Aphrodite the love of the most beautiful women in the world. Paris chose Aphrodite, who told him of the beauty of Queen Helen of Sparta
Condition:
Numerous chips and small losses.
Small area of white glaze fragments reattached to chest of one goddess, a section of one arch in the lower panels restored.
See conservation report for details.
Provenance:
Peter Vogt Antiquitaten, Munich
Price: £58,000