THREE ALCORA FAIENCE PLAQUES
Real Fábrica de Loza Alcora
Spain
Circa 1752/53
Each 28 cm high, 16.3 wide
Decorated in grand feu colours after the '60 Figurines' series of Salvator Rosa (1615-1673) engraved by Johan Jacob van Sandrart (1655-1698) or François Chéreau (1680-1729) and set within moulded rococo frames.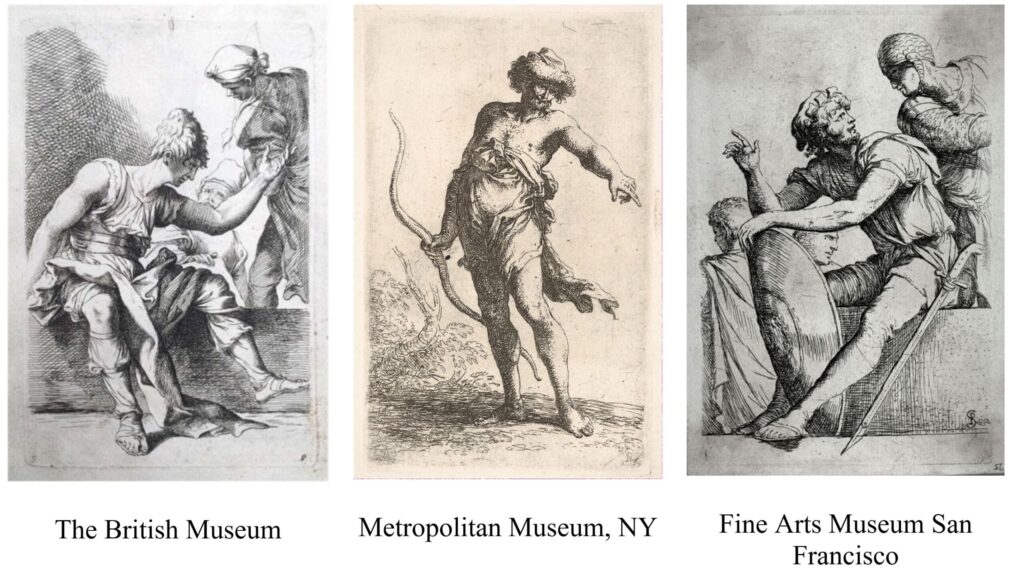 The Real Fábrica de Loza Alcora was established just north of Valencia by Buenaventura Ximénez de Urrea, Abarca de Boléa (1699-1742), the ninth Count of Aranda in 1727. The first ordinances, published in 1727, specified that an academy be established to teach apprentices between twelve and sixteen years old from the neighbouring area. This body of trained artists produced some of the finest painting on any European faience.
The Count also hired two potters from Moustiers in Southern France, Joseph Olerys (1697-1749) and Edouard Roux (1693-1749) who introduced the high qualities of glaze and body which characterise the factory. The factory was taken over in 1742 and expanded by the 10th Count of Aranda who became ambassador to France between 1773 and 1787.
These plaques are from the Second Period, between 1749 and 1764, when the rococo forms were introduced after the publication of the new factory ordinances in July 1749. This may have coincided with the appointment of Julián López (d. 1792) as artistic director. He was a sculptor and was variously chief designer, model maker and supervisor of the apprentices.
Condition:
The rococo scrolls on the top of two of the plaques have been restored
Provenance:
Earls of Howth and Gaisford-St Lawrence Family
Howth Castle, Howth, County Dublin
Fonsie Mealy Auction, 8 September 2021, lot 525
References:
Alexius Feit, Iconographie de la Faïence d'Alcora 1727-1798, (Colección Monografías 4, e-Dit ARX publicaciones 2017), pp. 421 to 423 for related examples
Print Sources after Salvator Rosa:
https://www.britishmuseum.org/collection/object/P_1905-1214-2-7
https://www.metmuseum.org/art/collection/search/397931
https://art.famsf.org/salvator-rosa/seated-soldier-shield-and-two-other-figures-series-figurine-19633037543
for two further plaques from the same series in the Metropolitan Museum of Art, see:
https://www.metmuseum.org/art/collection/search/188978
Price: £15,500