A German 'Bandwurm' Glass, decorated with a view of Breslau
Probably by Ludwig Faber or Hermann Benckert
Nuremberg
Second half of the 17th century
24 cm high
Painted in schwarzlot with a view of Breslau, probably adapted from an engraving by Matthaeus Merian, from his 21 volume Topographia Germaniæ. Below is a later version of the same view that perhaps follows the original Merian print.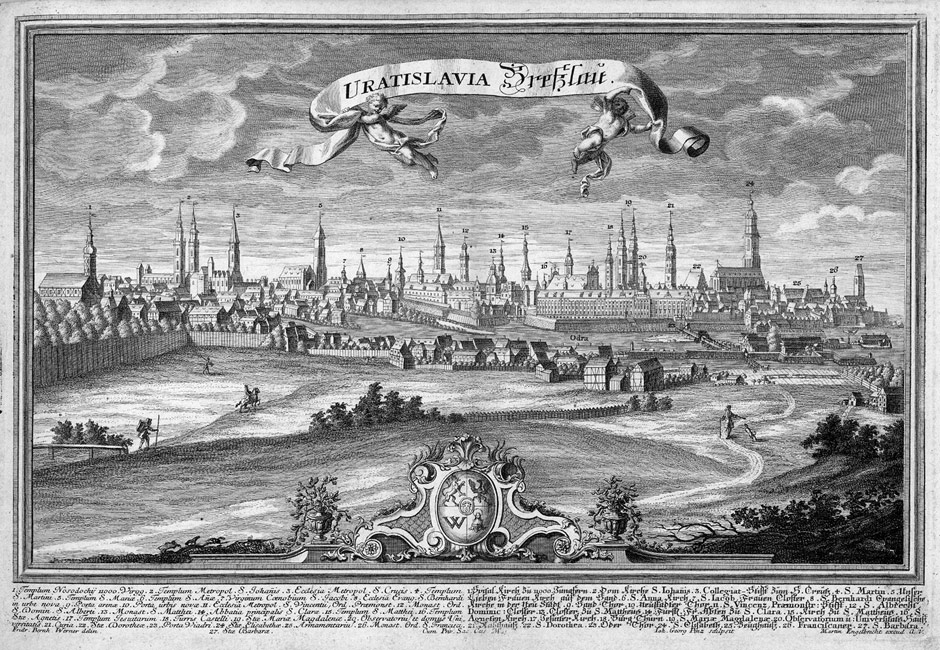 Merian cityscapes were popular amongst Nuremberg hausmaler and are generally attributed to Johann Schaper, Ludwig Faber or Hermann Benckert although many are unsigned.
Helmut Bosch illustrates signed examples of topographical views derived from these prints by Schaper and Benckert. Although none are signed by Faber, a number are attributed to him, often bearing the distinctive floral motifs that he is associated with.
The decoration on this glass has a hard-edged style that is closer to that of Faber and Benckert than the softer style of Schaper. While it is difficult to rule out an anonymous enameller, the quality of the decoration suggests that it is one of the top hausmaler of the period.
Another almost identical example with a different cityscape is in in the Chicago Art Institute, (Julius and Augusta N. Rosenwald Fund in 1945.182), the painting is there attributed to Hermann Benckert. This is the only closely comparable piece that we have found.
It is very unusual to find schwarzlot decoration on formglas, which was made across Germany throughout the seventeenth century rather than the more refined Nuremberg glass on which it is usually found on. A schwarzlot scene, probably from Augsburg or Munich, on a related passglas with a triumphal procession of 1662 in the British Museum is illustrated by Hugh Tait, 5000 Years of Glass, 2012 edition, p. 177, fig.227.
A schwarlot decorated glass with another view of Breslau after a Merian print also appears on the foot of an armorial pice decorated by Ignaz Preissler in the collection of Rudolf von Strasser.
Thank you to Mr Stephan Boll, Munich for helping us to identify the view of Breslau
Condition:
A shallow 1 cm loss to the band around the glass, and two smaller chips to the band
References:
Helmut Bosch, Die Nürnberger Hausmaler: Emailfarbenderkor auf Gläsern und Fayencen der Barockzeit, Munich, 1984
Hugh Tait, 5000 Years of Glass, The British Museum Press, 2012 edition, p. 177, fig. 227
Rudolf von Strasser, Licht und Farbe, Kunsthistorisches Museum Wien, 2002, p. 174, no. 100
Price: £22,000