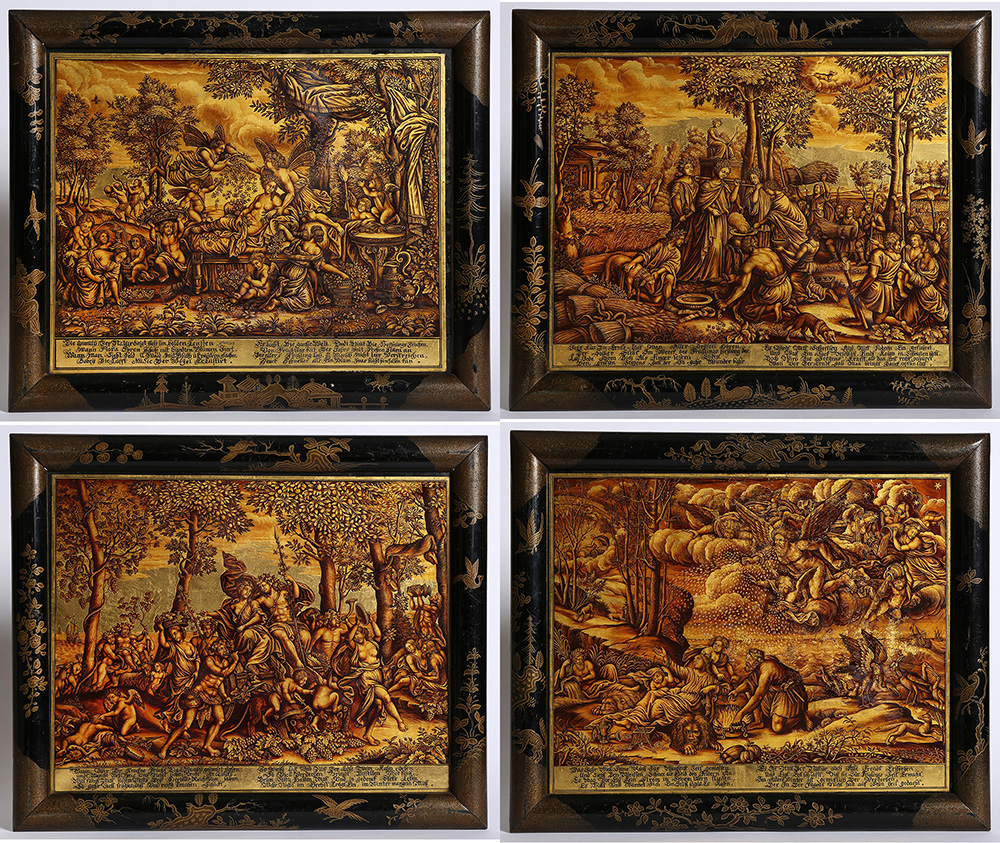 A SET OF FOUR REVERSE GLASS PAINTINGS OF THE SEASONS
by Daniel Preissler
Circa 1700-1720
The glass: 36.0 x 29.2 cm
Including frames: 42.2 x 35.0 cm
Frames attributed to the workshop of Jan Adalbert Ignaz Kratochwill, 1700-1720
The Glasmaler Daniel Preissler's technique involved the painstaking painting of the image in black and sepia tones onto one side of the glass, and carefully scratching details of the design before backing it with gold leaf, which creates glowing images of exceptional richness.The designs are taken from a set of four engravings of the seasons by Jean de Poilly after the paintings by Pierre Mignard of around 1680 made for the decoration of the Château de Saint-Cloud between 1677 and 1680[1].
The subjects on the original engravings are:
Spring: L'Hymen de Zephire et de Flore
Summer: Le Sacrifice en l'honneur de Ceres
Autumn: Le Triomphe de Bacchus et d'Ariadne
Winter: Cybele Deese de la Terre implore le retour du Soleil
Recent work by Helena Brožková and colleagues at the Museum of Decorative Arts in Prague has clarified much of the story of Daniel Preissler and his son Ignaz that had previously been ambiguous and confused.
Daniel Preissler (1636-1733), and his son Ignaz, were in the service the Counts Kolowrat-Liebsteinsky in Kunštát (Kronstadt) in eastern Bohemia[2]. They worked in black 'schwarzlot', iron-red enamels and gold on Asian and European porcelain and on Bohemian glass. Daniel and Ignaz were documented as Kolowrat serfs[3] working as court artists from the last quarter of the 17th century to the 1730s. All their commissions from other patrons were mediated by František Karel II, the Count of Kolowrat-Liebsteinsky (1684-1753).
A contract of 10 August 1704 was discovered, for the execution of twelve reverse-glass paintings, between Daniel Preissler of Kunštát and Count Christoph Wenzel (Kryštof Václav) Nostitz (1648-1712), the owner of an estate that bordered the Kolowrat estates, confirming his authorship of these works[4]. The contract stipulated that the artist should use good quality gold and flawless mirror glass and designated specific subject matter including a set of the Seasons[5].
The inventories of the Kolowrat property from 1753 and 1759 list a large number of reverse glass, or "hinterglas" paintings and other pictures that were walled up in anticipation of a possible Prussian invasion. These included allegories of the Seasons among much else[6].
Interestingly Maureen Cassidy-Geiger has identified the same sources used for the decoration on two pieces of Chinese porcelain by the hand that is generally attributed to Daniel's son Ignaz Preissler. It is probable that father and son collaborated closely and in the total absence of signed work it is difficult to make certain attributions. The bowl in the J Paul Getty Museum is taken from Spring with the marriage of Flora and Zephyr in the interior, and Summer with the sacrifice of Ceres on the exterior. The shallow circular dish in the Musée National de la Céramique, Sèvres, is derived from Autumn with the Triumph of Bacchus and Ariadne[7]. The two pieces were clearly commissioned together.
It is unusual to find engravings that were used on both Preissler reverse glass paintings and on Chinese porcelain. This establishes an interesting link between the work of the two major classes of object attributed to the Preisslers.
Cassidy-Geiger notes that Chinese porcelain similarly decorated by Ignaz Preissler was already described in the Inventarium über das Palais zu Alt-Dresden Anno 1721 under the chapter heading "Weiss Sächsische Porcelain" in 1721[8] and that further pieces were added in 1722[9]. They were correctly identified as being Bohemian.
THE FRAMES
The lacquered and gilded frames, decorated in the manner of Stalker and Parker, are close in style to those on the set of seventy-two paintings of members of the court in Turkish costume which were commissioned by Sibylla Augusta Margravine of Baden-Baden for Schloss Favorite near Rastatt[10]. These are attributed to Jan Adalbert Ignaz Kratochvil (1667 – 1741).
Jan Adalbert Ignaz Kratochvil (or Johann Adalbert Kratochwill) is documented in Western Bohemia in 1694 where he is described as the 'kaiserliche indianische Kammermaler' or Imperial 'Indian' room painter[11]. Unusually in a Czech context, Kratochvil imitated the Japanese hiramaki-e or sprinkled gold technique, which occurs on the corners of our frames.[12] In 1712, he secured an imperial privilege for painting with lacquer, which had rarely been used in the Bohemia before that, even though it was well established in Dresden and Berlin.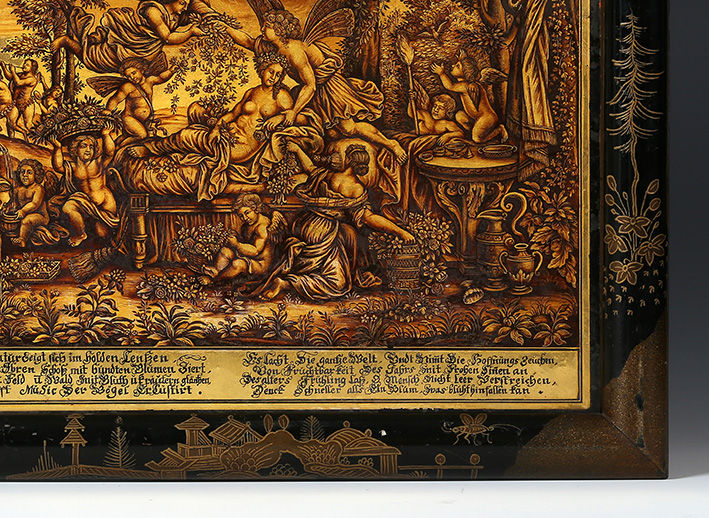 We are grateful to Antony Griffiths, Maureen Cassidy-Geiger, Jana Černovská and Prof. Dr. Monika Kopplin for their help with this entry.
Condition:
Three of the pictures are in remarkably good condition. Winter has suffered some damage and had previous restoration. The backing board on 'Winter' has been replaced. See detailed conservation report.
Provenance:
A Styrian Collection
Dorotheum, 22 February 2023, lot 22
References:
Brožková 2020
Helena Brožková (Ed.), Gleam of Gold, Blaze of Colours: The Art of Reverse Glass Painting in the Collections of the Museum of Decorative Arts in Prague, (Museum of Decorative Arts in Prague, 2020)
Brožková,(ed.) 2009
Helena Brožková,(ed.), 'Daniel a Ignác Preisslerové, Barokné malíři skla a porcelánu, Prague Museum exhibition Catalogue, 2009.
Jaroslav Šůla, Daniel and Ignaz Preissler, Bohemian Baroque Glass and Porcelain Painters and Their Families, Summary. pp. 32 &32
Helena Brožková, "Suae Excellentiae Pictores" Daniel et Ignatius Preissler, Summary p.98 & 99
Cassidy-Geiger 1987
Maureen Cassidy-Geiger, Two Pieces of Porcelain Decorated by Ignaz Preissler in the J. Paul Getty Museum, The J. Paul Getty Museum Journal, 1987, pp. 35-52
Huth 1971
Hans Huth, Lacquer of the West: History of a Craft and an Industry 1550 – 1950, (University of Chicago Press 1971)
Stalker and Parker 1688
John Stalker and George Parker, A treatise of japaning and varnishing, (Oxford, 1688)
Suchomel 2019
Filip Suchomel (2019) Johann Adalbert Kratochwill and His
Two 'Indian' Interiors in Bohemia, Studies in Conservation, 64:sup1, S45-S52, DOI:
10.1080/00393630.2019.1579949
Price: £145,000

[1] Antony Griffiths notes that Preissler would not have used the original French engravings, but copies made in Germany. Almost every good French engraving in these decades was copied in Germany, often several times over, as French publication privileges did not extend there.
[2] Daniel was first recorded in the Village of Bedřichovka (Friedrichswald) on the Solnice estate in 1675. He was probably employed there as a painter in the glass-manufacturing workshop of glass master Peterhansel. Shortly afterwards the family moved to the nearby village of Kunštát. Brožková 2009.
[3] Brožková 2020, p. 33.
[4]  Brožková 2009, p. 99.
[5] Brožková 2020, p.34.
[6] Brožková 2020, p.37.
[7] Cassidy-Geiger 1987, pp. 35-52.
[8] N.7. 3. Stk. Extra feine runde am Rand vergoldete Chocolate Tassen u. Schaalen, daruff mit einer rothen Couleur sauber en Crotesqué gemahlet ist; Diese Arbeit is in Pöhmen gefertiget worden, und jede Tasse und Schaale is von differenter Zeichnung. Zwey Tassen darvon sind schadhafft, jede aber 3. Z. tieff und 2 1/2 . in diam. Eine Schaale aber ¾ Z. in diam,. Cassidy-Geiger 1987 p.35.
[9] The pieces listed in 1722 came from Count Lagnasco, Augustus the Strong's agent in The Nethrlands. Cassidy-Geiger 1987 p. 35.
[10] Huth 1971, pp. 79 & 80, colour pl. XII a, and pls. 209 a & b.
[11] Suchomel 2019, p. S49
[12] Suchomel 2019, p. S50