A WERNER AND MIETH PAINTED FLUSSGLAS GILT METAL MOUNTED VASE
31.2 cm high, 20.2 cm across
Berlin
1795-1800
Of thistle-shaped form, mounted in gilt bronze and supported on a marble base with four gilt-metal lion-paw feet. Decorated in fired enamel with a frieze of putti and fauns riding goats.
The Werner and Mieth workshop was founded in Berlin in 1792 by Christian Gottlieb Werner (1756-1831) and Gottfried Mieth (c.1765- c.1834) and specialised in creating objects and chandeliers from glass and gilt bronze. Both had been modellers at the Royal Berlin Porcelain Factory, KPM. The firm was active in projects to furnish the royal palaces in Berlin, Potsdam and elsewhere employing a number of talented artist and architects such as Hans Christian Genelli (1763-1823) and Karl Friedrich Schinkel (1781-1841). The existence of the Werner and Mieth workshop is the discovery of Frank C. Möller and we have used his researches throughout.
The design and perhaps the painting of our vase is attributed to Hans Christian Genelli. He came from a notable family of artists, his father was in the service of Maria Theresa in Vienna and became an honorary member of the Academy of Arts in Berlin. The Academy financed Hans Christian Genelli's stay in Rome from 1785, where he studied the art of ancient Rome for five years and developed his novel style of classicism. From 1790 he worked as a designer at The Royal Berlin Porcelain Manufactory, KPM, (Königliche Porzellan Manufaktur). Frank C. Möller notes that he is recorded as the designer at Werner and Mieth in a letter of 1794.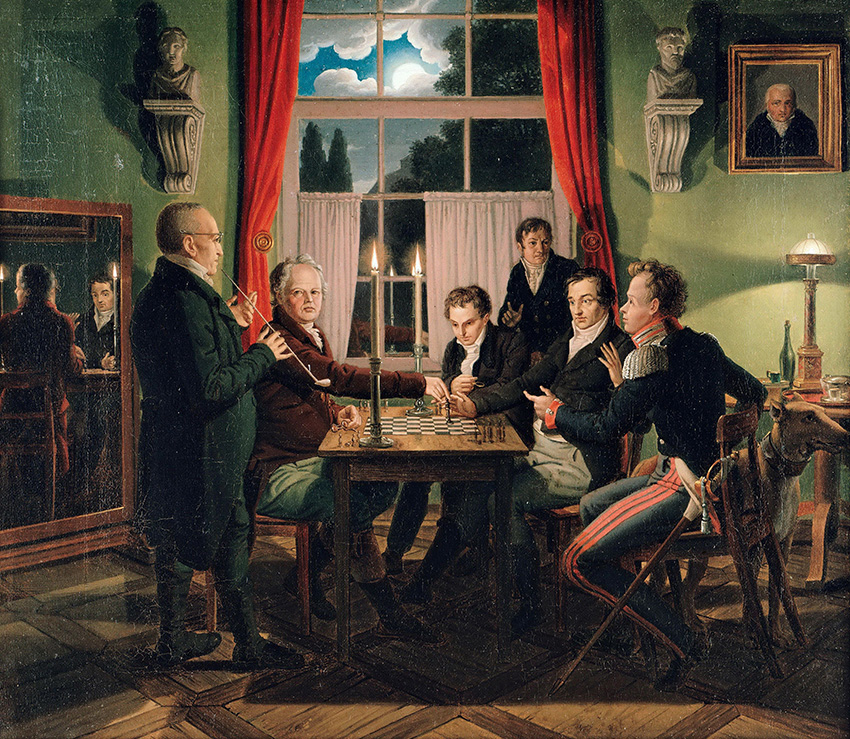 Johann Erdmann Hummel's painting of Count Ingenheim's Chess Club, Genelli is the figure on the left with a pipe
Although the decorative features are inspired from classicism, the shape is reminiscent of a mosque lamp. Möller also notes that Genelli was fascinated by the excavations of prehistoric sites in Germany and it could also derive from some of the pottery that had been recently discovered in them.
Frank C. Möller discovered a letter of 1797 from Werner and Mieth to the Prussian Minister Struensee requesting that they be allowed to import glass from Bohemia. Until then they had used Silesian glass but he complained that delivery was unreliable and the quality variable. After initially refusing this request Strauensee relented on condition that their products were not sold in Prussia so as to protect the native glass industry. The king and queen were, of course, able to buy pieces which accounts for their presence in the Potsdam palaces but most pieces have come to light in France, Scandinavia or the Netherlands. Möller also found evidence that Werner and Mieth ordered glass from the glassworks of the Counts Harrach, Harrach'sche Hütte, in Neuwelt, Bohemia, which had developed a recipe in 1797 for Flussglas using fluorspar or Blue John.
Flussglas is said to have been inspired by the revered and semi-legendary murrhine ware of ancient Rome which is thought to be vessels made of fluorite (or fluorspar).
The white glass was ordered by Werner and Mieth and imported from Silesia and then Bohemia and was decorated and assembled at their works in Berlin. Our example is unusual in having been painted in fired enamel on a high gloss surface, other examples are usually seen with cold-painted decoration and the glass having a matt frosted or sand–blasted surface. Möller considers our vase to be an early example perhaps from before 1797 and perhaps using glass from Silesia.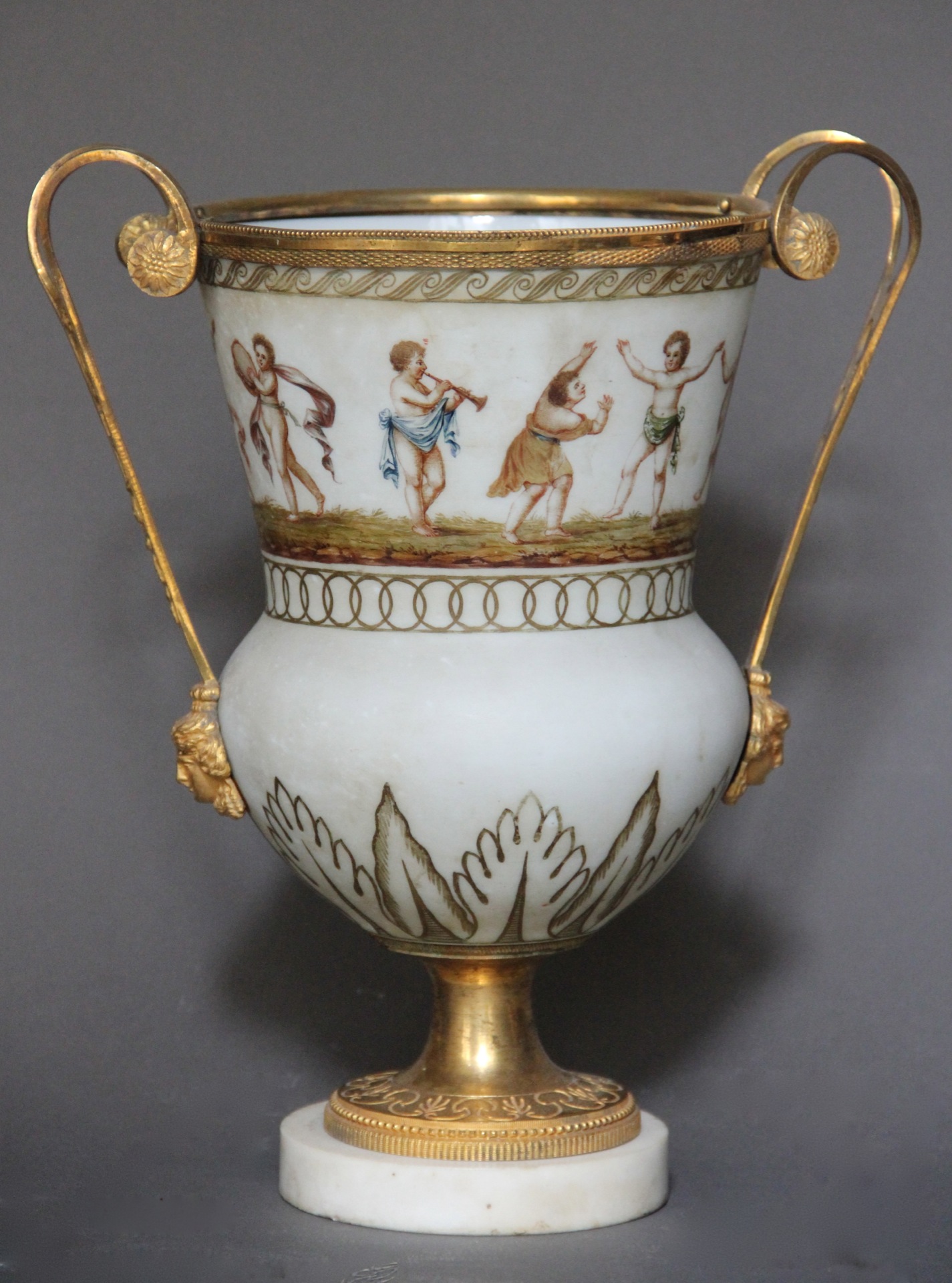 A related vase with cold-painted decoration (Courtesy of Frank C. Möller)
Condition:
No restoration
Provenance:
Auktionshaus Dannenberg, Berlin, 8 September 2017, lot 240
Said to have come from a 'Hessischem Schlossbesitz'
Bibliography:
Frank C. Möller, 'Flussglasvasen und -Schalen, Berlin, circa 1795 bis 1812, Bronze und Glas von Werner & Mieth. 18 Objekte um 1800', 2014
Frank C. Möller, 'Early works by Werner & Mieth, 1793 – 1815, A Search for the unknown architect'
Price: £58,000.00