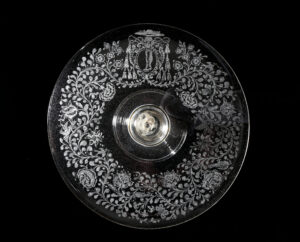 The circular top with upturned rim supported on a spreading foot with a thin trailed collar and folded foot rim. Engraved with diamond-point on the underside with a broad band of foliage with roses, carnations, birds and butterflies with the arms of Coscia below a broad-brimmed hat (galero) with ten pendant tassels (fiocchi).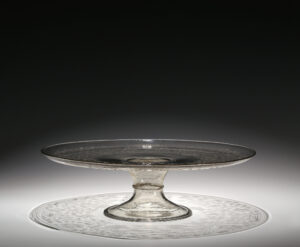 The arms of a 'thigh' or a 'leg' within an oval escutcheon are those of Niccolò Coscia (25 January 1681 – 8 February 1755), Coscia means a thigh or a leg in Italian. Coscia was appointed Cardinal Priest of Santa Maria in Dominica by Pope Benedict XIII on 11 June 1725 and as such was entitled to fifteen pendant tassels or fiocchi on each side of his broad-brimmed hat or galero. However, the arms on our tazza have the ten fiocchi that he was entitled to after his earlier election as titular Archbishop of Traianopoli on 26 June 1724. It seems that the engraving on our tazza can be dated precisely between these dates and perhaps celebrates his elevation to the Archbishopric.
The glass is consistent with others of a 17th century date although the engraving is finer than most. A similarly engraved ewer and basin dating to circa 1690-91, bearing the arms of Raimondo Ferretti (1650-1719), Bishop of Recanati-Loreto and later Archbishop of Ravenna, was sold by Christie's on 5 July 2018, lot 108.
A somewhat similarly engraved tazza is in the Robert Lehman Collection in the Metropolitan Museum of Art (accession no. 1975.1.1195), (Lanmon and Whitehouse, (1993), pp. 90-1, no. 27). They also illustrate an engraved tazza that was given to King Frederick IV of Denmark during his visit to Venice in 1708-9 and is preserved in Rosenborg Castle, Copenhagen [Rosenborg Castle, 224].
Niccolò Coscia was one of the more colourful prelates of his age. Humbly born (it was said that he was the son of a barber or even, by his enemies, the illegitimate son of a priest), he caught the attention of the future pope Benedict XIII when he was Archbishop of Benevento and became his secretary.
After his patron's elevation to the Papacy, Coscia accumulated numerous important offices and when appointed Cardinal he held the effective government of the Papal States during Benedict's reign. He took advantage of his position to commit a long series of financial abuses, causing the ruin of the Papal treasury. It was said that already by August 1725 Coscia had accumulated 2,000,000 scudi. In contrast to the pontiff's asceticism, he had lavishly furnished his apartments in the Vatican.
After the death of Pope Benedict in 1730, he was ordered by Cardinal Albani to leave the Vatican and in an anonymous pamphlet, said to have been written by the clergy of Benevento, he was accused of "tanti e tanti abbusi e scandali e empietà… stupri… adulteri… sodomie e ogni più sfrenata lascivia… usure di ogni sorte… omicidi… infanticidii… falsificazione di monete… furti e rapine".
Coscia fled Rome but was tried and excommunicated and sentenced to ten years imprisonment in Castel Sant'Angelo. However, he managed to have his sentence commuted to a fine (which he could well afford by then) and subsequently was able to take part in the conclaves of 1730 and 1740. He suffered greatly from gout and died on 8 February 1755.
This tazza comes from one of the earliest collections of Venetian and façon de Venise glass, formed by a remarkable woman in the 19th century.  Some pieces were collected as early as the 1820s, long before such celebrated collectors as the Rothschilds popularised the taste for early glass.
Lady Maria Elisabeth Augusta Cartwright, née von Sandizell (1805-1902), was the eldest daughter of Count Thomas von Sandizell, a Bavarian nobleman. 'Lili', as she was known, met the English diplomat Sir Thomas Cartwright (1795-1850), then Secretary to the English Legation in Munich, during the Munich carnival in 1824. They married in the Bishop's Chapel at Augsburg later that year and spent their first few years together in Munich, during which time their first son, William Cornwallis Cartwright (1825-1915), was born.
Lili lived much of her early life abroad and it was not until 1828 that she visited the Cartwright seat at Aynhoe Park in Oxfordshire for the first time. She spent much of the next ten years leading the life of a diplomat's wife abroad, firstly in Frankfurt and then in Sweden. She was only able to make two short visits to England during this time but visited her own family home at Schloss Sandizell as often as she could and spent much time in and around the Bavarian court of King Maximillian and the Swedish court of King Oscar.
Lili had begun to collect glass and porcelain during her time in Munich in the 1820s, and records in her diary many of her expeditions to auctions and dealers. Aynhoe passed to their eldest son William Cornwallis after her husband's death. A keen collector of glass himself, William added several pieces to Lili's glass collection, a number of which were purchased from the prominent Munich dealer A S Drey. They have since passed down through the family.
I am grateful to Elizabeth Manners for help in elucidating the arms of Coscia.
Condition:
Perfect
Provenance:
Lady 'Lili' Maria Elisabeth Augusta Cartwright (née von Sandizell)
Thence by descent to her son, William Cornwallis Cartwright, Aynhoe Park, Oxfordshire
References:
Dwight Lanmon and David Whitehouse, Glass in the Robert Lehman Collection (1993), pp. 90-1, no. 27
Boesen, Gudmund, Venetianske Glas på Rosenborg, 1960, nos. 97-98
For more on the life of Cardinal Coscia see:
https://www.treccani.it/enciclopedia/niccolo-coscia_(Dizionario-Biografico)/
For the ewer and basin dating to circa 1690-91, with the arms of Raimondo Ferretti (1650-1719), Bishop of Recanati-Loreto and later Archbishop of Ravenna, see Christie's on 5 July 2018, lot 108.
https://www.christies.com/en/lot/lot-6153915
Price: £11,500